Chelsea Clinton Does Not Think She'll Birth a Republican
This article is from the archive of our partner
.
It looks like we can look forward to a Democratic Clinton candidate on the ballot in 2052. During a conversation about her role as Vice Chair of the Clinton Foundation at the Town & Country Philanthropy Summit on Wednesday, T&C Editor-in-Chief Jay Fielden jokingly asked Chelsea Clinton what she would do if her baby-to-be grew up to be a Republican. Clinton responded, "I would find that very hard to believe."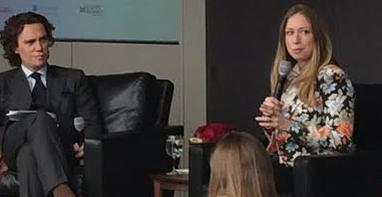 Clinton, who spoke at length about her work at the foundation to reform America's juvenile justice system, was also happy to share with an audience of fellow philanthropists what she's learned from her parents, and what she hopes to pass on to her children. (Clinton announced she was pregnant with husband Marc Mezvinsky in April.) She made sure to point out how great former President Bill Clinton and possible presidential candidate Hillary Clinton were to her during her youth.
"I never doubted I was the most important person to my parents. I still don't doubt that. We had dinner together every night around the kitchen table," she said. "Even when my father was running for president in 1992, back when campaigns were only 13 months," she noted, in laughing acknowledgment of the proto-campaign already in place for Hillary, "there were only three nights during those 13 months that I wasn't with one or both my parents at night. Which was a tremendous sacrifice on their part." 
Perhaps knowing that people have already joked about her kid being president, she diplomatically stated that she'd be happy as long as he or she grows up to make a difference in the world: 
I'll be thrilled if they're blessed with the [singing] voice that I didn't have, and if they want to make an artistic contribution to the world, that will make me equally as happy if they want to make a philanthropic or a political one. 
Chelsea graduated this month with a doctorate in international relations from Oxford University.
This article is from the archive of our partner The Wire.