Can Julián Castro Succeed Where Henry Cisneros Faltered?
President Obama will reportedly nominate San Antonio's mayor as secretary of Housing and Urban Development, following the path of another generation's Hispanic star.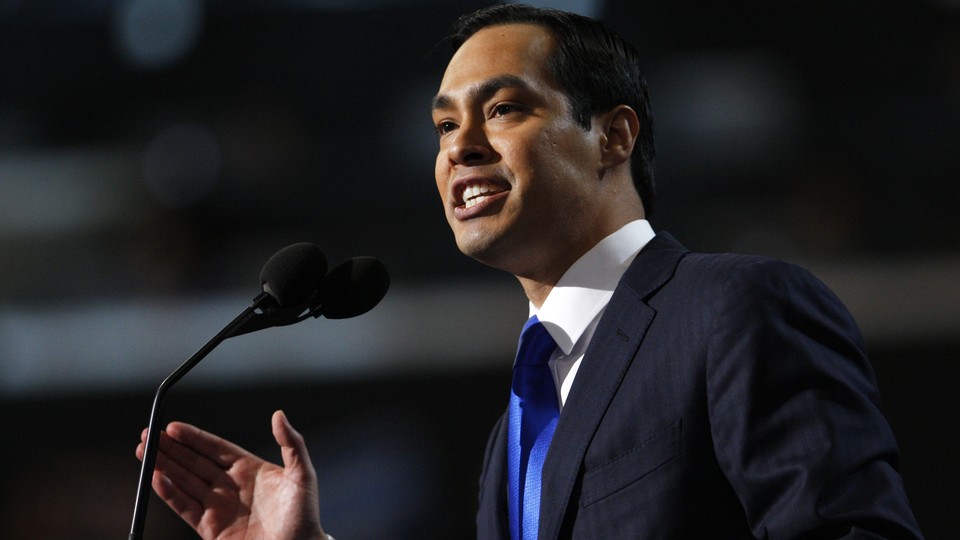 Ever since he delivered the keynote address at the 2012 Democratic National Convention in Charlotte, no one doubted San Antonio Mayor Julián Castro would ascend to the national stage. As a charismatic young Hispanic politician in an age where Hispanics are a rising bloc, it seemed clear that he had a future. But it wasn't clear how he'd get there.
Despite the optimism (or bluffing) of some Democrats, Texas is still a long way from turned blue or even purple. The state has two conservative senators. Its governorship seems solidly Republican, too, as the travails of gubernatorial candidate Wendy Davis have shown. (Davis has proven a flawed candidate, but it's hard to believe a stronger campaigner could overcome the headwinds, either.) Castro had expressed concern about moving to Washington and rejected an overture to become transportation secretary. And there was already a Democratic incumbent in the local congressional seat, one Castro would be unlikely to challenge: his twin brother Joaquín. Would Julián Castro test his luck and prowess by reaching for a difficult race? Was he too risk averse?
On Saturday, we got at least a partial answer: Castro can bypass elections, at least for now, with a boost from the same guy who got him the speaking gig in North Carolina. The New York Times reports that President Obama will nominate Castro to lead the Department of Housing and Urban Development. Current HUD Secretary Shaun Donovan will reportedly be nominated to head the Office of Management and Budget, replacing Sylvia Mathews Burwell, who seems to be on a path to confirmation as the next secretary of Health and Human Services. Assuming he's confirmed, Castro will still have some tough political choices to make when Obama leaves office, but there's already buzz that he could make a strong running mate to a Democratic presidential nominee in 2016.
A charismatic rising star Democrat, the Hispanic mayor of San Antonio, leaping to Washington as secretary of housing and urban development—if this sounds familiar, you must remember 1993, when Henry Cisneros took the same post in Bill Clinton's administration. Cisneros was just the sort of figure Castro is, with the same sense of destiny about him, the kind of politician who was mentioned as a potential first Hispanic resident of the White House. But Cisneros never made it. After it emerged that he'd made questionable payments to an ex-mistress, he left the administration and later pleaded guilty to lying to the FBI.
Today, Julián Castro is a Cisneros protege. The older man will presumably counsel Castro to avoid his mistakes. If Castro sidesteps those and other pitfalls to fulfill the hopes Cisneros couldn't, he could prove the adage that history, rather than repeating, rhymes.