Can Democrats Keep Messing with Republican Primary Voters?
In recent years, the party has successfully exploited GOP division to elevate weak candidates as their opponents. But Republicans may be wising up to their underhanded tactics.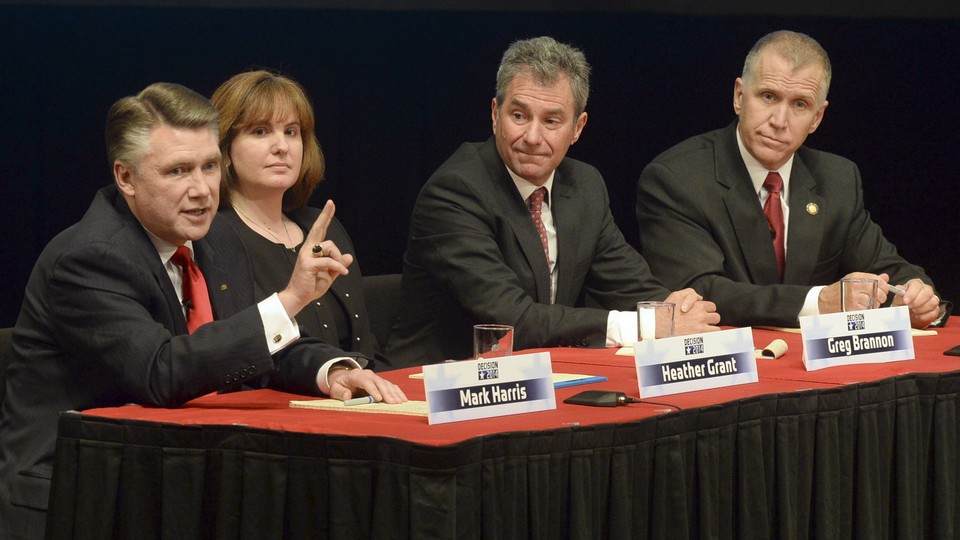 CHARLOTTE, N.C.—As Kay Hagan, a Democratic senator from North Carolina, pondered her reelection campaign this year, she faced an array of possible Republican opponents. Seven of them were not currently in elected office, including a gaffe-prone Tea Partier who recently lost a lawsuit for misleading technology investors. The eighth was the genial, well-connected speaker of the state House of Representatives, Thom Tillis.
If Hagan had a choice, she would surely prefer to face anyone but Tillis. But typically candidates do not get to pick their opponents—that's up to the primary voters of the other party, and you would think Republican primary voters wouldn't be much interested in Hagan's ideas about whom they should nominate.
But Hagan, in a ploy Democratic candidates have increasingly employed in recent years, waded right in. She used her campaign funds to run anti-Tillis ads on conservative talk-radio stations and send mailers that targeted Republican households. The ads attacked Tillis on ethics and for having once said Obamacare was "a great idea" (Tillis says he was being sarcastic). And they may have had an effect, as pre-primary polling has shown Tillis slipping among GOP voters. Although he's thought to be the frontrunner by a wide margin, Tillis needs 40 percent of the primary vote on Tuesday to avoid a runoff with the second-place finisher.
"I think they're remarkable," Tillis said when I asked him about the ads, noting that in addition to Hagan's campaign, liberal political-action committees have also poured money into the attacks on him. "They've spent almost $6 million meddling in a Republican primary ... and I think that that's really a testament to the fact that they don't want to face us in November, because they know we're going to defeat Kay Hagan."
The past few years' paroxysms of Republican infighting have been a boon for Democrats, who have been less and less shy about overtly exploiting division by meddling in the other party's primaries. If Tillis succeeds on Tuesday, he will have notched a victory not only against his primary opponents, but also against the left's attempts to knock him out early.
The tactic's pioneer was Harry Reid, the Senate majority leader, whose 2010 campaign brain trust thought he stood a better chance against Sharron Angle, a far-right Tea Partier with a checkered history, than against Sue Lowden, the early frontrunner backed by the state GOP establishment. The idea of Reid meddling in the Republican primary was nonetheless a sensitive enough idea that he sought to distance himself from it; it was a nominally independent political-action committee called Patriot Majority that began attacking Lowden for her "chickens for checkups" gaffe, in which she proposed that people barter poultry for health care, like in the old days.
Patriot Majority was styled to seem like a Tea Party group, with its militia-invoking name and a logo that looked like a Minuteman. But it was run by a former Reid aide and funded mostly by labor unions. The group spent $320,000 attacking Lowden at a time when Angle's poorly funded campaign was ill equipped to do so, helping Angle come out of nowhere to win the primary. Aides to Lowden grumbled about Reid's "fingerprints" on her loss. Reid denied having anything to do with it, and Patriot Majority immediately pivoted to attacking Angle.
By 2012, when Senator Claire McCaskill of Missouri borrowed the tactic, she felt safe meddling more overtly in the other side's primary race. It was her campaign, not an outside group, that spent $1 million on TV ads that purported to "attack" then-Representative Todd Akin—in terms calculated to appeal to conservative voters: The ads darkly "warned" that Akin was "a crusader against bigger government" with a "pro-family agenda." It was a neat little piece of political jujitsu, and it succeeded in helping elevate Akin. And as with Reid's bet on Angle, McCaskill's bet on Akin paid off. It was not long afterward that Akin was moved to speculate about "legitimate rape," setting off a national firestorm and securing McCaskill's easy victory.
Democrats also employed a version of this tactic in the 2012 presidential election, when the party and affiliated groups began beating up on Mitt Romney long before the GOP primary was settled. The attacks were seen as a no-lose proposition: If Romney survived the primary, he'd do so with a badly damaged public image; if he didn't survive, President Obama would get to face a candidate seen as weaker instead.
The 2014 version of the tactic is underway most visibly here in North Carolina, where Hagan's anti-Tillis ads are joined by ads from Senate Majority PAC and other Democratic groups. (Hagan's ads have a particular chutzpah in that they purport to attack Tillis for supporting Obamacare, something Hagan also supports.) It's also being employed in Alaska, where a PAC supporting Democratic Senator Mark Begich called Put Alaska First has started targeting the emergent Republican frontrunner, Dan Sullivan, whose primary election isn't until August. Put Alaska First is airing $300,000 worth of ads in the Anchorage, Fairbanks, and Juneau markets attacking Sullivan as a carpetbagger tied to the Koch brothers, according to sources tracking media in the race.
The tactic confounds Republican campaigns, whose complaints about unfair meddling by Democrats seeking to influence the outcome have not seemed to get much traction. The Democrats have been smart about choosing messages that are appealing enough to conservative voters that they ignore the source. At a rally on Monday for Tillis challenger Greg Brannon, numerous attendees told me they don't trust Tillis because he backed Obamacare—even though, aside from one out-of-context quotation, Tillis's opposition to the Affordable Care Act has been staunch. As House speaker, Tillis helped stop North Carolina from accepting Obamacare's Medicaid expansion.
The question now facing Republicans is whether they can beat Democratic meddling. Tillis's campaign has responded to Hagan's attacks with a radio ad of its own that notes, "Senator Hagan and Harry Reid are attacking Thom Tillis now because they're meddling in the Republican primary, trying to get a weak opponent for Kay Hagan .... Liberals fear Thom Tillis. Conservatives support Thom Tillis. When you hear those sleazy attack ads against Thom Tillis, remember who's paying for them."
Tillis strategists wish they didn't have to spend the candidate's relatively scarce campaign cash responding to Democratic ads at a time when his proximate opponents are Republicans. They hope, however, that when and if Tillis wins the primary in the end, the primary meddling will somehow backfire on Hagan. Tillis has been touting the attacks as a badge of honor, hoping conservatives will take note of the fact that Hagan appears to view him as the most formidable potential opponent.
A win for Tillis on Tuesday would be the latest of many signs that Republicans are reining in the divisions of recent years and becoming more unified. (Other signs include the apparent fizzling of Tea Party candidates in states like Texas, Kansas, Kentucky, and Mississippi, and a new zeal for party unity in Colorado.) If that is indeed the case, no one may mourn the Tea Party's decline more than Democrats who have so profited from its fratricidal effects.