Busy Night Brings Few Surprises
Primary elections in six states Tuesday proved again that money is one of the best predictors of politics.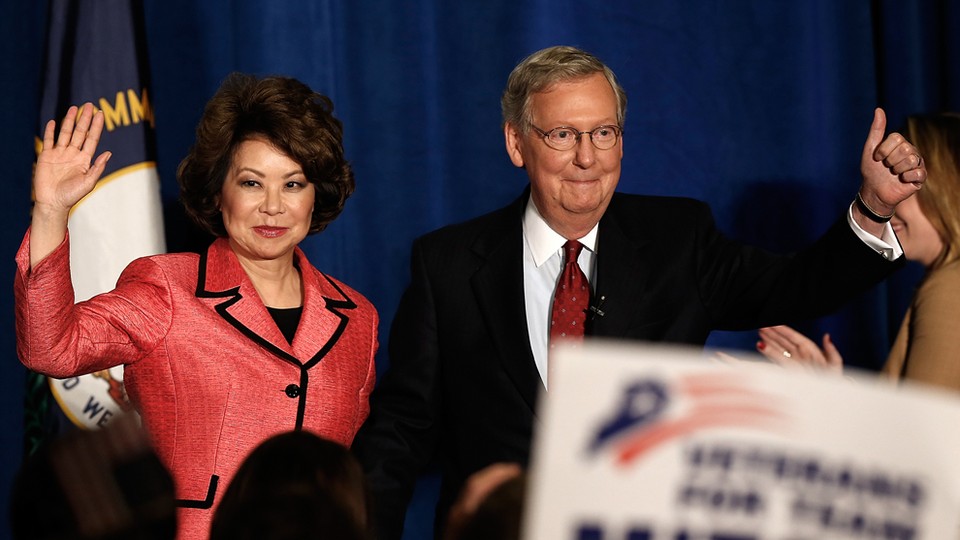 Primary elections in six states Tuesday proved again that money is one of the best predictors of politics, with self-funded candidates advancing in Georgia and Pennsylvania and the well-heeled Republican establishment helping Senate Minority Leader Mitch McConnell crush a tea-party newcomer in Kentucky.
McConnell defeated businessman Matt Bevin by nearly a 2-1 margin; the Associated Press called the race minutes after the polls closed at 7 p.m. The 72-year-old Senate veteran will now battle for his sixth term against Kentucky Secretary of State Alison Lundergan Grimes, who handily won the Democratic primary.
The stages also were set Tuesday for two other Senate races expected to be closely contested, in Arkansas and Oregon. Democratic Sen. Mark Pryor and GOP Rep. Tom Cotton both were uncontested in their primaries and are headed for a November showdown in Arkansas. In Oregon, Democratic Sen. Jeff Merkley was renominated and will face Republican neurosurgeon Monica Wehby in the fall after her primary win.
Another heated Senate race — for an open seat in Georgia — saw the field narrowed Tuesday, but the Republican candidate won't be determined until a July 22 runoff is held between businessman David Perdue and Rep. Jack Kingston. Perdue was declared the top vote-getter Tuesday night with about 30 percent, while Kingston and former Secretary of State Karen Handel were neck-and-neck for second place and the right to move into the runoff until late in the night. Reps. Phil Gingrey and Paul Broun were far behind and are out of the runoff along with three other GOP candidates.
In Pennsylvania, York businessman Tom Wolf easily captured the nomination for governor in Tuesday's Democratic primary, launching a high-stakes contest against Republican Gov. Tom Corbett, who is widely considered to be the most vulnerable incumbent GOP governor up for reelection this year.
Wolf, who briefly served as state revenue secretary under former Democratic Gov. Ed Rendell, had the support of 54 percent of voters, an even higher margin than public polls predicted, when the Associated Press called the race just after 9 p.m. with 13 percent of precincts reporting.
Longtime Philadelphia-area Democratic Rep. Allyson Schwartz had 23 percent of the vote, followed by state Treasurer Rob McCord with 15 percent and former state Environmental Protection Secretary Katie McGinty with 7 percent.
Schwartz will now leave Congress in January after five terms, and her successor is likely to be state Rep. Brendan Boyle, who won the Democratic nomination in Pennsylvania's 13th Congressional District on Tuesday. Boyle bested Clinton in-law and former Rep. Marjorie Margolies in the primary, 58-22 percent.
In the upcoming gubernatorial race, a poll from Quinnipiac University in February showed Corbett trailing Wolf with 33 percent to the Democrat's 52 percent, an enormous deficit for an incumbent. No Keystone State governor has lost reelection since Pennsylvania altered its state constitution in 1968 to allow candidates to seek second terms, but Corbett has an uphill battle ahead of him to escape becoming the first to break that trend. The same Quinnipiac survey showed 55 percent of voters don't believe Corbett deserves reelection, including 30 percent of Republicans.
Wolf successfully positioned himself as an outsider and proved impervious to rivals' criticism over the $10 million in personal money he put toward his campaign, business dealings regarding his family-owned kitchen-cabinet company, and his character. Wolf's personal millions proved especially useful by enabling him to wage an early and steady ad campaign, buying much-needed name ID in a field of candidates that differed only slightly on the issues. All four Democrats support abortion rights and Obamacare, and each favors raising the minimum wage, taxing natural-gas producers, and increasing spending on education.
Women's groups including EMILY's List and Planned Parenthood had thrown their backing, and significant amounts of money, behind Schwartz, who they hoped would become the Keystone State's first female governor. Outside Pennsylvania, the party's best opportunities in 2014 to add women executives to their ranks now lie in contests further afield in Rhode Island and Massachusetts.
Margolies, who served in the House from 1993 to 1994, started the race as an early favorite thanks to her experience and her connections to the Clintons: Her son, Marc Mezvinsky, is married to Chelsea Clinton, and Margolies cast a pivotal vote in favor of Bill Clinton's budget in 1993. Margolies featured Bill Clinton in a TV ad, and Hillary Clinton hosted a fundraiser for her at Lynn Forester de Rothschild's home in New York City earlier this year.
But Margolies's opponents spent heavily to catch up. Boyle, who had the support of a super PAC backed by local labor unions, drew a target on his back in the final weeks of the race, as Margolies and other candidates all directed criticism at him for several alleged antiabortion votes in the Legislature. EMILY's List and NARAL Pro-Choice America launched a mail ad campaign criticizing him.
In Kentucky, Bevin was once considered a serious challenger to McConnell, but a series of political stumbles left him and his campaign flailing for most of the year. By April, most of the conservative groups that had once enthusiastically backed his campaign had pulled out of the race.
McConnell and Grimes have been running neck-and-neck in what's expected to be one of the closest races this cycle. A Bluegrass Poll released this week showed them effectively tied, with Grimes leading 43 percent to 42 percent.
Both sides have built sizable war chests for the battle ahead, with McConnell sitting on about $10 million and Grimes at just under $5 million at the end of April. They each spent more than they raised in the month of April, but McConnell has largely been focused on Bevin until this point. He's expected to unleash a flood of ads targeting Grimes in the coming weeks.