Anti-LGBT Activists Had a Very Bad Weekend
A bearded drag queen winning an international singing competition. Same-Sex marriage in a deep red state. Michael Sam's kiss.
This article is from the archive of our partner
.
A bearded drag queen winning an international singing competition. Same-Sex marriage in a deep red state. Michael Sam's kiss. To many people, this will simply sound like touching stories from time marching onward in the year 2014. But for those Americans who are vehemently opposed to gay rights, the following are the lowlights of a very bad weekend.
Friday: A Court in Arkansas Legalizes Same-Sex Marriage.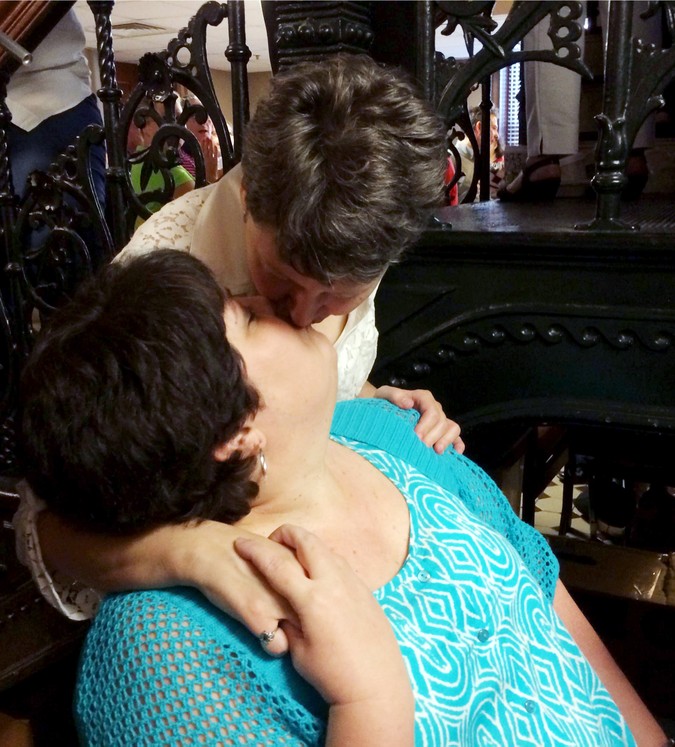 Surprise! Late on Friday, Arkansas (at least temporarily) became the 18th state to legalize same-sex marriage, with a state court order overturning a voter-approved ban that was passed a decade ago. Pulaski County Circuit Judge Chris Piazza wrote in his decision that "the exclusion of a minority for no rational reason is a dangerous precedent," placing his ruling in line with an avalanche of court rulings in favor of marriage equality over the past year.
The state will appeal, Attorney General Dustin McDaniel announced over the weekend. (McDaniel personally supports marriage equality, but has vowed to defend his state's laws as Attorney General.) But by Saturday morning, couples were already marrying in the state, at least in some counties. A few county clerks, including from counties named in the suit, are not issuing licenses to same sex couples at this time.
have found state recognition of their marriages "on hold" pending a decision from the 10th Circuit Court of Appeals. Michigan has followed suit, also refusing to recognize the marriages of 300 couples who married during a 7-hour window earlier this year.
Anyway, a few conservative state lawmakers are so mad about the decision that they've decided to try and impeach judge Piazza. However,  Democratic Gov. Mike Beebe (who opposes same-sex marriage) has said he will not call a special session of the legislature so that the state representatives can vote on impeachment.
Former Arkansas Gov. Mike Huckabee is also not happy:
By virtually ordering same sex marriage to begin immediately, which in fact happened in at least one Arkansas county on the morning after Judge Piazza's Friday night massacre of the law and the will of the people, he positioned himself as if he were all 3 branches of government and declared the voters immaterial. The Governor should call a special session of the legislature and impeach the judge and affirm the people's will. If the people wish to allow same sex marriage, they can put that matter on the ballot and vote for it. Or the legislature can put that matter on the ballot and ask the people to change the Constitution to allow it. But they should not stand by and allow one man to think his robe has more power than it does.
Saturday: Conchita Wurst Wins Eurovision
Granted, Russia's anti-LGBT activists (including some top lawmakers there) are exponentially angrier about this one than Americans are, given that Eurovision is, well, European. Still, we've noticed that some conservatives here have picked up on the existence of the wonderful Conchita Wurst, although they don't seem to really get what's going on. For reference, here is her winning performance:
YOU did not want to believe anyone and now here it is. Your society is destroyed. What's this? A bearded man-woman? pic.twitter.com/ayEmD0oSPF

— ✡ Eliana Benador ✡ (@ElianaBenador) May 12, 2014
The kids saw a picture of the Eurovision winner and fell out laughing hysterically. So did I.

— Erick Erickson (@EWErickson) May 12, 2014
Michael Sam Dares to Kiss His Boyfriend
Michael Sam is poised to become the first openly-gay football player in NFL history, now that he's been picked by the St. Louis Rams. That's bad enough for some who oppose LGBT equality. But it got worse for anti-gay activists: after finding out he'd been drafted in the seventh round of the NFL Draft, Sam did what any happy athlete would do: he kissed the person he loves, who happens to be a man. His reaction, and that kiss were broadcast live on national TV.
The reaction against Sam was pretty visceral:
I knew something was lacking in the #nfl. Yeah, public expressions of the perversion of homosexuality, that's it! #MichaelSam #tcot #p2

— Peter LaBarbera (@PeterLaBarbera) May 11, 2014
ESPN keeps showing Michael Sam kiss his boyfriend. Wth no one wants to see that #PDA

— Clark Mattison (@Clarkmattison) May 10, 2014
Tim Tebow engages in devout Christianity, is drilled. Michael Sam engages in the infamous crime against nature, is lionized.

— Bryan Fischer (@BryanJFischer) May 11, 2014
I say this is baffling, in part, because the comparison isn't quite apt. Tebow is hardly the first devoutly Christian football player (although he was one of the more famous white Christian players). And while some of his moves (like a Super Bowl ad he cut against abortion have drawn criticism from those who didn't want to see his political and religious views injected into the game, some anti-gay activists are going so far as to object to Sam even getting a shot on the field, because of his sexual orientation. Tebow's beliefs were often the subject of mockery from fans and other player, but no one ever suggested he should not be allowed to play because of them. Yet, simply picking Sam in the draft somehow amounts to caving to the "homosexual agenda."
While Sam gets his chance to show what he's got, the NFL is making it clear that they will not tolerate anti-gay remarks from its players: One NFL was fined by his team after tweeting his negative reaction to the kiss. That, as you might expect, only made Fox News's criticism of the choice stronger. They deployed the Donald:
This article is from the archive of our partner The Wire.