Americans' Support for Same-Sex Marriage Is at an All-Time High
Support grows as courts continue to strike down state laws that bar gay couples from marrying.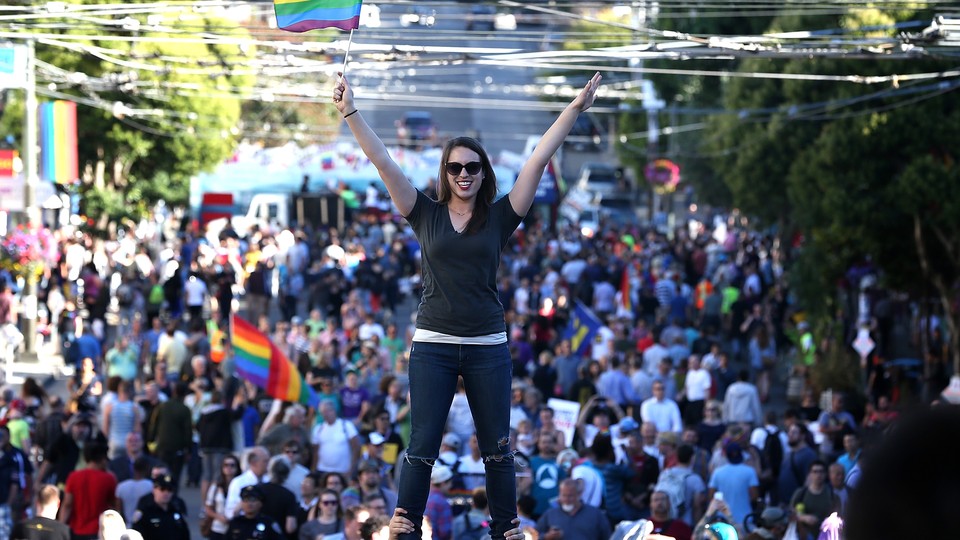 The push to legalize same-sex marriage is gaining momentum at the state level — and public support is there to back it up.
At 55 percent, Americans' support for same-sex marriage is at an all-time high, according to a new Gallup Poll. The gap between supporters and opponents of same-sex marriage has been widening since 2011, when supporters first found themselves in the majority.
As has been the case for years, older Americans are far less likely than younger generations to favor gay and lesbian marriage. At 42 percent, support among people over 65 is nearly half the rate among 18-to-29-year-olds, 78 percent of whom think same-sex marriage should be legal. Democrats are more than twice as likely as Republicans to favor same-sex marriage, 74 percent to 30 percent. Only 48 percent of Americans in the South believe same-sex marriage should be legal, making it the only region where the practice is still opposed by a majority.
The poll results come hot on the heels of victories for proponents of same-sex marriage in Oregon and Pennsylvania this week. An Oregon judge ruled on Monday that a ban on gay marriage, in place since 2004, was unconstitutional, allowing the state to begin issuing marriage licenses to same-sex couples immediately. The next day, a similar state constitutional ban was struck down in Pennsylvania, making it the 19th state to allow gay marriage.
Although nationwide support for gay and lesbian marriage has been consistently above 50 percent since 2011, Americans who favor it seem to think they're in the minority. A 2013 Gallup Poll showed that 63 percent of Americans thought the public was largely opposed to same-sex marriage and only 30 percent thought the opposite. But as momentum continues to grow among proponents of marriage equality, the movement's successes are becoming more and more visible — and the issue, perhaps, more mainstream.
The Gallup Poll surveyed 1,028 adults in all 50 states and the District of Columbia, May 8-11. The margin of error is plus or minus 5 percentage points.