A Fracking Boom Where There Is No Fracking
On the Texas coast, the state's fracking boom has sparked an industrial surge and new fears about pollution.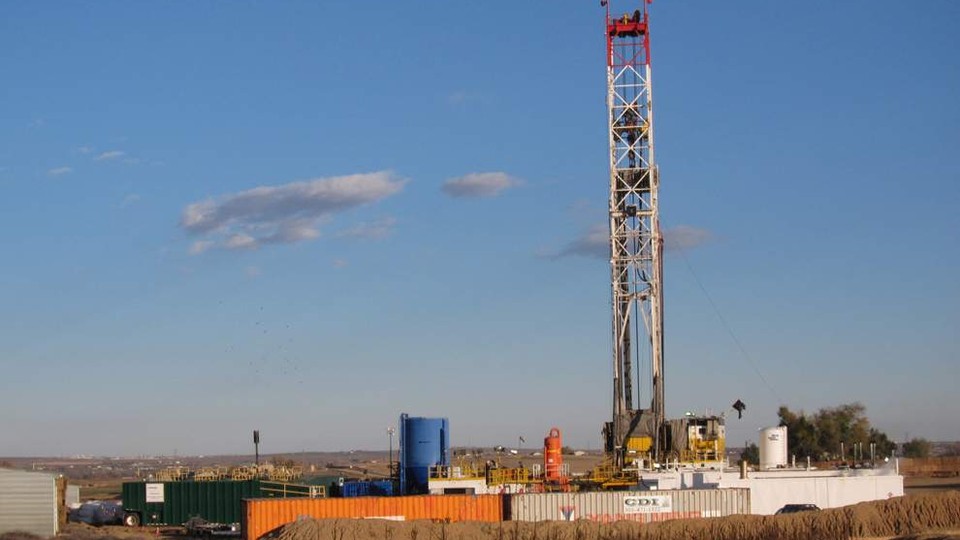 PORT OF CORPUS CHRISTI, Texas — For John LaRue, sand was the harbinger of the change. Several years ago, LaRue, the Port of Corpus Christi's executive director, began seeing the smooth quartz grains arriving in bulk from Wisconsin and Minnesota. It's used in fracking, one of the materials injected into shale-rock formations to free oil and natural gas and coax it topside.
None of that fracking is happening in this industrial port city down the Gulf Coast from Houston. Instead, Corpus Christi is the waypoint for the sand that's trucked inland to the surging Eagle Ford Shale formation.
The inland energy boom is sending more than sand through the nation's fifth-largest port. On a recent May morning, not far from from an airline-hangar-sized building filled with fracking sand, long rows of steel drilling pipe from Korea awaited shipment to Eagle Ford sites.
But what's now coming from the Eagle Ford back into and through Corpus Christi is transforming the region even more. The trickle of crude oil flowing from the port has turned to a flood: Between 2010 and 2011, the port went from exporting 274,000 barrels to more than 2 million. Last year, the number of crude barrels headed outbound to other parts of the U.S. was 122.5 million and the port has expanded its docks to handle it all.
Billions of dollars in investment is pouring into the region. Unemployment in Corpus Christi is down, and it was 5.1 percent in March compared with 6.3 percent nationwide. More jobs are on the way. Beyond the crude oil exports, companies are planning new manufacturing and chemical plants that will use Eagle Ford's natural gas.
Asked how much of the port's recent expansion can be chalked up to the Eagle Ford, LaRue replied, "I don't want to say 100 percent." He adds: "I'd say 90 percent."
In sum, Corpus Christi is riding the fracking boom without doing any fracking of its own.
But just as the city is getting an economic jolt from Eagle Ford Shale development, new pollution sources are also arriving, creating fears of new exposure in poor and minority neighborhoods that are already shouldering more than their fair share.
While there is air-pollution-monitoring in the region, activists nonetheless fear that the rapid new development will outpace anyone's ability to understand its overall impact and safeguard against dangerous air toxics.
"There is no process where you really get a good cumulative look at what people are being exposed to," said Kelly Haragan, who directs the environmental clinic at the University of Texas law school and works with Corpus Christi activists.
The list of new projects — and pollution sources — that are underway or planned is long.
New oil storage tank farms dot the port region. Two companies have proposed liquefied-natural-gas export projects. And companies including Magellan Midstream Partners are planning to build industrial facilities called "splitters" to lightly process condensate — a very light oil from the Eagle Ford — into petroleum products for export.
Output from the Eagle Ford — where oil production is nearing 1.4 million barrels per day — is prompting refiners Valero and Flint Hills (a Koch Industries subsidiary) to invest in handling more light Texas crude.
Austrian steel giant Voestalpine and M&G Chemicals are building new plants in the area that will take advantage of Eagle Ford natural gas. Another chemical company, LyondellBasell, is expanding its plant near the city's refineries to enable more production of ethylene, a building block for an array of products. The list goes on.
Some of these fears about new pollution sources are crystallizing around yet another big project: Plans to replace the aging harbor bridge at the mouth of the port's ship channel. In mid-March Haragan coauthored a comment letter to state transportation regulators on behalf of three environmental groups.
It accuses state planners of essentially flying blind by failing to weigh the "cumulative" air pollution effects of the bridge and highway project in conjunction with the ongoing industrial build-out and expanded shipping, rail, and vehicle traffic at the port.
"This is," the letter states, "an astonishing amount of growth in industrial facilities and their related transportation and environmental impacts in a short period of time."
Suzie Canales, director of the Corpus Christi group Citizens for Environmental Justice, makes largely the same point in more colorful terms.
"What is going to happen to Corpus Christi? Is it going to end up like the story of the Lorax?," she says, referring the 1971 Dr. Seuss parable about overindustrialization and ecological collapse. "Where it was just a dead zone, and nothing?"
"We are not saying we are against Eagle Ford shale," says Canales, who founded the group in 2000. "We are saying we are against ... adding more to the burden of already overburdened communities."
Still, there are positive environmental signs. Late last year Canales' group and the Environmental Integrity Project reached an agreement with Flint Hill's to withdraw their opposition to permits for its project to handle more light Eagle Ford crude. In exchange, the company agreed to reduce hazardous volatile organic compounds and other pollutants, among other pledges.
Already, emissions of benzene, a nasty toxic pollutant linked to cancer, reproductive problems, and short-term skin and respiratory woes, from the city's six oil refineries has come down over the last decade, according to industry-supplied data in EPA's Toxics Release Inventory. And on Friday, EPA proposed new toxic-pollution and monitoring regulations for the nation's refineries.
But there's also mistrust in a region with a history of environmental violations by the refineries and a huge industrial footprint even before the current development wave.
Canales made her comparison to the Lorax on a recent drive around the Hillcrest and Dona Park neighborhoods where people live a stone's throw from refineries and residents have long complained of burning eyes, fatigue, headaches, rashes, and more. She calls it a "toxic tour."
"Look, there's no containment," she says at one point as we drive within sight of a freshly created pile of black petcoke, a refinery byproduct, at one of the plants. "It just blows with the wind."
{{ BIZOBJ (video: 4821) }}