A Federal Judge Just Called an End to Scott Walker's Recall Probe
It's the latest example of Wisconsin politics playing out in the courts.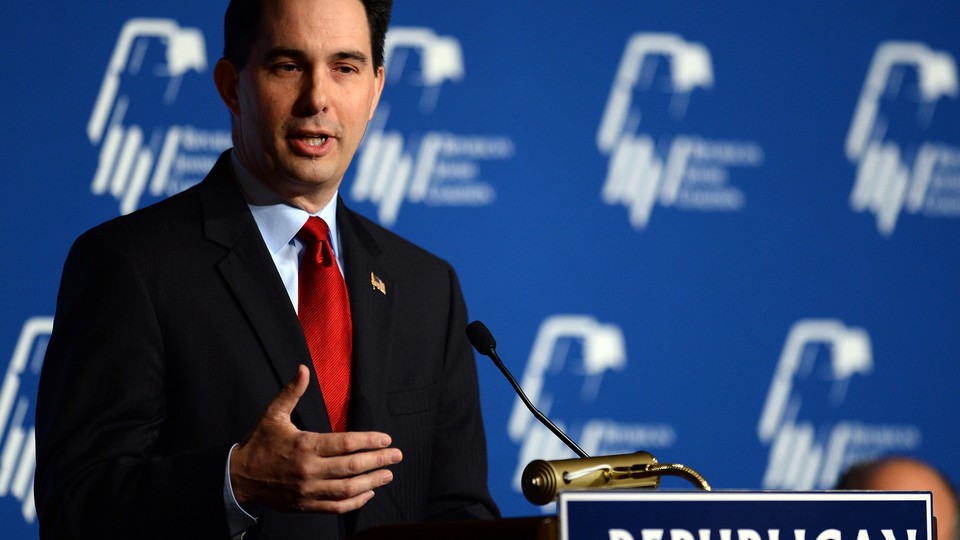 Wisconsin politics has never been so polarized. Now, those political divisions are playing out in the final frontier: the courts.
On Tuesday night, a judge ordered that a secretive investigation into the funding of Gov. Scott Walker's recall campaign be halted. In his ruling, U.S. District Judge Rudolph Randa found that the secretive investigation violated the First Amendment rights of its targets — conservative political groups.
Some background: In 2012, Walker faced a recall election, which he survived with unprecedented support from Republican groups — and despite pro-union groups' attempts to oust Walker. One of those Republican groups, the Wisconsin Club for Growth, was accused of illegally coordinating its campaign funds with Walker's campaign, and a secretive "John Doe" investigation was launched. In Wisconsin, a John Doe investigation is "an independent, investigatory tool to ascertain whether a crime has been committed and if so, by whom."
In turn, one of the group's directors, Eric O'Keefe, sued the state attorneys involved in the probe, saying the investigation violated his First Amendment rights.
In effect, Randa's decision says the state's investigation against the Club for Growth is completely baseless. Randa even ordered that all materials collected in the investigation should be destroyed, and said the group did not need to cooperate with prosecutors.
This is just the latest instance of Wisconsin courts becoming a last resort for political maneuvering. Last week, a federal judge struck down Wisconsin's controversial voter-identification law, which Walker signed into law in 2011. And the status of Walker's most polarizing law, which banned public-sector unions from bargaining collectively, has become a judicial ping-pong match — upheld, overturned, upheld, ad nauseam.
O'Keefe's attorney, David Rivkin, said the investigation had prevented his client's group from raising or spending money, thus inhibiting its speech.
"We are delighted with the ruling," Rivkin told National Journal. "We feel that it begins the process of restoring our constitutionally protected rights that had been stifled by this unconstitutional and partisan investigation, and we look forward to prevailing with a permanent injunction and damage claims."
O'Keefe and the Wisconsin Club for Growth are now suing special prosecutor Francis Schmitz, who spearheaded the John Doe investigation, along with the other attorneys who worked on the case. When reached by phone, Schmitz said he will almost certainly appeal Randa's decision.
Schmitz's attorney said Schmitz was only doing the job the state asked him to do.
"He has, in accordance with his duties as the special prosecutor, undertaken his responsibilities in accordance with Wisconsin law and for the protection of the integrity of Wisconsin elections," Schmitz's attorney, Randall D. Crocker, said in a statement to National Journal. "We will carefully review the decision of Judge Randa and address with our client his responsibilities pursuant to his appointment and his options."
Randa has a history of defending conservative organizations' First Amendment rights. Last August, he ruled that the Catholic Archdiocese of Milwaukee should not have to tap into its $50 million cemetery fund to pay for settlements with sexual-abuse victims, saying it would put a burden on the organization's free expression of religion. His neutrality in the case was called into question when it was discovered Randa had purchased his parents' plot in the Catholic cemetery.
In his decision, Randa cited the Supreme Court's Citizens United decision, which loosened campaign finance laws for political groups, in siding with O'Keefe and the Club for Growth.
"The plaintiffs have found a way to circumvent campaign finance laws, and that circumvention should not and cannot be condemned or restricted," Randa wrote. "Instead, it should be recognized as promoting political speech, an activity that is 'ingrained in our culture.' "
But until Republicans and Democrats in the state can agree on which behavior is culturally acceptable, and which is not, Wisconsin's political future will continue to be molded by judges.