2 Unorthodox GOP Candidates Struggle for Traction
GOP mandarins say the party needs people like Dan Innis and Marilinda Garcia. Yet the establishment isn't giving the New Hampshire congressional hopefuls much help.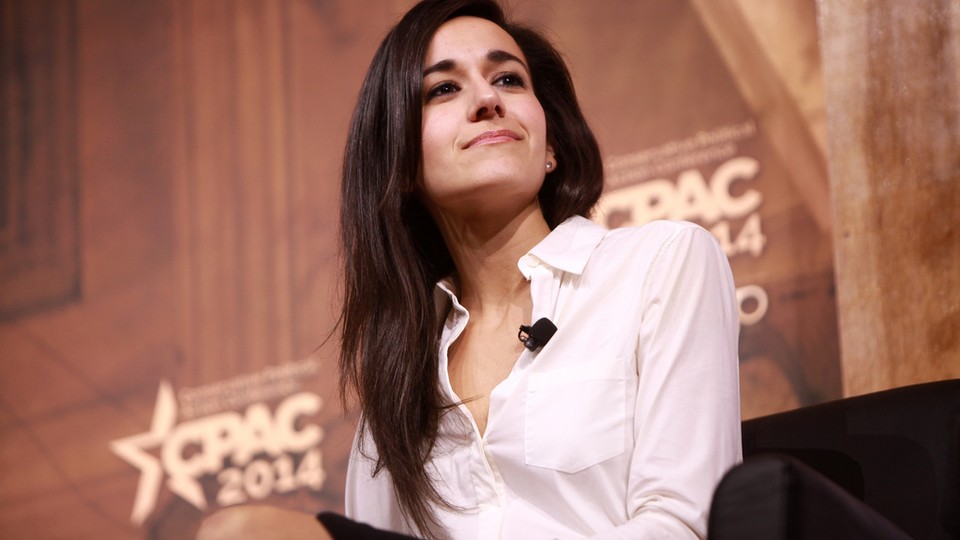 OSSIPEE, N.H.—Making his pitch to the activists gathered here for a meeting of the Carroll County Republican Committee, Dan Innis strikes the familiar chords of an outsider running for Congress. He rails against taxes, regulations, and Obamacare, and says Washington needs fewer people who have "been there too long," like his opponent, a former congressman.
But Innis is no typical Tea Partier—he doesn't even identify with the label, he says in an interview after the speech. What makes Innis unconventional is that he's one of three openly gay Republican congressional candidates this year, and the only one in a primary contest.
Yet at a time when the GOP says it wants to diversify its ranks and expand its base, Republican leaders have spurned Innis in favor of his opponent. They've been slow to embrace another candidate, too—Marilinda Garcia, a young half-Latina with a degree from Harvard, running in the state's other congressional district.
So the two unlikely insurgents have taken a page from the Tea Party and turned to outside groups to rally support.
Innis, who owns a hotel and was, until recently, the dean of the University of New Hampshire's business school, is positioning himself as an accomplished conservative whom the district's independent voters can get behind. And while he doesn't mention that he's married to a man in his remarks to the GOP activists, he hasn't shied away from his sexuality.
"I don't know if that's good for Dan Innis, but it's good for the Republican Party," says Scott Tranchemontagne, a New Hampshire Republican consultant. "I think having Dan Innis and Marilinda Garcia helps the Republican brand and does, hopefully, open peoples' eyes to the fact that Republicans in New Hampshire are a big tent."
However, many of the party's leaders have lined up behind former Representative Frank Guinta. He has a formidable political organization and has outraised Innis 2-to-1, with about four times as much cash on hand, according to the latest campaign finance report.
Senator Kelly Ayotte, New Hampshire's only statewide elected Republican, has hosted a fundraiser for Guinta, as have House bigwigs like Eric Cantor and Kevin McCarthy. Former vice presidential nominee Paul Ryan of Wisconsin came all the way to Manchester to support Guinta. Every week, his campaign rolls out fresh endorsements from local party officials and activists, more than 300 so far.
Even Richard Tisei, another openly gay Republican who is running as a moderate next door in Massachusetts, joined a joint fundraising committee with Guinta, who opposes same-sex marriage.
Innis says he's been treated fairly by party leaders, but acknowledged that Tisei's move stung him. "It says to me that they're both willing to compromise their values for money," he said.
Guy Harrison, the former executive director of the National Republican Congressional Committee, says the endorsements aren't about Innis. "They have a tried and true conservative who they actually know. I don't think this is a case of anyone doing anything collectively, it's just a case of them having friendships," he said.
Instead of the party, Innis is pinning his hopes on two deep-pocketed super PACs, which have already pledged to spend a combined $1.2 million to support his candidacy. They can help by boosting his name ID, since only about a quarter of the district's voters know him. Still, he's popular among those who do, while Guinta's favorability rating is in the negatives, though he's much more widely known.
It's a similar story 75 miles south in Salem, where Garcia, a 31-year-old member of the state House, is locked in a Republican primary for the right to challenge Democratic Representative Ann McLane Kuster in the state's other congressional district.
Garcia, who was first elected eight years ago at 23, gets lots of questions about her age, but notes that she has more legislative experience than either Kuster or her Republican primary opponent, a former Marine and state senator named Gary Lambert. "Even though I'm the young underdog, I'm actually the senior legislator of the bunch," she says with a laugh.
The Republican National Committee selected Garcia, who has degrees from Harvard, Tufts, and the New England Conservatory of Music (she plays the harp), as one of its 14 "Rising Stars" last year. In March, she was featured on a panel at the Conservative Political Action Conference.
Lambert got into the race first and received an early boost from the NRCC, which enrolled him in the committee's Young Guns program and touted to the media his service in Iraq and up-by-the-bootstraps biography.
Now that Garcia is in, the committee and many Republican leaders outside each candidate's home bases are laying low. "The NRCC does not endorse candidates in primaries," is all spokeswoman Andrea Bozek said when asked about the race. Garcia hasn't been invited to the Young Guns program, but that's only because she doesn't have enough money to qualify yet, the committee has said. She's been encouraged to apply when she can.
"I've gotten nothing but positive feedback and encouragement," Garcia says. "It's just getting that support to be concrete. People look at fundraising dollars, people look at endorsements."
Instead of the party, Garcia's biggest institutional backing has come from the Koch-backed grassroots conservative group Americans for Prosperity, which has poured money into ads attacking Kuster and helped build Garcia's campaign. When former AFP officials started a new consulting firm that aimed to handpick and groom "electable advocates of the freedom and opportunity agenda," they chose Garcia as their very first client.
Despite being an intriguing fresh face, Garcia's biggest problem may be convincing people she's not too conservative for the toss-up district, says Tranchemontagne, a longtime adviser to the district's former congressman, Charlie Bass. "Every cycle it moves a little bit more to the Democratic side," Tranchemontagne explained. "I see a lot of [Republicans] standing back and watching this one."
Democrats are sure to dig up controversial votes Garcia has cast in the House, which took a hard right turn after the 2010 Republican wave, to paint her as an "ultraconservative."
"Candidates like Dan Innis and Marilinda Garcia might claim to be different kinds of Republicans, but they are painfully out of touch with Granite State families," said Democratic state party Chairman Raymond Buckley. "Their positions are more in line with out-of-state special interests than the New Hampshire families."
Innis, meanwhile, also suffers from disappointing fundraising and organizing that even $1 million worth of super PAC ads may not be able to overcome.
While both candidates may be at a deficit at the moment, they still have some time before the state's September primary, when Republican voters will have a chance to decide how much they value diversifying the party's ranks.