10 Years of Pollution, $2 Million in Penalties
In Texas, an old pollution case is looming over new development.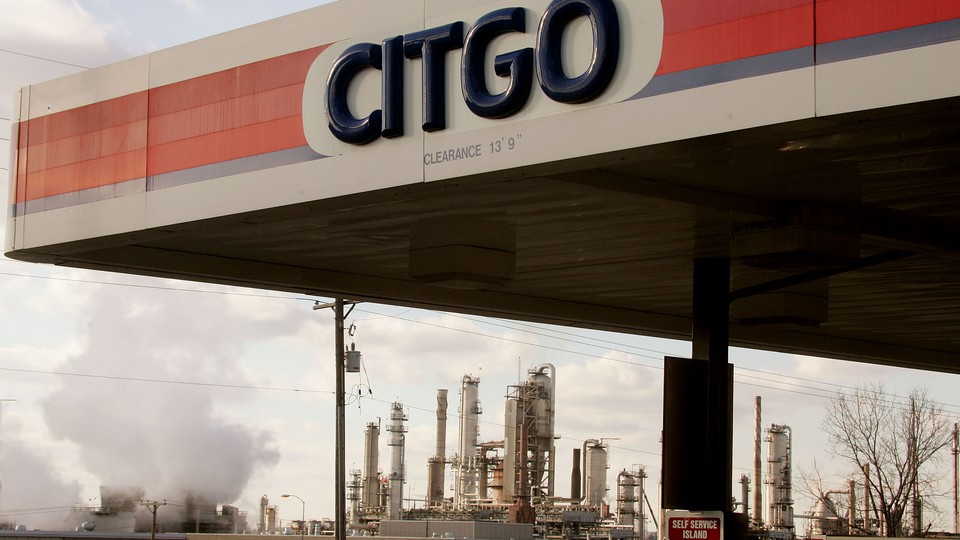 CORPUS CHRISTI, Texas — "I am in the middle of my speech about your criminal activities, give me a break," Suzie Canales tells two security officers for oil refiner Citgo as they arrive at her car window.
Canales, a longtime environmental activist, is describing a years-long court battle over air pollution from the refiner, a case that led to a 2007 conviction but, more recently, a defeat for victims seeking restitution. And she's doing it while parked next to one of two Citgo refineries along the city's "refinery row" on a recent afternoon.
Her presence (and mine), as well as the fact that we were snapping photos, has drawn security's attention. One requests that no more photos are taken, arguing a pass is needed. Canales bristles because we're on a public street. The private cops accept my business card, and that's pretty much it.
The brief incident is a reminder of long-standing tensions between activists and the city's petroleum industry at a time when even more industrial development is headed here. Booming oil and gas production from the inland Eagle Ford Shale is prompting a wave of new and expanded petrochemical and manufacturing projects in the area.
Canales, founder of the local group Citizens for Environmental Justice, has a knack for colorful statements. But her repeated use of the word "criminal" to describe Citgo wasn't hyperbole.
Citgo was convicted of criminal charges under the Clean Air Act in 2007 for operating two large tanks at its Corpus Christi East Plant without emissions controls from 1994 to 2003. The lack of controls, prosecutors say, exposed nearby residents to the carcinogen benzene and other compounds.
But seven years after the conviction, the case is still a focus of attention in this industrial port city on the Gulf Coast of Texas, where refineries abut largely poor and minority neighborhoods. Victims are continuing to press their case for restitution payments from Citgo for hundreds of people.
Citgo was hit with a $2 million fine when sentencing for the 2007 conviction occurred in February, but more recently a federal judge ruled against providing what the Justice Department and victims say should be far more to address future medical costs and more.
Melissa Jarrell, an associate professor of criminal justice at Texas A&M University (Corpus Christi), said the $2 million fine imposed against Citgo early this year sends the wrong signal.
"There is no deterrent value, really, in our sentencing guidelines for corporations, because we know that $2 million is not a deterrent for a major, multibillion-dollar corporation," Jarrell, who works with activists here, said in an interview in early May. "I'm certain other corporations saw that."
The penalty that district court Judge John Rainey imposed is indeed relatively little money for the major refiner, a subsidiary of Venezuela's state-owned oil company PDVSA.
The Justice Department has argued that a vastly larger fine could be imposed, and has not ruled out an appeal. Two million dollars was the maximum fine specified in law, but corporate crime statutes also allow an alternative of twice the gain that an offender reaped, and prosecutors argued Citgo gained $1 billion through illegal operation of the refinery.
The very recent past has brought two key developments in the case.
On April 30, the judge handed the Justice Department and community members a defeat by rejecting victims' bid for tens of millions of dollars in restitution to pay for medical screening for cancer and other diseases, future medical expenses, and relocation of people who live near the refinery.
On Monday, a three-judge panel of the U.S. Court of Appeals for the 5th Circuit denied the victims' bid for review of Rainey's April 30 ruling. The Justice Department says it's reviewing the April 30 ruling, which can also be appealed by the department, and a spokesman said in a statement that the department is "disappointed" by the decision to deny restitution.
People who live near the refinery have told the court that they experienced ailments such as headaches, skin irritation, fatigue, burning throat and lungs, and other woes.
But Citgo has argued in court filings that there is no evidence to support paying tens of millions of dollars in restitution.
For instance, in a late 2013 court filing, the company argued that hundreds of current and former residents who provided statements to the court have not shown that their injuries were "direct and proximate" results of emissions from the two uncovered tanks in question at the refinery.
The company also said there's no evidence of long-term health risks.
In his 20-page April 30 ruling denying restitution, Rainey spells out a suite of reasons for the decision, including the complexity of attempting to tie medical problems to the unchecked emissions from 1994-2003 at those specific tanks.
Paul Cassell, a criminal-law professor at the University of Utah who represents Corpus Christi residents living near the refinery, says the case "raises a lot of very serious questions about whether we have in place statutes to protect crime victims in these environmental crimes."
He says the ruling that focuses on the complexity of restitution as a reason against it is dangerous. "That basically becomes an invite for major corporate criminals to throw a battery of attorneys at a problem and complicate the issue and basically make it impossible for a judge to award restitution," Cassell said.