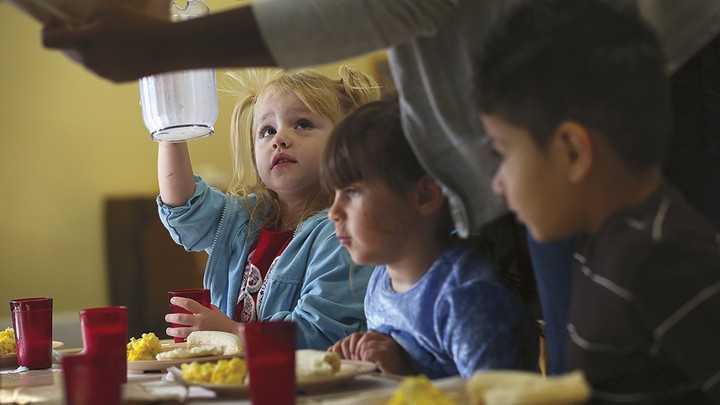 When President Obama called for universal access to pre-K programs in his 2014 State of the Union address, viewers could have been forgiven for thinking this was just another big government initiative that only a liberal could love. But in fact, a look at investments in pre-K education at the state level shows that funding is up around the country--and that some crimson red states like South Carolina and Mississippi are leading the way.
The Education Commission of the States analyzed state data on pre-K funding for the 2013-2014 fiscal year and found that of the 40 states that provide state-supported programs for 4-year-olds, 30 of them (plus the District of Columbia) increased their funding for these programs. And contrary to what you might expect, those increases don't follow a particular partisan pattern. (Scroll over the interactive map to see an individual state's pre-K funding level and how much it has increased or decreased.)
That's in part because some of the most conservative states in the country have had the hardest time budging stubbornly low education scores. It's not dissimilar from the situation a few years ago in which South Carolina decided to deal with a high teen pregnancy rate by giving comprehensive sex education--not abstinence-only--a try.
And there's another practical reason for conservatives to embrace pre-K education. Advocates of early childhood interventions have always made the moral argument that it's the just thing to do in order to allow children of all backgrounds to enter school on a level playing field. But now they also lay out the cost-benefit analysis: Spend money now or spend a lot more money later. Given that poor children with lower levels of educational attainment are most likely to end up in the criminal justice system or requiring social service assistance, researchers have determined that every dollar invested in early childhood education saves a minimum of $7 later on.
A few interesting developments in the states:
Massachusetts doubled its investment in pre-K for the 2013-2014 fiscal year in order to reduce the waitlist of children waiting for spots in programs, a number that had reached nearly 15,000.
South Carolina increased its funding by almost 80 percent in order to extend early childhood programs to 17 additional school districts in the state.
Minnesota is now offering scholarships for pre-school age children whose family's income is low enough to qualify--those scholarships for private programs are in addition to the Head Start options already available.
New Mexico's Republican Gov. Susana Martinez signed a bill last spring that will use money from the state's tobacco settlement to fund early childcare and education programs.
It's important to note that the programs included in this data are just those that serve 4-year-olds. Many education researchers believe that interventions should start even earlier, with school-based programs beginning at age 3, and voluntary home-based interventions as early as infancy. Even so, the trend lines point toward more federal and state support of early education--whether you live in a state that's blue, red, purple, or polka-dotted.
This story is part of our Next America: Early Childhood project, which is supported by grants from the Annie E. Casey Foundation and the Heising-Simons Foundation.
We want to hear what you think about this article. Submit a letter to the editor or write to letters@theatlantic.com.
Brian McGill
is a news artist at
National Journal.
He was previously a senior news artist at
The Tampa Tribune
in Tampa, Florida, and a graphic artist at
The Springfield News-Leader
in Springfield, Missouri.