Yes, the Cover of Golf Digest Is Tacky, Gross, and Exclusionary. But So Is Golf.
It's actually perfect that Golf Digest's cover image of sexy, non-golfer Paulina Gretzky has irritated people for being sexist and exclusionary. Nothing provides a better digest of golf than exclusion, annoyance, cultural damage, and self-absorption.
This article is from the archive of our partner
.
It's actually perfect that Golf Digest's cover image of sexy, non-golfer Paulina Gretzky has irritated people for being sexist and exclusionary. After all, nothing provides a better digest of golf than exclusion, annoyance, cultural damage, and self-absorption.
Gretzky is the fiancée of professional golfer Dustin Johnson and the daughter of professional hockey player Wayne Gretzky. Besides those relationships, she is perhaps best known for her Instagram account, which features a number of photos as demure as the Golf Digest cover. That she is the 12th woman ever to appear on the cover of the monthly magazine has frustrated female golfers, The New York Times reports. The No. 1 ranked female golfer in the world, Inbee Park, put it elegantly when she saw the Gretzky cover: "Who is that?" Juli Inkster, the last woman to grace the cover, agreed. "It's like, What do you have to do to get a little respect? I'm guaranteeing you right now, it was not a woman editor who chose that cover."
This is all completely fair critique. But golf is so completely rotten and has such a terrible track record on every single issue of social change over the past century that uproar over the Gretzy cover is like fretting about a small sapling in the middle of the Black Forest. Ha ha — well, the White Forest, anyway.
Here is the thing: Golf is the worst sport, if it is a sport at all. Golf is worse than NASCAR, and I say that fully understanding the weight of those words. Golf is worse because it is more classist, more racist, and probably more environmentally harmful than car racing. And what's really remarkable about golf is how little legwork it takes to demonstrate each of those qualities.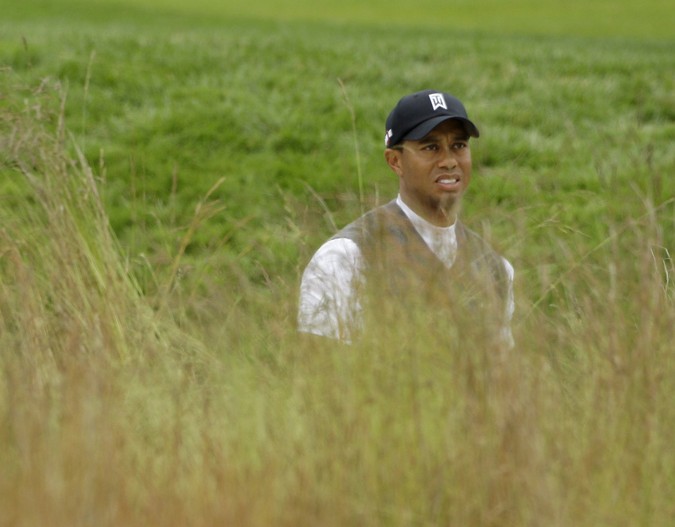 Racism. In 2011, Complex magazine put together a handy compilation of the most racist moments in golf history, which is a bit like compiling the most racist bus drivers in 1955 Montgomery. In includes a number of the responses to Tiger Woods appearance on the national tour, like when golfer Sergio Garcia made a fried chicken joke and when golfer Fuzzy Zoeller made a fried chicken joke. And when the guy that founded the Augusta, Georgia country club, home of The Masters, said that "as long as I'm alive, golfers will be white, and caddies will be black."
When the Supreme Court barred segregated golf in 1955, private clubs simply didn't accept black members. On February 14 of this year, a club in Texas admitted its first black member. "We just want to show we're equal," resident Evelyn Walling told the local CBS affiliate. Too late! This club is not alone, though; the news over the past decade is peppered with similar firsts, black golf players being allowed to play golf in country clubs. By way of reminder, it is 2014.
Anti-semitism and homophobia. If its any consolation, private golf clubs were been similarly reticent to embrace gay players and Jewish players. Hillcrest Country Club in Los Angeles was created largely to accommodate Jewish players unwelcome anywhere else in the city.
Social class. While country clubs struggle with in terms of excluding people of different religions and races, they do not struggle at all with excluding members of lower social classes. They were created as social clubs for the middle- and upper-class, and that has not moved backward an inch. A 2010 paper by Hugo Ceron-Anaya of Washington College notes that golf clubs were specifically designed to foster the advancement of the upper middle-class.
It worked. The golf course is the place where business deals get done, where President Obama takes the Speaker of the House to discuss politics. It's intentionally exclusive, in a way that benefits deal-making. But it's exclusive, too, in that it ensures that those deals and conversations happen among peers. Last November, the San Diego Union-Tribune ran a sponsored essay telling women to take up golf as a way to become "a powerful player" — since women (and poor people and workers in the service sector) aren't part of this great culture.
What's more, the social status qualification of country clubs is the easiest to enforce: simply raise annual dues. Far easier than trying to guess if an applicant is as white as they say they are. A 2004 report summarized neatly: "The clubs have long histories of racial-ethnic homogeneity, but they now display some demographic diversity while preserving the economic and cultural homogeneity with which members are comfortable."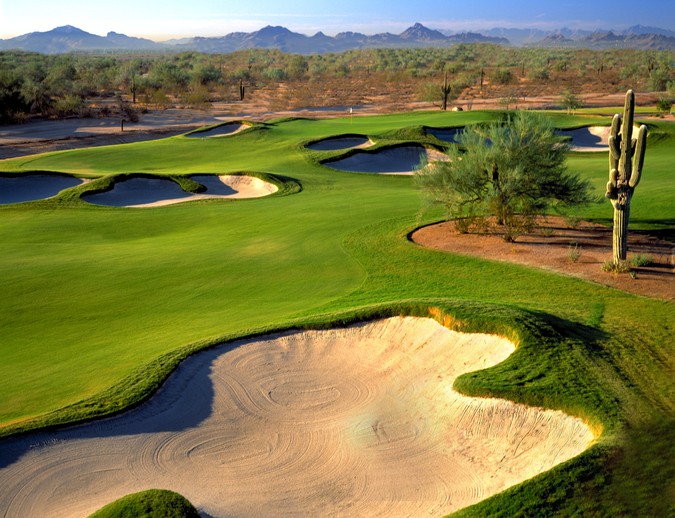 Harm to the environment. Golf courses are beautiful, stretching over acres and acres of land that's heavily watered and regularly mowed with gasoline-powered mowers. The critical need to keep fairways immaculate means lots of weedkillers and insecticides. The extent to which those -cides leach into outside water sources was so heavily debated that the U.S. Golf Association itself put together a report meant to minimize such concerns. Even Golf Digest itself cast a suspicious eye at the environmental effects of golf courses in 2008. Some courses are moving toward more natural setups. Most aren't.
The Golf Digest cover is a mistake, a problem that should — and probably will — be addressed by editors, who will apologize for emphasizing sexiness over the sport. Then, if we are to continue down the slippery path of fairness, the PGA and USGA should shut their doors, and private clubs across the country should either become public or be converted into affordable housing. At that point, the damage done by golf will be nearly eradicated, and we will consider this incident resolved.
This article is from the archive of our partner The Wire.