Wisconsin's Voter-ID Law Just Experienced Another Setback
Another nail in the coffin.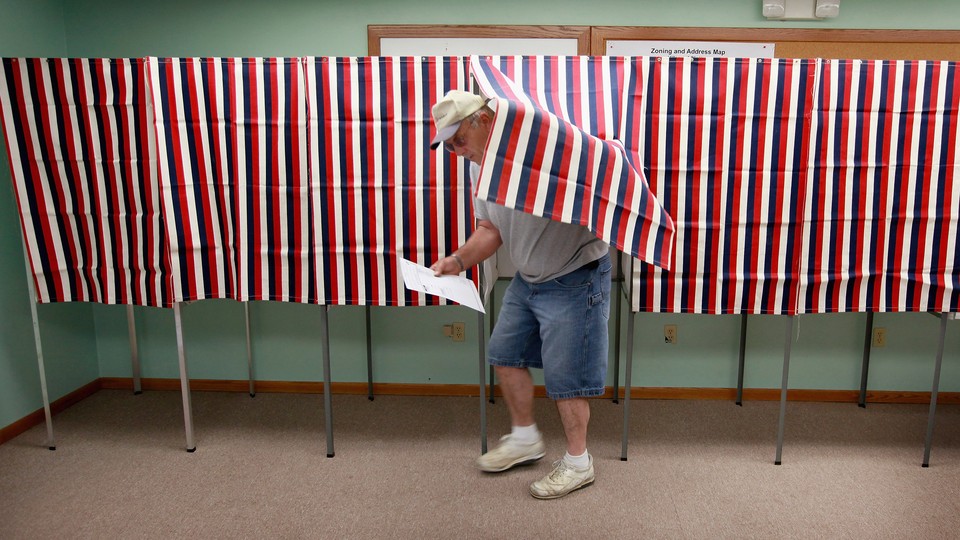 It's been called "the most restrictive voter-ID legislation in the nation." Now, it's just a lame duck.
On Tuesday, a federal judge struck down Wisconsin's voter-identification law, which had already been rejected by the state Supreme Court. The law, passed in 2011, required all voters to present a state-issued photo ID to be able to vote.
Such voter-ID laws have gained popularity in conservative states, and they purport to prevent voter fraud. But Democratic opponents argue that the laws unfairly impede minority voters, who are more likely to vote Democratic.
It's doubtful the current law could be reinstated in time for Gov. Scott Walker's reelection in November. If possible, it would take a Herculean effort on the part of the law's supporters to go through the federal Appeals Court.
The decision found that Wisconsin's law violated Section 2 of the Voting Rights Act, which prohibits practices that result in the disenfranchisement of minority voters.
Just how much of a problem is voter fraud in Wisconsin? In 2008, the state Government Accountability Board surveyed counties' prosecuting attorney offices and found that "a total of six criminal complaints had been filed alleging voter fraud." (Walker's administration has butted heads with GAB members in the past.)
In his decision, U.S. District Judge Lynne Adelman rejected the state's argument that the voter-ID law was a small impediment for voters and so would not violate the Voting Rights Act.
"There is nothing in these cases indicating that a Section 2 plaintiff must show that the challenged voting practice makes it impossible for minorities to vote or that minorities are incapable of complying with the challenged voting procedure," Adelman wrote. "Even if the burden of obtaining a qualifying ID proves to be minimal for the vast majority of Blacks and Latinos who will need to obtain one in order to vote, that burden will still deter a large number of such Blacks and Latinos from voting."
Adelman argued that the voter-ID law disproportionately affected black and Latino voters, who are more likely to lack a qualifying ID or to lack the underlying documents they would need to obtain a qualifying ID. "In Milwaukee County, only 2.4% of white eligible voters lack both a qualifying ID and one or more of the underlying documents needed to obtain an ID, while 4.5% of Black and 5.9% of Latino eligible voters lack both an ID and at least one underlying document," he wrote.
Under the law, Wisconsin residents would have to present one of the nine following forms of ID at their polling place:
A Wisconsin driver's license
A Wisconsin state ID card
An ID card issued by the U.S. miltary
A U.S. passport
A naturalization certificate issued within the last two years
A temporary Wisconsin driver's license
A temporary state ID card
An ID card from a federally recognized Indian tribe
An ID card from an accredited Wisconsin university or college, along with a document showing current enrollment
Through his decision, Adelman one-upped the state Supreme Court, which was reviewing the case. So, even if the state court ruled in favor of the law, it would remain blocked because of Adelman's ruling.
Needless to say, the decision was insult to injury for Republican leaders in the state.
"I am disappointed with the order and continue to believe Wisconsin's law is constitutional," the state attorney general, J.B. Van Hollen, said in a two-sentence statement. "We will appeal."
Rep. Robin Vos, the speaker of the Wisconsin state Assembly, said state Republicans aren't giving up either, and are working on another voter-ID bill that would be immune to court challenges.
"The U.S. Supreme Court has said voter ID is constitutional. We look forward to working with the governor and our colleagues in the Senate to do whatever it takes to ensure voter ID is in place as quickly as possible," he said. "The integrity of our elections is too important to be caught up in the courts. Voter ID should be law in Wisconsin."
Meanwhile, Democrats rejoiced nationally.
"Today, the courts took an important step to make sure the right to vote is protected for all eligible Wisconsinites," the Democratic National Committee said in a statement. "This decision reinforces a commitment to true equal protection, and reaffirms that access to the ballot box remains a fundamental right protected against interference in Wisconsin and across the country."