Will Premium Spikes Cause Another Round of Obamacare Bashing?
The health care law's strong enrollment numbers might not actually mean lower costs for consumers in 2015.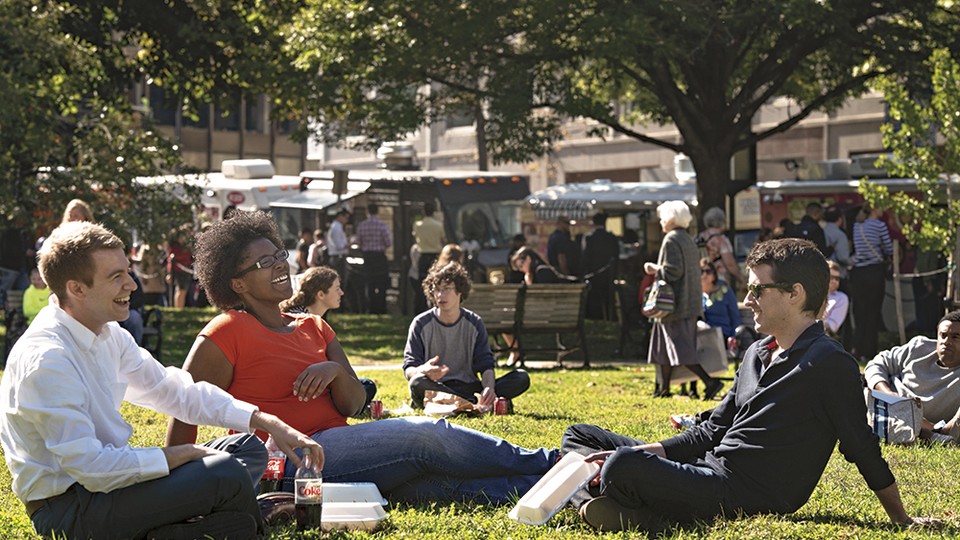 Now that Obamacare's first enrollment window has closed, we know approximately how many people (at least 7.1 million) picked an insurance plan through the law's new exchanges. But one thing we still don't know is whether big premium hikes are looming in 2015. The answer to that question — which we won't begin to learn until this summer — could go a long way toward determining whether Obamacare is successful, not to mention influencing the outcome of November's election. Large spikes, after all, could hand Republicans a new anti-Obamacare talking point, in the wake of their predictions about low overall enrollment largely falling flat.
So how will next year's premiums be decided? One factor will be the final demographic breakdown of those who enrolled in the exchanges — how many are young and (presumably) healthy; how many are older and (presumably) more expensive to cover.
At the end of February, young adults constituted about 25 percent of all sign-ups. That share could easily rise once we see the final tally — young people were always expected to sign up at the last minute. Even so, the law's critics have noted repeatedly that it's unlikely the mix of young adults will reach the administration's initial target of roughly 40 percent.
That said, the size of next year's premium increases depends not on what the administration predicted, but on what insurance companies predicted. "What really matters is what's happening on the ground versus what insurers expected to happen," says Larry Levitt, senior vice president at the Kaiser Family Foundation. "That's because insurers built in some padding, and that padding made premiums higher than they would have been if they had expected a balanced risk pool."
Insurers set their premiums for 2014 based on whom they thought would enroll. If their assumptions were pessimistic, that pessimism is already baked into the plan's rates. And there are clear signs that insurers made much safer bets than the White House did about the mix of young enrollees.
Indeed, some health care wonks say the White House's goal for the percentage of young adults in the risk pool was completely unrealistic. "Forty percent was a ridiculous expectation," says Caroline Pearson, vice president at consulting firm Avalere Health. "I don't think any insurer in the country priced for that."
The assumption among analysts is that the White House got to this number by looking at the demographics of the overall uninsured population. Young adults make up 40 percent of all uninsured Americans — so, the thinking apparently went, they'll be 40 percent of the newly insured under Obamacare. But the law provides other options exclusive to young people (such as staying on their parents' plans), and many young adults decide they can safely skip the expense of health insurance (hence the term "young invincibles").
All of which explains why insurers seem to have assumed lower turnout by young adults than the White House hoped for. But there's another factor driving health care premiums as well. A senior executive from WellPoint — the insurer with the biggest presence in Obamacare's exchanges — reportedly told investors recently that the mix of young adults "came in right where we expected it to be," yet he also raised some eyebrows by saying premiums would nevertheless increase by double digits in some markets. The likely culprit, health care analysts say, is underlying medical costs.
Insurance premiums reflect what's known as "medical trend" — a metric that combines the growth in the cost of health care services with the rate at which people use those services. Health care spending has been growing at record lows for the past few years, and while the White House has claimed that Obamacare deserves at least some of the credit, the broader economic climate is also a big part of the reason. The Kaiser Family Foundation has found that health care spending rises and falls with the economy, but lags a few years behind. That means the economic recovery might be about to show up in health care — and make premiums more expensive.
"Based on our model, right about now is when you'd expect the improvements in the economy to start putting pressure on health care costs," Levitt explains. He says medical trend will probably pick up by 5 percent or 6 percent next year.
On top of that, one of the health care law's safety-net programs for insurers begins to scale down next year. The law pumped $10 billion in reinsurance payments into the market this year, to help offset the risk insurers shouldered by entering a new and unknown market. Those payments scale down to $6 billion in 2015. According to Levitt, that could add another 3 or 4 percentage points to premiums, on top of medical costs. "You could get pretty close to 10 percent just by those two factors alone," he says.
Of course, in markets with a lot of competition, insurers will have an incentive to keep their premiums low to attract as many customers as possible. And Levitt says the demographics of Obamacare's enrollees — the factor that critics say will cause premiums to rise — could actually help keep next year's costs in check. "If I were an insurer, I would assume that it would get better. As enrollment grows, you're more likely to get more younger and healthier people," he says. "It's hard to imagine the risk pool could possibly get worse in the future." But given the other factors in play, that certainly doesn't rule out spikes in premiums.