Will Marco Rubio Be the Last Establishment Man Standing?
Stacked against Jeb Bush, Chris Christie, and Paul Ryan, the senator from Florida may look pretty good to the party.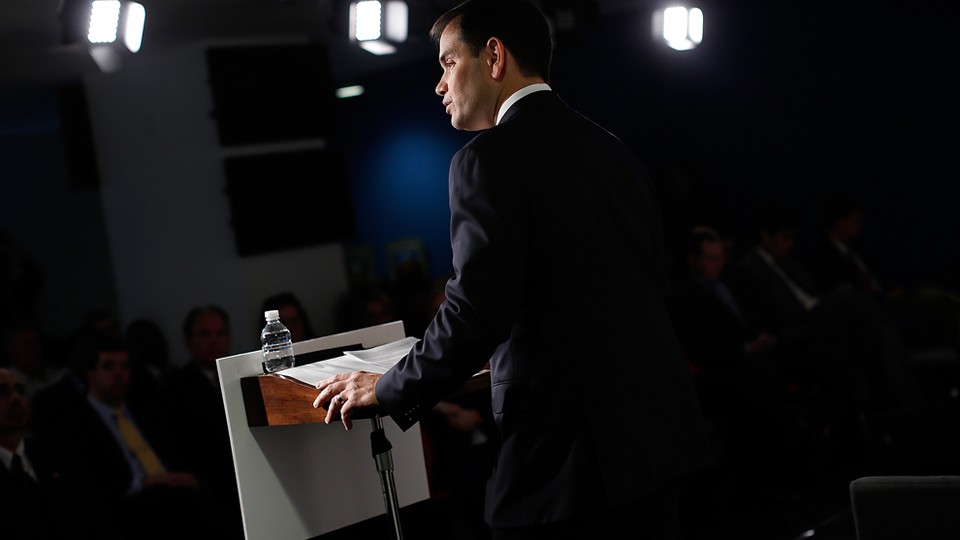 The prospective Republican presidential primary field can be broken down into three tiers: There's the tea-party wing, where Sens. Rand Paul and Ted Cruz are already competing for the most conservative voters. There's the gubernatorial wing, where lesser-known Republicans like Wisconsin Gov. Scott Walker and Ohio Gov. John Kasich will be looking to parlay their executive experience into a spot on the national stage.
But most important to the process is the establishment wing, the candidate whom party leaders and donors gravitate toward, usually early on. Despite rumors of their demise, GOP insiders have always played a critical role in Republican presidential nominations and are showing no signs of slowing down for 2016. The establishment gravitated to Mitt Romney not long after his 2008 loss, anointed George W. Bush as the front-runner well before the 2000 presidential campaign began, and shepherded Bob Dole and George H.W. Bush through conservative insurgencies. Despite the presence of social conservatives and tea parties over the years, the Republican Party has tended to rally behind a more moderate contender.
What's different about 2016 is the gaping vacuum left by two straight presidential losses and a field whose most visible candidates carry glaring vulnerabilities. In latching onto the third rail of immigration and baiting tea-party conservatives with his unapologetic support of Common Core educational standards, Jeb Bush acts lately as if he's trying to find an excuse not to run. He last ran for office in 2002, a lifetime ago in politics. One Republican officeholder noted recently how striking it was to see the generational divide in Congress between the members elected before 2006 and those elected in the George W. Bush downturn and later. Jeb Bush is very much a creature of that bygone Republican era: At his foundation, he has focused on education and immigration reform, but the Republican base is now much more concerned with overreaching government, cutting federal spending, and repealing President Obama's health care law.
Bush's biggest vulnerability, however, may be his last name. In an environment where voters are dissatisfied with Washington and politicians, the prospect of running as the third member of a family to seek the presidency seems like a tough sell. One of the strongest points of contrast Republicans would have against Hillary Clinton is the change argument — switching up parties after two terms of Democratic rule.
The other early establishment favorite was New Jersey Gov. Chris Christie, who is still giving every indication that he's running for president in 2016. It's hard to believe he'll be able to get past the George Washington Bridge scandal, especially since the U.S. attorney's investigation looks like it will linger on into the presidential primary season. If anything, signs point to things potentially getting worse for the governor, with the incentives for some of his closest allies — former Deputy Chief of Staff Bridget Kelly, campaign manager Bill Stepien, and ousted Port Authority official David Wildstein — to sell Christie out.
If Christie is cleared of any wrongdoing, he will still have to convince donors that his argument that he's the most electable Republican still holds, and persuade enough conservatives that he's one of them. With his outspoken personality, impressive communications skills, and sharp political instincts, that would have been possible without scandal looming. But given the reality on the ground, getting behind Christie will probably be a bridge too far for many Republican rank and file to cross.
As Romney's running mate in 2012, Rep. Paul Ryan would have an inside track to the nomination as the establishment favorite. Well liked by his congressional colleagues and popular with donors, Ryan shouldn't be underestimated if he decides to run for president. But few close to the House Budget Committee chairman believe he's eager to jump in. His bipartisan budget compromise with Sen. Patty Murray of Washington didn't win him goodwill from the conservative base. And he's slated to succeed retiring Rep. Dave Camp as the next House Ways and Means chairman in 2015, a position better-suited to accomplish tax and entitlement reform — especially with the prospect of working with a Republican-controlled Senate.
That leaves Sen. Marco Rubio of Florida, who ironically began 2013 as the early favorite with the establishment. After a setback pushing comprehensive immigration reform, he's begun to raise his profile again by calling for a more muscular foreign policy, an issue that's beginning to loom large in 2016 and one in which he's one of the few prospective GOP candidates with experience. Rubio's Hispanic background, charisma, and prolific fundraising are fundamental advantages that he holds over his competition. And he's one of the few contenders with solid vote ratings from outside conservative groups such as the Club for Growth, without diminishing his stature among Republican leaders.
Rubio has accumulated more than $2.6 million in his campaign accounts, and he's expected to visit the early primary states in coming months. He teased the prospect of a presidential run to conservative talk-show host Hugh Hewitt, hinting he may not run for reelection to the Senate in 2016. At a time when Republicans are having trouble passing immigration policies to win over Hispanics, they may settle for getting behind a Cuban-American candidate with an inspirational life story as a backup plan.