Why Nevada, Home of Cliven Bundy, Abolished Slavery Twice
The rancher wonders whether blacks were better off under slavery. The Silver State's founders had no such doubts.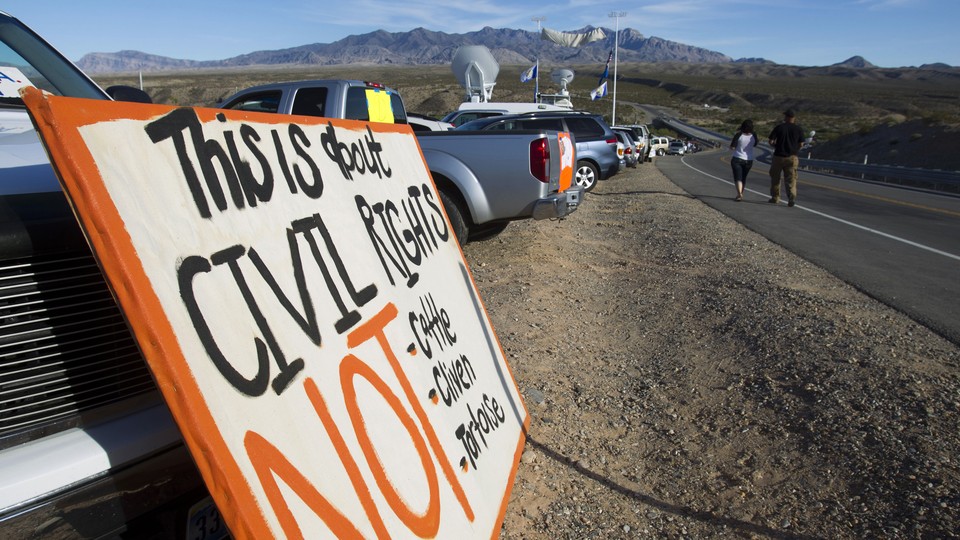 Cliven Bundy, the controversial Nevada rancher resisting a federal court order alongside armed members of the militia movement, shared his unorthodox perspective on race relations and American slavery with The New York Times earlier this week:
"I want to tell you one more thing I know about the Negro," he said. Mr. Bundy recalled driving past a public-housing project in North Las Vegas, "and in front of that government house the door was usually open and the older people and the kids—and there is always at least a half a dozen people sitting on the porch—they didn't have nothing to do. They didn't have nothing for their kids to do. They didn't have nothing for their young girls to do.

"And because they were basically on government subsidy, so now what do they do?" he asked. "They abort their young children, they put their young men in jail, because they never learned how to pick cotton. And I've often wondered, are they better off as slaves, picking cotton and having a family life and doing things, or are they better off under government subsidy? They didn't get no more freedom. They got less freedom."
"Slavery is torture as a system of governance, corporal destruction taken as the mere cost of doing business," my colleague Ta-Nehisi Coates wrote this morning in his assessment of Bundy's remarks. I noted earlier, when the standoff began, that the state's unique constitutional history contradicts Bundy's claims of a sovereign, anti-federal Nevada. Perhaps unsurprisingly, Nevada's history runs contrary to his views on slavery too. The state was so anti-slavery at its inception that it actually banned the practice twice.
Congress authorized the Nevada Territory to draft a state constitution in May 1864, one month after the Senate passed the Thirteenth Amendment. As a precondition to statehood, the act also required Nevada to enact "by an ordinance irrevocable" a permanent renunciation of all unappropriated public lands—which would help fuel Bundy's ostensible grievances 150 years later—and the abolition of slavery. President Lincoln and other Republican leaders hoped Nevada statehood would provide additional votes to pass the federal constitutional amendment and secure his reelection.
Slavery had never existed within Nevada's borders, nor would it likely ever take root in the desert climate and mountainous terrain. But the convention dutifully passed the ordinances when it gathered in July 1864, then set about framing the rest of the constitution. Their draft, which had been written at an unofficial convention in 1863, also abolished slavery in its Declaration of Rights. As they went through, clause by clause, the delegates wondered: Should Nevada abolish slavery a second time?
"I do not see the necessity of having the same matter in two distinct portions of the constitution," one delegate commented. "Now, I am in favor of the proposition which this section embodies," stated another, "but I do not want it repeated ... since it has the same binding force in that ordinance as it would have if found in any other part of our fundamental law."
But others wanted the clause to stay. "Then, certainly, there can be no dispute about our having excluded slavery," argued one. George Norse, a respected lawyer from the north, surmised that the Enabling Act from Congress authorized a state constitution but was not part of it. "I should be exceedingly sorry, for one, to have a constitution go forth from us which should be silent on this subject" of slavery, Norse said. Charles DeLong, another delegate, summed it up best: "I agree with the gentlemen; good things will bear repetition." The abolition clause remained and survives alongside the abolition ordinance to the present day.
But Nevada was no racial utopia back then, despite its pride in supporting the Union and helping end slavery. In 1861, Nevada's territorial legislature passed a miscegenation statute targeting blacks as well as Chinese immigrants and Native Americans, and the state legislature followed suit with Jim Crow laws in the decades thereafter. Nevada public schools integrated black and white students after 1871—a notable exception to the national norm—but only because building separate schoolhouses was economically unfeasible.
Through redlining, Las Vegas—sometimes called "the Mississippi of the West" at the time—pushed black residents west across the railroad lines and away from what would become the Strip. Black musicians in the 1940s and 1950s like Nat King Cole and Ella Fitzgerald couldn't sleep or eat in the casinos where they performed. A manager at the New Frontier drained all the water from his whites-only swimming pool after Rat Pack member Sammy Davis Jr. took a swim in it one night. Although singer Lena Horne was allowed to stay at the Flamingo when she performed there, management burned her sheets and towels after she checked out.
The Strip finally desegregated in 1960 in an agreement brokered by the governor and local black leaders, and significant civil-rights progress followed across the state as segregation's legal architecture collapsed nationwide. Nevada's fourth congressional district, in which Bundy resides, elected Steven Horsford as the state's first black member of Congress in 2012.
"[Bundy's] despicable comments about 'the Negro' belong in the dustbin of history," Horsford said in a statement this morning. "He is not a man who represents the American West's way of life or the dignity of our hard-working Nevada ranchers."
Even if Nevada has relegated these views to the dustbin of history, Bundy evidently hasn't. "We are after freedom," he told Sean Hannity earlier this month. "We're after liberty." Terms and conditions may apply.