Why Every Member of Congress Gets a Monthly Porn Delivery
Larry Flynt has sent a monthly copy of Hustler to every congressional office for the last 30 years, and members of Congress can't stop it.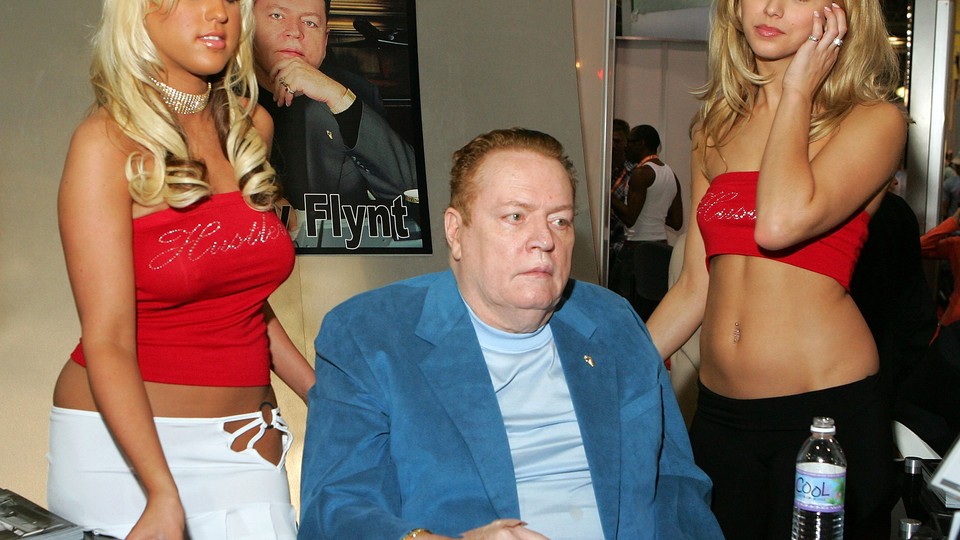 Congressional offices have a porn problem, but it's not exactly what you think.
Since 1983, Larry Flynt has sent the monthly magazine he founded, Hustler, to each and every member of Congress.
The dirty mag comes in a plain manila envelope, fairly undetectable to the poor intern or staffer tasked with opening the mail. And every month, there it is: Hustler, featuring dozens of naked or scantly dressed women, vulgar comics, and articles, some satirical, on politics, society, and sex.
It's not like members of Congress haven't tried to stop the magazines from coming. They just can't stop it legally.
Following the complaints from 264 congressional offices in 1984, the U.S. Postal Service asked the U.S. District Court for the District of Columbia to block the mailings. But that request failed when the court ruled two years later that the delivery of the magazine could not be stopped. The court wrote:
Receiving Hustler once each month would not unduly burden a Member of Congress. Members are not forced to read the magazine or other of the mail they receive in volume. We cannot imagine that Congressional offices all lack wastebaskets.
For Hustler, it was a First Amendment issue. This was Flynt's right to petition the government, he argued, and the court agreed. Or as Flynt told The Hill in 2011, "Moses freed the Jews, Lincoln freed the slaves, and I just wanted to free all the neurotics."
Thirty years later, the congressional subscription count remains the same: 535. The magazine is not sent to members of the executive branch, though.
Some members of Congress have made their objections to receiving the magazine public. "It's insulting behavior on the part of the publisher, but not surprising," said Rep. Jim Matheson, a Utah Democrat, in 2006.
For the most part, however, receiving the magazine is just a part of everyday life in congressional offices.
Some staffers say it has become a lighthearted way for them to have a little fun — and not just by reading it. Most of the time the magazine ends up in the trash. But take these five examples from staffers (quotes are edited to preserve anonymity):
I let interns know they will receive an interesting magazine and they should just throw it away.
I "forget" to mention it to interns and wait to watch the look of horror on their face when they open it in a congressional office.
I have a friend that I asked one day if he liked to read. He said, "Sure, I read a bit." Since then, I have sent him every random book our office has received, including a couple Hustlers for some refreshing material. He still has no idea it's me.
For a while, the interns, after their initial shock and befuddlement, were directed to save the Hustlers. We eventually gave a coworker the whole year's supply for Secret Santa and then she would mail them to her boyfriend in Iraq. Certainly one of the least-heralded ways the office supported our troops.
Some buddies and I collected them for several months, and then sent them all to the same friend in one day. The recipient worked in the back office, so they'd be delivered to him from that office's staff assistant in piles as the mail came in.
And the folks at Hustler are fully aware that the magazine is treated this way. As Arthur Sando, a spokesman for the Beverly Hills, Calif.-based magazine, put it to me, "We assume, at this point, that staff members are either reading it or tossing it."
{{ BIZOBJ (video: 4891) }}