Who's the Most Accomplished Republican Strategist of the Day?
Is it Rove? Ailes? Either of the Koch brothers? Anyone in Congress? Or a statehouse? No, in fact it is...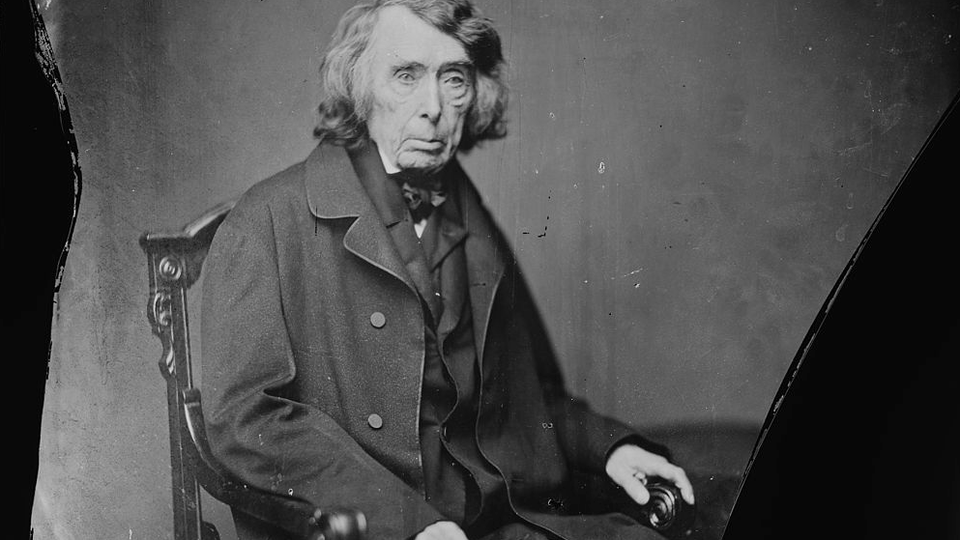 Tomorrow morning, we start in with a big installment of American Futures reports. For now, followup on two previous items, one and two, on what we have learned about the Supreme Court and Chief Justice John Roberts via the latest McCutcheon ruling.
1) The most consequential Republican. A reader writes:
I enjoyed  ...  the excellent Emily Bazelon piece that explains how he expertly cloaks his actions, seeming reasonable, judicious, and measured, while pursuing a radical, conservative political agenda.

If you remember, I wrote you before the ACA case and predicted that Roberts would find a way to uphold it for purely political reasons.  In short, he recognized that throwing out the ACA would have two serious consequences—serious long term political costs to the conservative political cause, and undermining the credibility of the Supreme Court itself.

When you step back and look at his judicial actions as Chief Justice, you come to one conclusion. Roberts can be properly seen as the most consequential and successful Republican politician of our time.  It may be that, given his overt political agenda, there will be an erosion of the reputation of the Supreme Court, as they continue to move laws in a direction that a majority of Americans (certainly younger Americans)  oppose.  But, in the phrase Krugman used when he criticized W and those around him, Roberts and his colleagues are "serious men", and we are stuck with his effective political activism for many years to come. Oh, well...
2) John Roberts, John Marshall. From another reader:
My reaction at the time of the ACA decision was that Roberts had pulled a trick not unlike the one Marshall pulled with Madison v. Marbury. In the latter, Marshall found in favor of the plaintiff, which was against the interests of the Federalists who had appointed him, while creating the principle of Judicial Review which gave the Court, and himself in particular, ultimate power over Congressional "balls and strikes". In Sebelius, Roberts granted himself the power to define words. Thus "mandate" became "tax" and all was well with the law. What passed unobserved was that this new power to redefine the words in any given law meant that no law is worth the paper upon which it is printed until Roberts has interpreted it.

Thus, "money" becomes "speech" and "corporations" become "persons".  "Rights" become "Grants", "Birth" becomes "Conception", "Privacy" becomes "License" and/or "Property".

Of course, I agree with Marshall and I disagree with Roberts, but I have to admit that the sword cuts both ways. In his defense, Marshall was generally wise to create judicial unanimity in his decisions which gave them greater strength when the Court was weakest. On the whole, I would say that the Nation was fortunate to have Marshall on the bench for 35 years acting as a break against the autocrats in Virginia who leveraged their 3/5s electoral advantage in every direction. Had it been left to Jefferson, Dred Scott would have been decided in 1802 and the rest of history would have been very different.

Today, Roberts has appropriated the dignity granted by Marshall and uses it to forge divisive and cynical rulings when the Court could not be stronger. For the time being, I am satisfied to let Roberts continue to redefine "democracy". I think this is a necessary part of the process. The excesses of the oligarchs will eventually bring their ruin. All I can hope is that it won't take a second Civil War to bring this about.
3) The humblebrag was the tell. Another reader:
It seems to me that there is a more obvious lesson from review Mr. Roberts' confirmation hearing: It is appropriate to be suspicious of anyone who brags about his or her humility and modesty. One could expand Mr. Roberts' cynicism by noting that he didn't explicitly say that *he* was humble and modest, only that these were appropriate qualities for a judge, and leading us to believe that he claimed these qualities for himself without actually making the claim. It is less damning if he intended to claim those qualities for himself, rather than intentionally misleading his audience.

Criticism of your assessment calls for an analogy with False Equivalence, in which the scope of discourse has shifted so much that simply identifying something is labeled extreme.  A harsh assessment would be that Roberts, Alito, Thomas and Scalia have almost quit trying to look like anything except partisan hacks. Their decisions are inconsistent with one another as well as with precedent (which they ignore or misrepresent) and with reality. To suggest that Mr. Roberts is cynical is among the most restrained explanations for his conduct.
4) Meanwhile, the realities.  From a reader in Virginia:
I do want to make one point, being on the firing line of John Roberts' ACA decision to let states decide whether or not to accept the Medicaid expansion part of ACA. He knew exactly what he was doing, cynical to the core.

In states where the Medicaid expansion was not approved (trending conservative/Southern), thousands of the poorest still have no healthcare coverage. Example: under $11,550/year income for a single person, no ACA subsidy for low cost insurance. You're on your own, same as before. Free clinics, or if you are too proud, go without, or get care, go bankrupt.

People are suffering, sad and angry. They feel they were promised affordable healthcare and have been betrayed by Obama. Sometimes I patiently explain why our legislature in Virginia is having a battle over Medicaid right now, and sometimes I am too tired. I volunteered for several enrollment events sponsored by a non-profit organization here called Celebrate Healthcare. [I was recently in a newspaper photo], enrolling a young lady, one of the lucky ones. 

Many of the rest are deeply disappointed. 

Thanks, John Roberts, you innocent balls and strikes guy.....
5) Not cynicism but something else.  A reader objects to my saying that John Roberts must have been either very naive, or simply cynical, in saying nine years ago that his ideal was the non-interventionist, "just call the balls and strikes" judge:
Those are certainly two valid ways of looking at it. I find it very, very hard, given everything we know about the man, both personally and professionally, before and after his appointment to the Supreme Court, not to suspect he perjured himself. Entirely unprovable, of course. (At least, presumably.) But, honestly, I think in many ways it's the most respectful conclusion, rather than pretending a man of his intellect, training and experience could have been that naive. And if he WERE that naive, that alone makes him unqualified to lead the highest court in the land. 
6) Life tenure is a problem; there is no solution. If I could rewrite the Constitution, one of my first changes would be shifting the Supreme Court to a set of staggered 15-year terms rather than life tenure. Each president would get at least one pick, probably two; and there would not be such a premium on grim-reaper assessment of candidates, to see how long they're likely to stay active on the bench. A reader talks about life appointments more generally:
In my view life tenure is a very, very dangerous thing. 

I say that as someone who was recently granted academic tenure. I see it in academia now that mandatory retirement has been removed (by the Supreme Court in 1991 no less). Given the world I live in I'll take it, but it doesn't fundamentally change the fact that I think it is wrong.

The upside of tenure is that it gives protection from an administration that can be vindictive when someone does research that is controversial. This is important. It also gives some freedom to try riskier projects that might not pay out for a while, which is very much how basic science is.

The downside is that senior professors are often expensive and not very productive. The variations of deadwood faculty---the semi-senile senior professor wistfully reminiscing about when he was relevant while keeping a hand on the throat of the department or the embittered associate with the stalled career---are tropes for a reason. One of the reasons the academic job market is as congested and abusive as it is is because administrations can't get high priced senior faculty to retire. Extended contracts after a provisional period? Sure. So something like a contracts that were 3 years, 3 years, 7 years, 7 years, 5 years, 5 years, 3 years, 3 years, etc., would give a lot of its benefits with more flexibility. (In a sense, due to the way that funding works now, tenure isn't what it used to be anyway. At a lot of schools if you don't bring in enough to cover 80% of your salary you are terminated on financial exigency grounds anyway.)

General officers in the first half of the 20th Century in the US Army are perhaps an even better illustration. John Pershing, was acting as a general officer with a set of captain's bars on his collar in the Philippines due to the strict seniority system. He was promoted to general by an act of Congress at Theodore Roosevelt's urging. When he was chosen as the commander of the AEF in 1917 he had to relieve an extraordinary proportion of general officers who would have been division commanders, many of whom where unable to handle the demands of the job due to being seriously overage. Then, lest we forget, there is the American Caesar: "The problem with MacArthur was that he had been a general too long. He got his first star in 1918 and that means he's had almost thirty years as a general. Thirty years of people playing to him and kissing his ass, and doing what he wants. That's not good for anyone." - Lieutenant General Joseph "Vinegar Joe" Stilwell, US Army, 1944

So for the federal bench, something like 10 year appointments [JF: or 15 for the Supreme Court] makes sense to me, with an opportunity for a 5 year reappointment, much like the FBI director's time in office. (Odd numbers were chosen carefully to be out of sync with the American electoral calendar.) It provides substantial insulation from politics, but as you have already indicated, the Court has played politics before. This is nothing new, as Roger Taney's reasoning in the Dred Scott case showed clearly. Having some turnover would help lower the stakes of appointments, too, which might well turn down the heat on the massively overheated confirmation process, while still preserving judicial independence and presidential legacies. 

My assessment of the chances of this ever happening short of some kind of massive constitutional crisis? Nil. 
I agree with all parts of this note, including the final paragraph.