When It Comes to Expanding Pre-K, Americans Are Divided by Party and Race
Poll finds broader support for reducing class sizes and raising teacher salaries.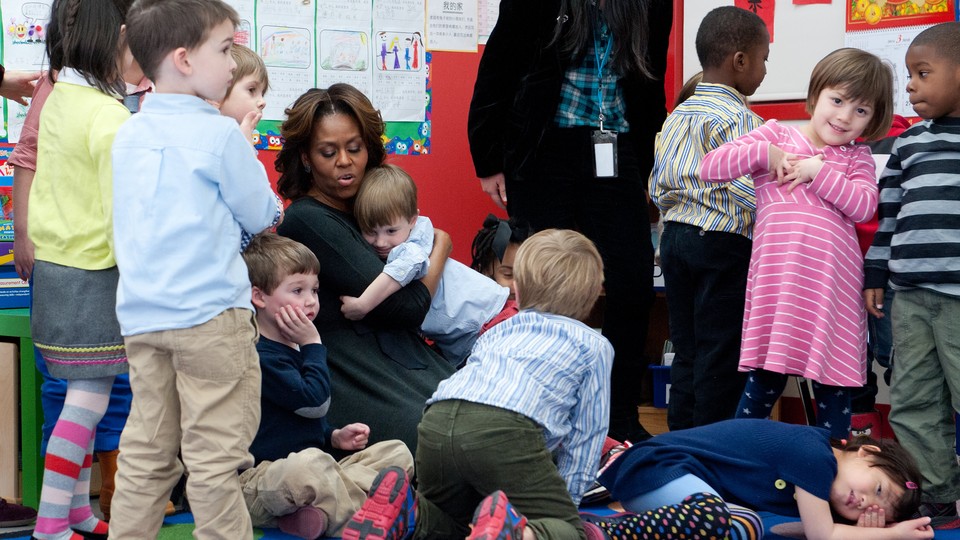 What policies would do the most to increase opportunity for children? The latest College Board/National Journal Next America Poll finds relatively broad consensus on what options provide the most effective points of leverage — but stubborn differences remain between Democrats and Republicans, and between whites and minorities.
As the following tables show, minorities are consistently more likely than whites, and Democrats more likely than Republicans, to believe that each of eight possible interventions would be a "major factor" in helping more young people succeed.
The gaps between Democrats and Republicans are widest on investing more in health services for pregnant women and young children, providing more college aid, and expanding access to pre-K. Still, a solid majority of Republicans say more college aid would help and even a slight majority of them believe expanded pre-K could exert a major influence on increasing opportunity. The partisan differences are much narrower on reducing class sizes in K-12 schools, increasing salaries to attract more talented teachers, and expanding vocational-education options after high school.
Viewed through a racial lens, whites are notably less enthusiastic than minorities about expanding pre-K or health services for pregnant women and very young children — though in each case just over half of whites believe the idea could have a major impact. Interestingly, whites are also much less enthusiastic than minorities about "providing more families public money to help attend private, rather than public, schools." Both whites and nonwhites are most optimistic about the impact of expanding vocational options, with increasing college aid a close second.
Generational differences were telling, too. At least three-fifths of adults under 30 saw major impact in every option except reducing class sizes or providing public aid for private schools. With these young adults, increasing college aid, expanding vocational options, and requiring more academically challenging middle-school and high school courses topped the list. Seniors generally expressed similar priorities, but far fewer of them — only about half in each case — expected major impact from expanding pre-K or health services for pregnant mothers and young children.
The College Board/National Journal Next America Poll, conducted by Princeton Survey Research Associates International, surveyed 1,271 adults, including oversamples of African-Americans, Hispanics, and Asian-Americans, from March 18-26. The interviews were conducted by landline and cell phone in English and Spanish. The poll has a margin of error of plus or minus 3.9 percentage points for the entire sample, and larger margins for racial subgroups.