What's Changed Since Hillary Clinton's 1969 Graduation Speech — And What Hasn't
As a senior in college, Clinton was already making powerful enemies.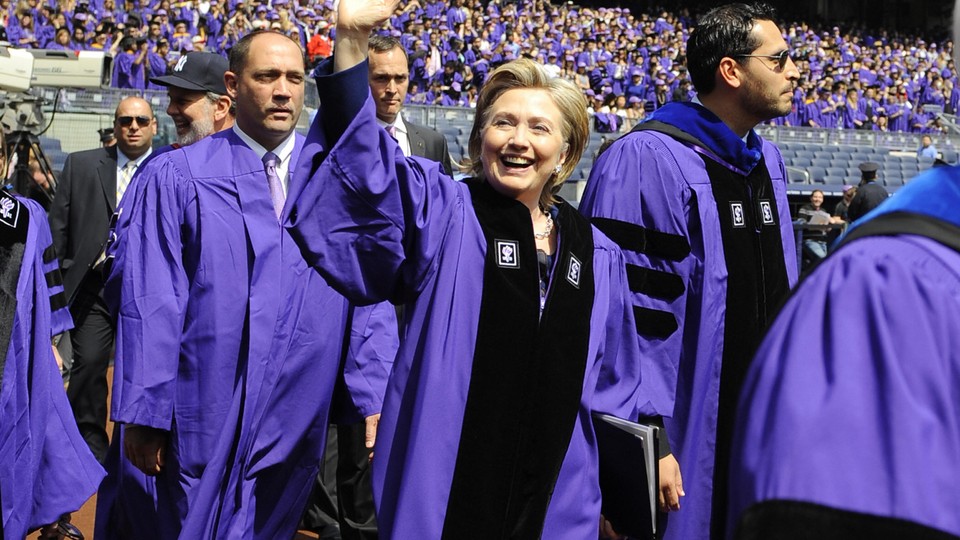 College commencement season is coming up — and, with it, college seniors will be furiously drafting their masterpieces to go down in history in the hallowed halls of their alma maters. Forty-five years ago, Hillary Clinton was one of those seniors.
In 1969, 21-year-old Hillary Rodham got up to give her commencement speech at Wellesley College. She followed the main speaker, Sen. Edward Brooke — a Republican, the first black senator to be popularly elected, and a man Clinton had campaigned for two years before.
But as she stepped up to the podium, something rankled. She thought Brooke's speech defended Richard Nixon. At a liberal-arts college in 1969, that was the equivalent of praising Beelzebub at a Baptist revival.
"I find myself reacting just briefly to some of the things that Senator Brooke said," Clinton told her classmates. "Empathy doesn't do us anything. We've had lots of empathy; we've had lots of sympathy, but we feel that for too long our leaders have used politics as the art of making what appears to be impossible, possible."
"The question about possible and impossible was one that we brought with us to Wellesley four years ago," she continued. "We arrived not yet knowing what was not possible. Consequently, we expected a lot. Our attitudes are easily understood, having grown up, having come to consciousness in the first five years of this decade — years dominated by men with dreams, men in the civil- rights movement, the Peace Corps, the space program — so we arrived at Wellesley and we found, as all of us have found, that there was a gap between expectation and realities. But it wasn't a discouraging gap and it didn't turn us into cynical, bitter old women at the age of 18. It just inspired us to do something about that gap."
At the end of her speech, Clinton read a poem by Nancy Scheibner referring to "the hollow men of anger and bitterness" who must be abandoned as remnants of a bygone age. Brooke took personal offense to this bit, as Christopher Andersen writes in American Evita:
Brooke, obviously singled out as one of the "Hollow Men," was stunned, hurt — and convinced that this was no extemporaneous speech. "As far as I could tell, she was not responding to anything I was saying," he later observed. "She came that day with an agenda, pure and simple."
But her classmates applauded her speech and, as the next day's Boston Globe proclaimed, she utterly upstaged Brooke. Clinton spoke at her alma mater's commencement ceremony again, more than 20 years later — this time during her husband's presidential campaign. Then, she attempted to put her commencement speech in context.
"I can't claim that 1969 speech as my own," she told the crowd. "It reflected the hopes, values, and aspirations of my classmates. It was full of the uncompromising language you only write when you are 21. But it is uncanny to me the degree to which those same hopes, values, and aspirations have shaped my adulthood."
She went on to tell the full story about that commencement address she gave as a 21-year-old. After the 1969 speech, she went swimming in Wellesley's lake — a verboten activity, but one of Clinton's "favorite rules to break" as a student. After she stripped down to her swimsuit and waded out into the middle of the lake, a security guard picked up her clothes and her signature Coke-bottle glasses — perhaps in retribution for her speech — and carried them off. She had to make her way back to campus without her clothes and "blind as a bat."
Clinton joked that, had newspapers gotten a hold of that story, the headlines would have read: "Girl Offers Vision to Classmates, And Then Loses Her Own."
Jokes aside, Clinton's 1992 rhetoric closely mirrored her 1969 rhetoric in a way that mirrors her 2014 rhetoric. Today, however, her sights are set on a field much broader than the Wellesley campus. At an event last Thursday (before Chelsea Clinton announced her pregnancy), Clinton stressed the importance of closing achievement gaps around the world. Some ceilings are set low, like girls who don't receive birth certificates.
And, sadly, the argument she made about sexism in politics that she made 20 or 40 years ago still holds true today — just look at the cynical insinuation that has painted her daughter's pregnancy as a publicity stunt for Hillary 2016. Whether she's speaking to female college students or the national press, Clinton speaks gender politics fluently. The only difference is that now she's not just a warrior against sexism in politics — she's its biggest target.