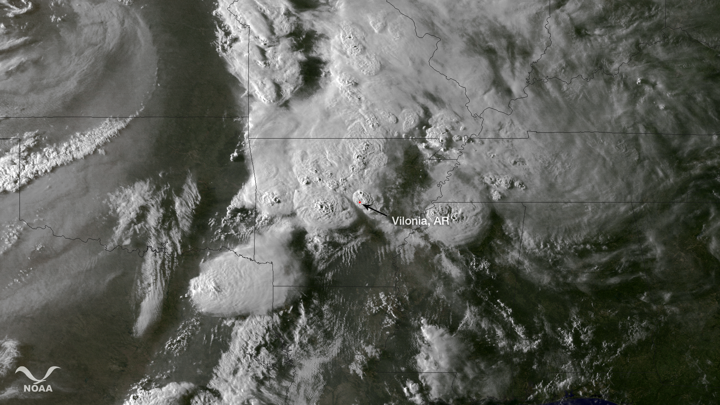 This article is from the archive of our partner

{{thirdPartyEmbed type:youtube id:u543iPiTdiY}}
Intensely strong thunderstorms producing tornadoes barreled across the Southern United States, leaving at least 15 dead in their wake on Sunday. The photos of the damage are likewise intense.
The largest of the twisters, the Associated Press reports, "carved a 80-mile path of destruction as it passed through or near several suburbs north of Arkansas' capital city. It grew to be a half-mile wide and remained on the ground for much of that route."
Above, via NASA, is what that destruction looks like from the safe distance of space. You can see the cells of clouds intensify in what looks like a white bloom of algae as the storm entered the region. "The same system that spawned these tornadoes is expected to bring the possibility for severe weather further east on April 28 from Cincinnati, Ohio, to New Orleans, La.," NASA writes.
Below, the National Oceanic and Atmospheric Administration provides a more detailed look as those storm cells as they approached Arkansas. Stay safe tonight.
This image was taken at 2345Z on April 27, 2014, around an hour before the tornado reports from Mayflower and Vilonia. (NOAA)
This article is from the archive of our partner National Journal.
We want to hear what you think about this article. Submit a letter to the editor or write to letters@theatlantic.com.
Brian Resnick
is a former staff correspondent at
National Journal
and a former producer of
The Atlantic
's National channel.