What Kathleen Sebelius's Exit Means for Obama—and Obamacare
With the healthcare law finally on track after a disastrous start, the secretary of Health and Human Services is leaving the administration.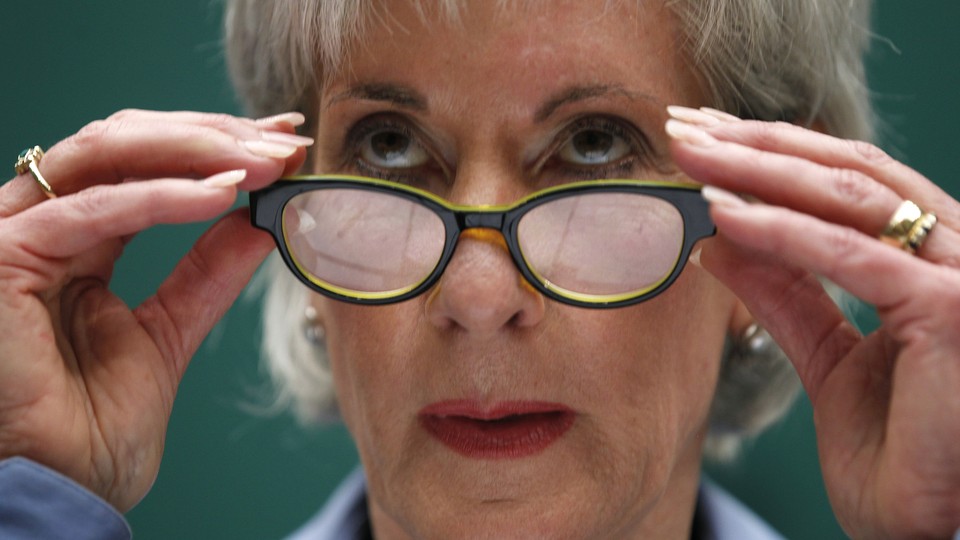 It turns out April 1 was Kathleen Sebelius's high-water mark. That day, President Obama announced that 7.1 million Americans had signed up for insurance under the Affordable Care Act. Notably, Sebelius wasn't by Obama's side as he made the Rose Garden announcement. And now she's leaving the administration after five years as secretary of Health and Human Services. The president will nominate Sylvia Mathews Burwell, the current director of the Office of Management and Budget, to replace her.
Officially, Sebelius made the decision to resign and was not forced out. And while that may be narrowly true, she was clearly out of favor in the administration. With Sebelius leaving, the White House can try for a reset on healthcare, just as benefits are beginning and the law seems to be back on track. And her departure might offer the Democrats some political distance from Obamacare's turbulent launch ahead of the midterm elections.
Even though enrollment spiked just before the March 31 deadline and reached the 7 million goal the White House had originally set, Healthcare.gov was a tremendous embarrassment for the Obama Administration. Though the president had suggested buying insurance through the exchange would be like shopping on Amazon, the site wasn't nearly ready when it went live: The exchange melted down with even moderately high numbers of users, data weren't transmitted correctly, and major parts of the site's infrastructure still aren't built.
As Healthcare.gov's shortcomings became clear, the White House scrambled to solve its problems and explain what had happened. Sebelius was hauled in front of congressional panels, where her performance—testy and not always able to answer questions satisfactorily—was widely panned. Obama brought in Jeffrey Zients, another official well respected for his management skills, to troubleshoot the site, and the president expressed his frustrations publicly. Serious questions emerged about whether and when the president had known that Healthcare.gov would be a disaster, how much communication he'd had with Sebelius, and what she had done to keep the project on track.
Still, Obama refused to sack Sebelius despite many calls for her head, and it seemed for the time like she might weather the storm—especially after the late enrollment surge. On March 31, she told Huffington Post she wasn't going anywhere. Major Garrett of National Journal reported, "Obama has convinced himself that scaring people with a ceremonial firing deepens fear, turns allies against one another, makes them risk-averse, and saps productivity." Further complicating the equation for Obama was whether he could get a successor confirmed by the Senate.
But Sebelius's absence on April 1 may have been a sign. The New York Times, which broke the story of her resignation, reports that she tendered her resignation earlier this week and Obama accepted it. Burwell's appointment may be read as an implicit rebuke to Sebelius's style: Her successor is known as an effective manager. "The president wants to make sure we have a proven manager and relentless implementer in the job over there, which is why he is going to nominate Sylvia," White House Chief of Staff Denis McDonough told the Times.
A West Virginia native and Rhodes Scholar, she served in the Clinton White House and as president of the Walmart Foundation. And while getting any nomination through the Senate has become a challenge, Burwell has two advantages. First, Majority Leader Harry Reid recently changed the rules of nominations so that they require only 51 votes to pass and are not subject to filibusters; and second, she was confirmed 96-0 just last year.
Sebelius, 65 and one of six remaining original Obama cabinet members, was governor of Kansas before joining the administration, and is the daughter of former Ohio Governor John Gilligan, also a Democrat. Though she was an early Obama endorser, she was not his first choice for HHS—that was former Senator Tom Daschle, but his nomination foundered after it was revealed that he had underpaid taxes. But Sebelius was a lauded governor, and her administrative stumbles at HHS came as something of a surprise. Although she leaves under a cloud, her legacy may improve over time if the law proves successful.
Healthcare.gov's failures presented a two-headed problem for Obama. On a policy level, they threatened the viability of a trademark initiative commonly associated with his name. And on a political level, they're a huge liability for Democrats in November's midterm elections. The party stands no real chance of winning the House of Representatives, and the smart money now favors Republicans to take back the Senate—in part because of anger about the law. Sebelius's exit may provide the administration the opportunity to distance itself and Healthcare.gov, but it won't make those political challenges go away.