Unemployment Insurance Passes Senate, House Vote Still Unlikely
Six Republicans voted with Democrats in the Senate, as Boehner stands strong in his opposition.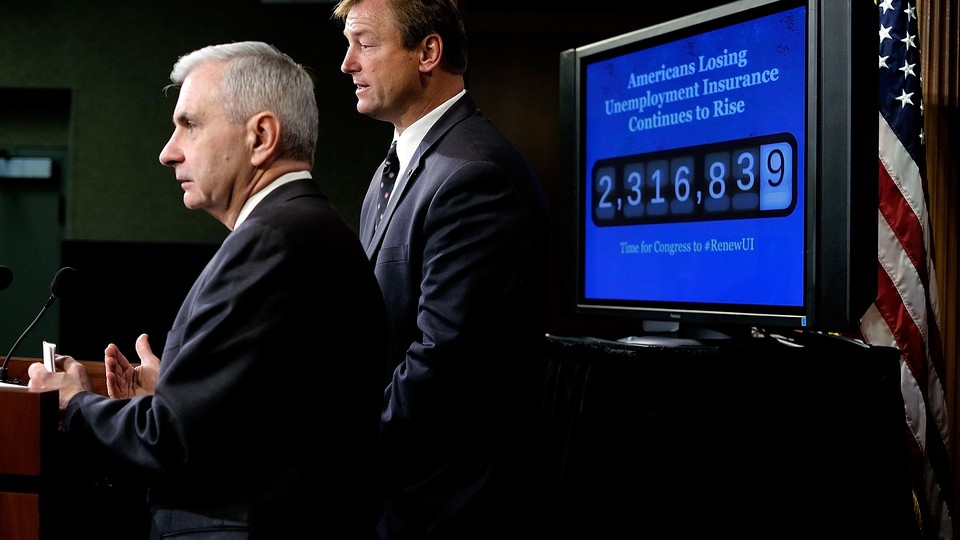 A five-month extension of unemployment-insurance benefits cleared the Senate on Monday on a 59-38 vote, with the same six Republicans supporting the bill who voted in favor of cloture last week.
The Republicans are Kelly Ayotte of New Hampshire, Susan Collins of Maine, Dean Heller of Nevada, Mark Kirk of Illinois, Lisa Murkowski of Alaska, and Rob Portman of Ohio.
Supporters of the unemployment-insurance extension in the Senate had hoped more Republicans would back the bill to put additional pressure on House Speaker John Boehner to bring up the legislation. Heller even speculated last week that more than six Republicans would vote for final passage Monday, but those votes never materialized.
The legislation is retroactive, meaning that individuals who had been unemployed for at least six months and lost their benefits on Dec. 28 would receive a lump-sum check for the checks they've missed when and if (and that's a significant if) the bill passes the House. Benefits would expire for all individuals on May 31.
The bill now heads to the House, where passage is far from assured. Boehner has repeatedly lambasted the Senate bill as "unworkable" and has noted that it does not include any specific job-creation proposals. "As the speaker said months ago, we are willing to look at extending emergency unemployment insurance as long as it includes provisions to help create more private-sector jobs — but, last week, Senate Democratic leaders ruled out adding any jobs measures at all," Boehner spokesman Michael Steel said Monday. "The American people are still asking, 'Where are the jobs?' and House Republicans are focused on our jobs agenda for families and small businesses."
Still, seven House Republicans signed a letter to Boehner encouraging him to take up the unemployment-insurance extension last week. They are Reps. Peter King, Chris Gibson, and Michael Grimm, all of New York; Frank LoBiondo, Jon Runyan, and Christopher Smith, all of New Jersey; and Joe Heck of Nevada.
Heller said last week that his staff is working to set up a meeting between the senator and Boehner some time this week, adding that he is hopeful that the support of some House Republicans, particularly in the Nevada delegation, will push the speaker to bring the bill up for a vote.