Tom Wolf: Democratic Lifesaver or Liability?
The Pennsylvania gubernatorial candidate leads in the polls heading into a May primary, but the businessman is largely an unknown quantity.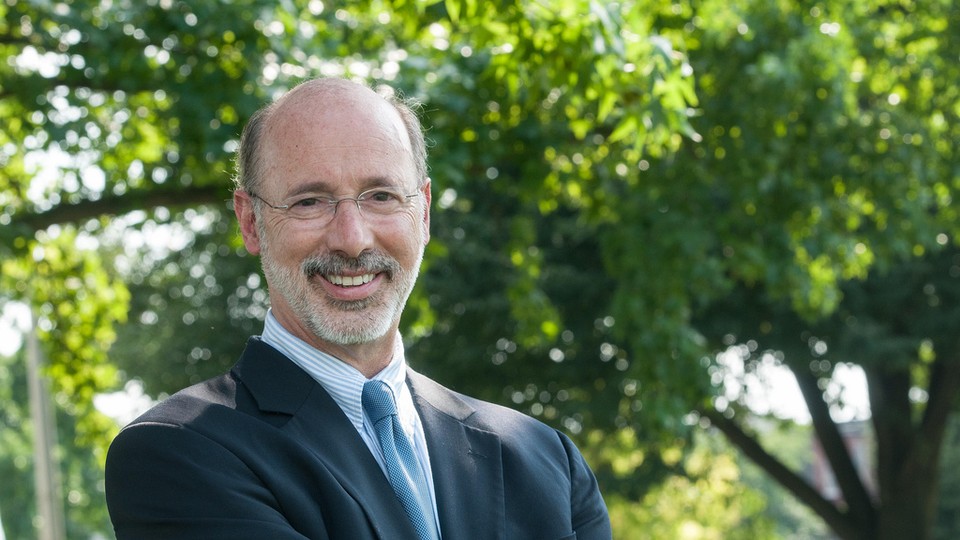 One month before Pennsylvania's Democratic gubernatorial primary, it's unclear whether anyone can stop the momentum of previously little-known candidate Tom Wolf.
The businessman and former state Revenue secretary has carved out a 20-plus-point lead in the polls over more established rivals, thanks to the name ID he's built from more than a dozen positive, feel-good TV ads touting his business acumen and liberal credentials. His ads have been backed by a $10 million infusion of personal cash, and the early-and-often media strategy has left fellow Democrats Rob McCord, Katie McGinty, and Rep. Allyson Schwartz scrambling to catch up.
But Wolf's abrupt rise has also brought with it fresh scrutiny of his business background and political operation. Enough that Democrats might stop and ask themselves: What kind of candidate are they getting if he wins the nomination on May 20?
Wolf's business background, on paper, looks good and sets him apart from most Democrats. But Republicans believe questions surrounding his family building-supply company could also be used against the potential nominee. And a lackluster fundraising report to kick off 2014 raised questions about the efficacy of his political operation. Combined, they've stirred speculation that Democrats are pinning their hopes of defeating Republican Gov. Tom Corbett this fall on an untested, unvetted candidate.
The fear among Democrats might turn out to be unfounded, and, regardless, many in the party believe Corbett's poor poll numbers make him so vulnerable nothing else matters anyway. But there's no doubt that nominating a first-time candidate carries significant risk for Democrats in a governor's race they should win comfortably.
Wolf's personal finances came under scrutiny recently after The Philadelphia Inquirer ran a story delving into the details of his family company. The story revealed that his business lost half its value during the recession, and that nearly half — $4.45 million — of the $10 million Wolf put toward his campaign came from a bank loan secured using personal, not corporate, assets. The money is not so much the spoil of a successful business career, but as Wolf said at a recent debate, "I really cobbled together everything I had."
The York-area native has since worked to reframe himself as a financial self-starter, not a self-funder. But the fact that details about his personal and professional life have never been publicly vetted means vulnerabilities could still be exposed.
While it's completely possible Wolf doesn't have any skeletons in his closet, "there's not a lot that hasn't been said about Allyson Schwartz," said Republican strategist Ray Zaborney. As for the governor who's still waiting to find out who his challenger is, Zaborney said, "I think Corbett probably breathed a sigh of relief when The Inquirer printed that story."
Zaborney added: "The danger for Wolf and Democrats is the question of whether this is just scratching the surface, or is there more to come. Will Democrats be able to sort it out in five weeks? Probably not."
The Corbett campaign is already working to put Wolf into a Mitt Romney-sized box by demanding that he release 10 years of corporate tax returns, and the state GOP is using past business profits tied to the state's public-pension system to question his status as an outsider.
The nature of the money that has fueled Wolf's rise also points to the bigger issue of whether he can reel in the cash needed to compete with Corbett in the general. Tax returns show that Wolf earned $2.2 million in 2012, which might not be enough to sustain a self-funded campaign. And Wolf's first-quarter fundraising haul was just over $611,000, less than some House candidates take in during a quarter and far less than Corbett raised — $1.4 million.
Wolf has raised an additional $3.8 million outside his personal money since the start of 2013, and $1 million of that came from a single donor. Schwartz and Corbett each raised more than $8 million during that time.
Wolf ended the quarter with his financial advantage intact, but just barely. He reported $7 million in the bank, while Corbett had $5.9 million and Schwartz had $5.1 million. For context, former Democratic Gov. Ed Rendell raised nearly $100 million between his 2002 and 2006 bids and Corbett spent nearly $25 million to win office in 2010.
Strategists from both parties agree the eventual Democratic nominee will have the financial backing to compete. Democratic consultant Dan Fee, who isn't involved with any of the four candidates' primary campaigns, said: "Corbett is the most vulnerable governor in the country. Every Democrat has a vested interest in making sure that he loses. The concept that the [Democratic Governors Association] or any other national Democrats are going to let him win for lack of resources or advice is unfathomable."
But Wolf's campaign so far has mostly been built on heavy ad spending rather than on the grip-and-grin circuit that helps build a strong base of support.
"His family fortune has enabled him to bypass some of the obligatory schmoozing that has to be done in different circles by the other candidates," said former Democratic Lt. Gov. Mark Singel. "While they were out working the county and state committee members and the more traditional support from movers and shakers in the party structure, Wolf was putting together a plan based on money and how to spend it wisely."
The stakes are high in Pennsylvania this year. The state will be an important presidential battleground in 2016, and Fee pointed out that if Democrats can win and hold the governorship through 2020 they'll have more influence on the next round of redistricting, which was heavily gerrymandered for Republicans by the GOP-controlled Legislature in 2010.