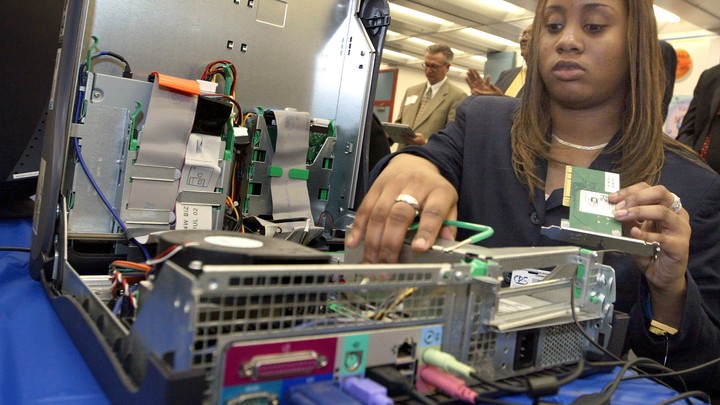 Here's a roundup of the education articles that caught Next America's eye from April 21 to 28. All address trends that particularly affect minority students.
Proof that Ninth Grade is Critical. Chicago Public Schools' efforts to help students adjust to high school and succeed in ninth grade are already lowering dropout rates, according to a new study from the University of Chicago Consortium on Chicago School Research. Between 2007 and 2013, the share of students passing ninth grade with enough credits to ensure sophomore standing jumped from 57 to 82 percent. Three schools that saw substantial improvements in 2008 saw their overall graduation rates jump four years later. At 20 of the schools that saw strong initial gains in 2008 and 2009, African-American and Latino boys showed the greatest improvement. University of Chicago
For Grad Students, It's Better To Be White. Would-be graduate students with white, male-sounding names are more likely to get a response when they write to a faculty member seeking mentorship, a new study finds. Three researchers sent letters to more than 6,000 faculty members across a range of disciplines, asking about research opportunities and the chance to learn about the professor's work. Letters that were signed with white, male names were more likely to get a response from faculty in all disciplines. In every category, public university professors were more likely to respond to women and minority students than faculty at private colleges. Inside Higher Ed
When The Death of a Parent Means A Big Student Loan Bill. Students who take out private loans to pay for college can face sudden demands for full repayment if the co-signer on their loan — usually a relative or parent — passes away, according to the Consumer Financial Protection Bureau. After a co-signer's death or bankruptcy, some borrowers can be placed in default without ever receiving a request for repayment. The CFPB's student loan ombudsman says that a steady stream of consumer complaints suggests that such "auto-defaults" may be becoming more common. New York Times
What Happened to 2013's High School Graduates? Just under two-thirds of 2013's high school graduates were in college by the fall of that year, according to the Bureau of Labor statistics — the lowest share since 2006. As the economy improves, it appears that more young people are choosing to enter the workforce rather than continuing their education. More than 79 percent of Asian high school graduates enrolled directly in college, compared to 67 percent of whites, 59 percent of African-Americans, and 60 percent of Hispanics. Bureau of Labor Statistics, FiveThirtyEight
The Benefits of Being a Legacy. At 30 top colleges, children of alumni have a 45 percent greater chance of admission. Being a legacy gives a student an admissions advantage nearly equal to being a star athlete or underrepresented minority, according to research cited by Evan J. Mandery, a professor at John Jay College of Criminal Justice, in an opinion piece for the New York Times. Giving legacy students a leg-up reinforces inequality, he writes. New York Times
This article is part of our Next America: Higher Education project, which is supported by grants from the Bill & Melinda Gates Foundation and Lumina Foundation.
We want to hear what you think about this article. Submit a letter to the editor or write to letters@theatlantic.com.