This Hacker Is Getting Out of Jail — But Not For the Reason His Supporters Hoped
Prosecutors claim "Weev" stole thousands of email addresses from iPad users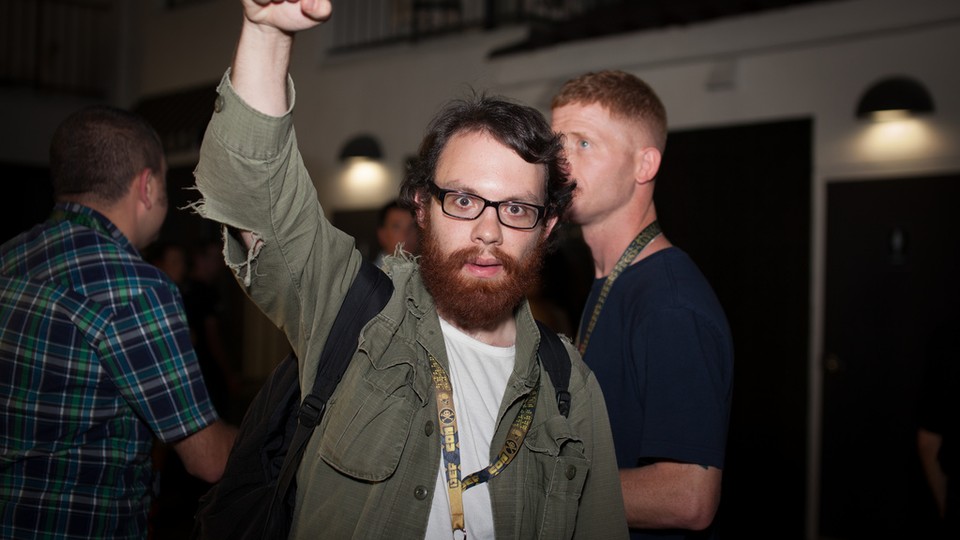 A federal appeals court struck a blow on Friday against the Justice Department's campaign to crack down on computer hacking.
The Third Circuit Court of Appeals overturned the conviction of Andrew Auernheimer, better known by his online alias "Weev," who was charged with stealing thousands of email addresses from AT&T's servers.
His case became a rallying cry for Internet activists, who argue it is an example of prosecutorial overreach and shows why Congress needs to reform a vague anti-hacking law. Auernheimer's supporters claim that all he did was point out a security vulnerability and that he didn't break any laws.
The court threw out the case on jurisdictional grounds — saying prosecutors brought charges in the wrong state. The fight over what's actually illegal under the Computer Fraud and Abuse Act will have to wait for another day.
The basic facts of Auernheimer's case aren't in dispute. In 2010, Daniel Spitler, Auernheimer's co-defendant, noticed a flaw in AT&T's account registration system for iPads. A person could enter any iPad ID number, and the AT&T system would automatically reveal the corresponding email address of the iPad's owner.
Spitler wrote a script to automatically guess ID numbers, and he was able to collect about 114,000 email addresses, according to court documents. Auernheimer then emailed the information to a Gawker reporter, who published an article that detailed the flaw and included redacted email addresses of a variety of celebrities and government officials.
The Justice Department brought charges against both men under the Computer Fraud and Abuse Act, which makes it a felony to access a computer "without authorization." Spitler pled guilty and received three years of probation. A federal jury in New Jersey convicted Auernheimer in 2012, and he was sentenced to 41 months in prison.
Prosecutors argued that Auernheimer knew what he was doing was illegal and that he was only trying to promote his own "security research" business.
But Auernheimer's case attracted attention from digital freedom activists at groups such as the Electronic Frontier Foundation. His supporters argue that guessing ID numbers on a public site shouldn't qualify as "hacking" and that his prosecution could discourage security researchers from coming forward when they discover vulnerabilities.
The Third Circuit Court of Appeals threw out the conviction on Friday, saying prosecutors should have filed the case in Arkansas, where Auernheimer lived, instead of New Jersey. Just because some of the email address owners lived in New Jersey wasn't enough to make it an appropriate venue, the court ruled.
"Although this appeal raises a number of complex and novel issues that are of great public importance in our increasingly interconnected age, we find it necessary to reach only one that has been fundamental since our country's founding: venue," the court wrote.
Orin Kerr, a law professor at George Washington University who is representing Auernheimer, argued that the issue of the right venue for a case is not a technicality.
"It's an important principle of limiting government power," he said. "Because if the government has universal venue, then any office can charge any defendant anywhere in the country."
Although the judges did not base their ruling on the scope of the Computer Fraud and Abuse Act, they hinted in a footnote that they are skeptical of the Justice Department's claim that Auernheimer committed any crime.
To have violated the law, Auernheimer would have to had circumvent a "code- or password-based barrier to access," the judges wrote.
"Although we need not resolve whether Auernheimer's conduct involved such a breach, no evidence was advanced at trial that the account slurper ever breached any password gate or other code-based barrier," they wrote in the footnote. "The account slurper simply accessed the publicly facing portion of the login screen and scraped information that AT&T unintentionally published."
It's unclear whether the government will re-file charges against Auernheimer in a different court. Matt Reilly, a spokesman for the U.S. Attorney's Office in New Jersey, said the government is reviewing its options in the case.
Kerr argued that facing another trial would violate Auernheimer's constitutional right to be protected from "double jeopardy."
Kerr claimed that even if prosecutors do bring the case again, the appeals court already "tipped its hand" that Auernheimer didn't commit a crime. Lower courts generally defer to the legal opinions of higher ones.
Some lawmakers want to narrow the language of the Computer Fraud and Abuse Act to protect against prosecutorial overreach. Rep. Zoe Lofgren, a California Democrat, introduced a reform bill last year after Aaron Swartz, an Internet activist, committed suicide while facing hacking charges. But the legislation has gone nowhere in the House Judiciary Committee.
Auernheimer might not be the best face for a political movement. He was famous for making offensive comments on online forums and before his sentencing, he wrote on discussion site Reddit that his only regret was notifying AT&T of the issue. "I won't nearly be as nice next time," he warned.