There's No House Ethics Rule That Says You Can't Make Out With Your Staffer
Rep. Vance McAllister's involvement with a staffer isn't explicitly against House ethics rules, but a similar case did lead to calls for an inquiry.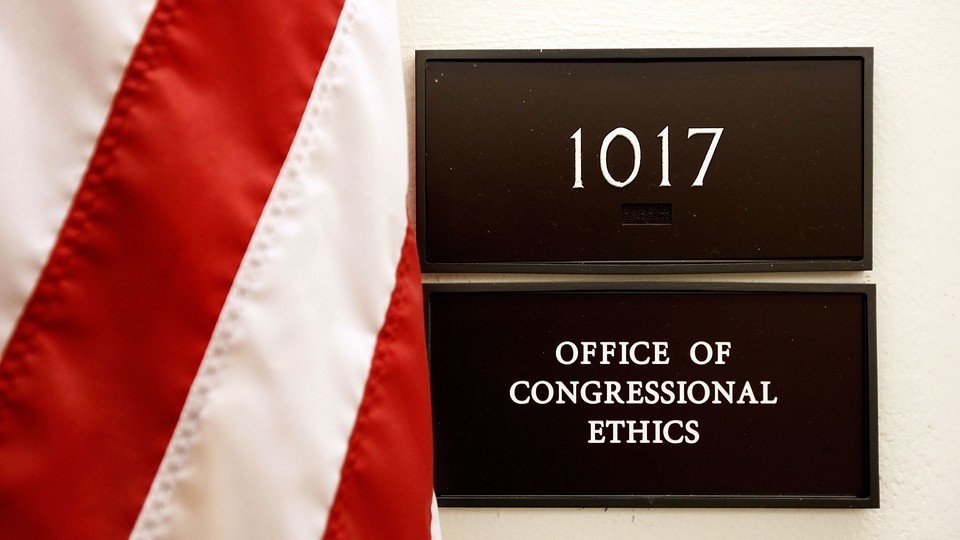 Republican Rep. Vance McAllister, R-La., apologized Monday after a video surfaced on the website of a local paper that reportedly showed him "passionately kissing and embracing a member of his congressional staff." Because the woman is a paid, part-time staffer in his congressional office, McAllister could face an ethics investigation.
Though House Ethics rules do not specifically prohibit romantic involvement between a member of Congress and his or her staff, the rules do require members to "conduct themselves at all times in a manner that reflects creditably on the House." That broad regulation could provide support for an investigation against McAllister.
Such a case is not unprecedented. The unfolding McAllister episode is reminiscent of a 2010 incident involving then-Rep. John Souder, R-Ind., who resigned after admitting to an affair with a staffer in his own district office. After Republican Indiana Gov. Mike Pence, then one of Souder's colleagues in the House, learned of the affair, he reported it to the House Committee on Ethics. Speaker John Boehner followed up with a letter to the committee concerning the affair and told Souder to resign.
Souder took his advice, ending the investigation (the committee is only authorized to look into the conduct of current members of Congress).
However, the extent of McAllister's relationship with his staffer — identified by The Ouachita Citizen as Melissa Anne Hixon Peacock, 33 — is unclear. In his statement Monday, McAllister apologized for "what I've done," but did not elaborate on what exactly that means.
Both McCallister and Peacock are married, The Citizen reported. Peacock and her husband, Hugh Peacock, both contributed the maximum amount allowed to McCallister's campaign before she was hired to work in his congressional office, and the couple are long-time friends. Hugh Peacock and McAllister went to high school together and worked at the same oil-and-gas company for 16 years, The Citizen reported.
Neither the Office of Congressional Ethics nor the House Ethics Committee would comment on the possibility of an investigation, and none of the offices of members of the committee or the Louisiana delegation responded to requests for comment.
Asked whether a request for an investigation into the matter had been filed Monday, Ethics Committee Chief Counsel Tom Rust said, "We certainly can't comment on that."
McAllister won his House seat in a contentious special election just last November. He defeated state Sen. Neil Riser — who had the support of Gov. Bobby Jindal, outgoing Rep. Rodney Alexander, House Majority Leader Eric Cantor, and other members of the Louisiana delegation — by 19 points in a runoff.