The Supreme Court Doesn't Like Aereo""But Is Worried About Declaring It Illegal
The justices mull the fate of the video-streaming website.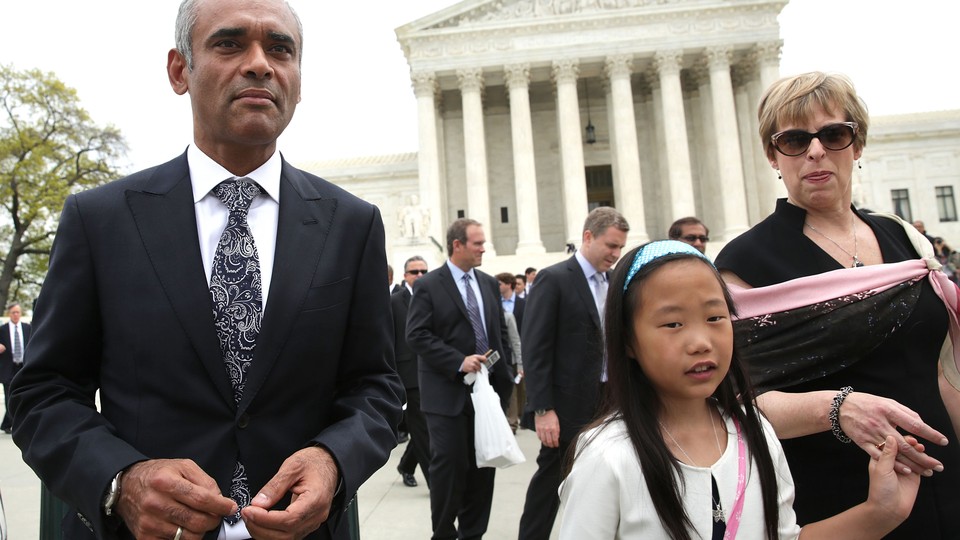 The Supreme Court justices were critical of the Internet video service Aereo during oral arguments Tuesday — but they appeared unsure how to rule.
The justices worried that if they declare Aereo illegal, it could throw other major services, such as "cloud" storage providers, into jeopardy.
Justice Stephen Breyer said he was "nervous" about siding with TV broadcasters, who claim that Aereo is stealing their content.
"This is really hard for me," Justice Sonia Sotomayor said.
Aereo allows subscribers to watch and record local TV broadcasts on their computers, tablets, phones, and Internet-connected TVs for as little as $8 per month. The problem is that unlike cable providers, Aereo doesn't pay the TV stations for their content.
Everyone has the right to access over-the-air TV channels using an antenna. Aereo calls itself a "modern-day television antenna and DVR." But Aereo subscribers don't have antenna arms sticking out of their computers. Instead, Aereo uses a cluster of thousands of tiny antennas to deliver video over the Internet to all of the subscribers in an area. Technically, subscribers are renting access to one of those antennas.
ABC, CBS, NBC, and Fox all sued, claiming Aereo is infringing on their copyrighted material. Paul Clement, an attorney for the TV networks, said Aereo is just trying to use a trick to evade copyright law.
"If all they have is a gimmick, then they probably will go out of business, and no one should cry a tear," Clement said when he was asked what would happen to Aereo if the court sided with him.
"Your technological model is based solely on circumventing legal prohibitions that you don't want to comply with," Chief Justice John Roberts said to Aereo's attorney, David Frederick.
(Stephanie Stamm)
Justice Ruth Bader Ginsburg worried that siding with Aereo could violate international obligations under copyright treaties.
"You're the only player so far that doesn't pay any royalties at any stage," Ginsburg said to Frederick.
But Frederick argued the company is only an "equipment provider." RadioShack doesn't infringe on any copyrights by selling its products, he said.
Frederick argued that for legal purposes, Aereo's business would be no different if it installed antennas and DVRs and then charged a monthly rental fee.
He warned that if the court sides with the TV networks, it could devastate the cloud computing industry. Companies like Google, Amazon, Apple, and Dropbox also allow consumers to store copyrighted material on their servers. Frederick said the cloud companies are "freaked out about this case."
But Clement said the difference between legitimate cloud storage sites and Aereo is like the difference between a valet service and a car dealership. Consumers need to already have a car to use a valet service. Because Aereo is providing material to consumers in the first place, it should have to pay for it (just like a car dealership would), Clement said.
Breyer said that even after reading the briefs in the case, he remains confused.
"That isn't your problem, but it might turn out to be," Breyer said to Aereo's attorney.