The Problem With Student-Loan Forgiveness
Students often don't understand their repayment options, and current policies can create bad incentives.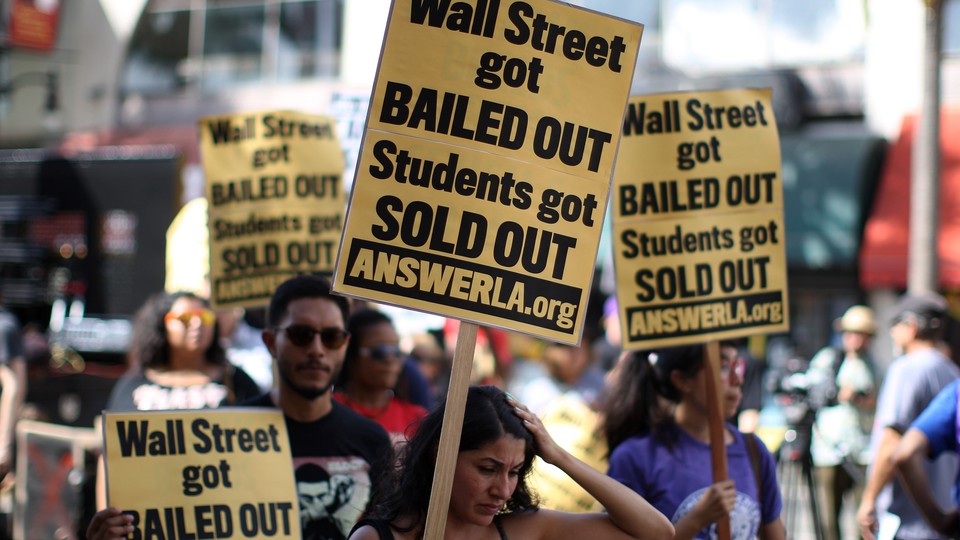 If you have student loans, chances are you wish there was a way to make them disappear. And in a way, there is: The federal government now offers three repayment plans that lower monthly payments and will — eventually — forgive remaining debt. A separate plan forgives loans for people who take certain public-service jobs.
Some of these options, however, are so new that nobody knows how well they'll serve borrowers. Even when it comes to well-established repayment plans, many students don't truly understand their options. And some analysts say that policy adjustments are needed to ensure that students don't get too comfortable taking on debt and institutions don't get too comfortable charging high prices.
"A lot of students will take out loans because they hear that if you're in a certain job it gets paid off. That's not always the case," says Lauren Ellcessor, 28, a counselor at the Educational Opportunity Center in Norfolk, Va. The federally funded center helps mostly low-income, minority, and first-generation college students figure out their higher-education options. Some clients arrive with debt from prior college degrees — or attempts at degrees — and false hopes.
"I get the quote: 'I'm here to get Obama's plan to get rid of my student loans,' " Ellcessor says. It's not that easy, she tells clients. To qualify for federal loan forgiveness, borrowers need to make on-time payments for years, sometimes decades. Under current rules, borrowers need to have debt at a certain level relative to their income to enter income-driven repayment. Eligibility depends on when borrowers first took out loans and the kinds of federal loans they carry.
Income-driven repayment has been an option for holders of federal direct loans since 1994. But the idea really started to gain momentum in the mid-2000s, when it became clear that more and more students were depending on loans to pay for college. Adjusting monthly payments for lower-income earners protects borrowers from default, while eventual loan forgiveness offers a light at the end of the tunnel.
"Some form of income-based repayment should be the only repayment option in the student loan program," says Jason Delisle, director of the Federal Education Budget Project at the New America Foundation. People have the option to pay more each month if they choose — a good choice for some borrowers because they save money overall by paying more of the principal and less interest. But required payment should reflect what borrowers can afford, Delisle says.
At the moment, students have to choose to enter income-driven repayment. Figuring out the best choice can be daunting even for the savviest borrowers. The plan with the largest enrollment, with about 1.2 million borrowers, is called income-based repayment. Created by Congress in 2007, it's available to people whose loan payments would be greater than 15 percent of their discretionary income under the standard repayment plan. Monthly payments are capped at that level, and remaining loans are forgiven after 25 years.
Then there's the more generous plan the Obama administration created, called Pay as You Earn. Intended to help more-recent graduates battered by the recession, it caps payments at 10 percent of discretionary income and forgives remaining loans after 20 years. There's also the 1994 option, called income-contingent repayment, and a totally separate loan-forgiveness option for public servants. Under that program, also signed into law in 2007, borrowers with government or nonprofit jobs who complete a decade of payments — income-driven or not — have their remaining debt forgiven after 10 years.
Although these options have been around for a while, not many people know about them. "Until the last couple of years, there was virtually no outreach about available income-driven plans and the application process was brutal," writes Lauren Asher, president of the Institute for College Access and Success, in an email.
There have been some improvements, Asher says. The Education Department has made the online application process much simpler. Last year, the agency started sending emails to borrowers who may be struggling to make payments to let them know it's possible to alter their payment structure for more manageable debt repayment.
In Norfolk, when the Educational Opportunity Center offers workshops for borrowers in default, few show up, likely because people are embarrassed. Although institutions require students to complete entrance counseling — often provided online — before taking out a loan, many students don't really understand what they're getting themselves into, Ellcessor says.
Meanwhile, some researchers have raised concerns that current repayment options might disproportionately benefit graduates of very expensive programs rather than borrowers with lower incomes. This is particularly pronounced when it comes to graduate school. While undergraduates can't take out more than $30,000 in federal loans, graduate students can take out as much money as they like.
Under Pay as You Earn, lawyers with over $100,000 of debt can be earning $70,000 a year, qualify for income-driven repayment, and end up having the majority of their loans forgiven, Delisle and coauthor Alex Holt found in a 2012 report.
Delisle worries that too-generous policies might give institutions a reason to keep prices high. "You've essentially got a tool to make your students price-indifferent," he says. Beth Akers and Matthew Chingos of the Brookings Institution have proposed getting rid of loan forgiveness altogether.
There is no Obama plan for making student loans disappear. In fact, President Obama's 2015 budget proposed tweaks that would make loan forgiveness less generous, including limiting forgiveness under the public service program to $57,000 and extending repayment periods to 25 years for borrowers with debt above that level.
As more people from all backgrounds pursue college, the importance of creating clear and pragmatic repayment options has never been greater. "It's not going to be the optimal choice for everyone," Asher says of income-driven repayment. "But it's crucial that it be a choice, and be a choice that's easy to understand."