The One Piece of Advice Obama Aides Hate Hearing
White House aides are tired of the comparison to LBJ but Johnson aides say his actions made Obama's election possible.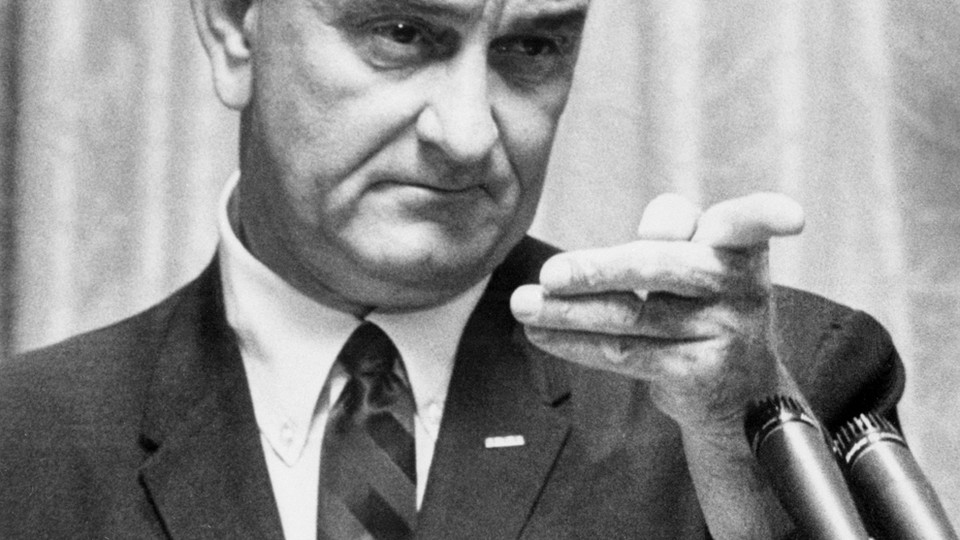 Few things have annoyed President Obama's top aides more than the frequent regaling of Lyndon B. Johnson's legislative successes and his mastery of congressional deal-making. The suggestion is that Obama's problems with Congress could be eased if he would just be more like LBJ.
And few things have privately hurt veterans of the Johnson White House more than having the first African-American president ignore his Democratic predecessor whose actions, they believe, made his election possible.
That is the backdrop for this week's dramatic gathering in Texas, where Obama will join three former presidents to pay tribute to Johnson's success 50 years ago in pushing the Civil Rights Act of 1964 through Congress. Obama will give the keynote address Thursday morning at what is being called a Civil Rights Summit at the LBJ Presidential Library in Austin. Jimmy Carter will speak Tuesday; Bill Clinton goes Wednesday; and George W. Bush is scheduled to talk Thursday evening.
The event comes at a time of reassessment of both Johnson and his Great Society legacy. Historian Robert Caro's four-volume examination of Johnson's life (with a fifth volume on the way) has proved popular, prompting a fresh look at his presidency. There is even a Broadway show about him — All the Way, starring Bryan Cranston of Breaking Bad fame.
Caro, like many historians, offers a conflicted view. He has documented many of LBJ's flaws but also believes that his passage of the Civil Rights Act and the Voting Rights Act in 1965 push him higher in comparison to other presidents. "Lyndon Johnson passes the act and changes America," Caro told Smithsonian Magazine in 2012. "Yeah, I do think he deserves comparison with Lincoln."
When C-SPAN surveyed 65 historians in 2009, they ranked Lincoln, Washington, and Franklin Roosevelt as the top three presidents, with Johnson just out of the top 10 at No. 11. In a Siena College Research Institute survey this year, he was 13th. But the survey noted the difficulty in assessing his time in office. Siena found LBJ to be the top president in history in working with Congress, but the lowest-ranked in foreign policy accomplishments, reflecting the impact of the Vietnam War on any assessment of Johnson.
Some of the current reassessment comes because Republicans are determined to dismantle Johnson's Great Society programs. To do that, they must challenge their efficacy, as they did recently on the 50th anniversary of LBJ's declaration of the "war on poverty." And some comes because of the contrast favored by Obama's critics between the way Obama and Johnson dealt with Congress.
Almost from the day of his inauguration, the 44th president has been urged to be more like the 36th, to schmooze more with lawmakers, to play golf with them, to drink with them, to make more deals, to reach more across the aisle. Washington Post columnist Richard Cohen lectured Obama in 2012, opining that if he were to study Johnson, "it will teach him how to be president."
The advice infuriated White House aides. Even the president has reacted to the often-voiced criticism. In an interview with David Remnick of The New Yorker in January, Obama offered his own history lesson, noting that Johnson didn't have to deal with a Republican-controlled House. "When he lost that historic majority, and the glow of that landslide victory [in 1964] faded, he had the same problems with Congress that most presidents at one point or another have," Obama said.
Remarkably, that comment to The New Yorker is one of the few statements Obama has made as president about Johnson. LBJ loyalists had been hopeful that Obama would mention their man when he accepted the Democratic presidential nomination in 2008 — the same day as the 100th anniversary of Johnson's birth. But Obama's people, in tight control of the convention, made sure the only mention of the anniversary came in a five-minute video aired outside prime time. And even though it is routine for nominees to mention recent presidents in their party, Obama ignored Johnson in 2008 and 2012.
The slight still rankles some LBJ loyalists. "I was stunned," said Joseph Califano Jr., 82, who was Johnson's top domestic policy adviser. Califano views it as especially striking because Obama personally benefited from so many Johnson programs.
"I was stunned particularly when you realize that Johnson is the reason Obama got elected — in the sense that if there hadn't been a Civil Rights Act of '64, if there hadn't been the Voting Rights Act of '65, he wouldn't have had a chance," Califano said, adding: "Think about the fact that his mother was on food stamps, and he and his wife went through college and law school on the Higher Education Act we passed in '65. So, yes, I was upset."
Obama is not alone among recent Democratic nominees in ignoring Johnson's legacy. In the 11 acceptance speeches since Johnson left office, he has been mentioned only three times: by Carter in 1976 and 1980, and by Michael Dukakis in 1988. That is less than the eight invocations of John F. Kennedy and the four mentions each of Franklin D. Roosevelt and Harry S. Truman.
But Obama's failure to recognize Johnson saddened those who served with LBJ. Former Democratic Rep. Lee Hamilton of Indiana said that without Johnson, "Obama would never have risen to prominence. He is a product of that period."
Hamilton was swept into office in the LBJ landslide in 1964 and worked closely with Johnson even as a junior member of the House. Today, he is delighted to see historians taking a fresh look at those years. "It is certainly time to reassess his presidency and restore his legacy and to not let his legacy be overwhelmed by Vietnam, which it has been in the past," he said. "What you are seeing now is a rebalancing of his legacy and a greater appreciation of what he did and the fundamental impact he had on the country."
Hamilton argues that Johnson "brought about more fundamental changes in American life" than any president since Roosevelt. "If you look back at Medicare, Medicaid, the War on Poverty, development programs of all kind, civil rights — they profoundly impacted life in this country. America today reflects the imprint of Lyndon Johnson as it does very, very few other presidents."
Califano adds to that list the Immigration Act and the National Endowment for the Arts, both enacted in 1965. "The war is over, but the Great Society programs continue to this day," he said. "And they have changed the country."
So Hamilton sees it as fitting that Obama and three other presidents will travel to Austin. He also laughed when talking about how LBJ would react if he could see four presidents troop to his library. "He had a big ego," said Hamilton. "You bet he would be pleased to see them coming." And he'd probably be curious to see if the 44th president publicly thanks the 36th for making his election possible.
{{ BIZOBJ (video: 4874) }}