The Fracking Industry Faces Its Climate Demon
To preserve its climate credentials, the natural-gas industry has to tame a tricky menace: methane.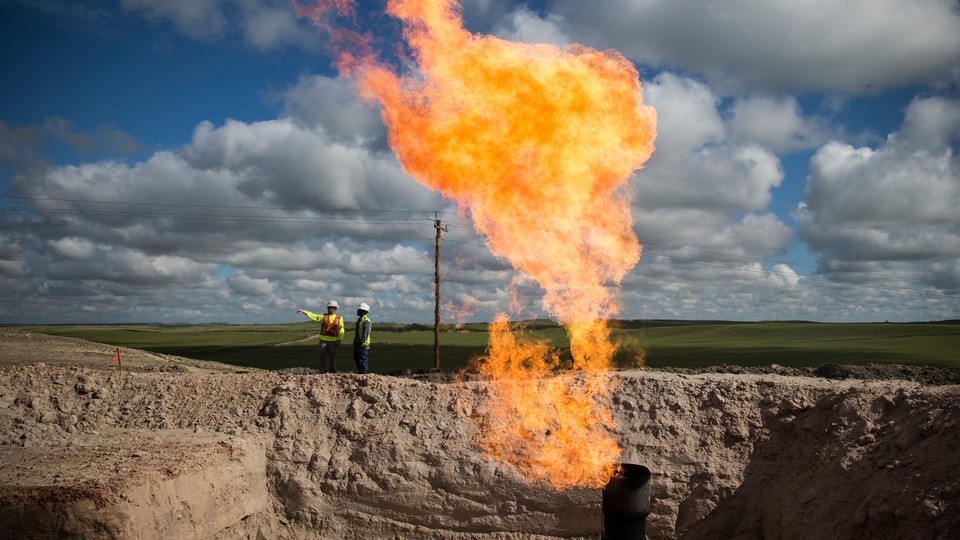 BUFFALO TOWNSHIP, Pa. — On a flat, roughly one-acre square cut into a hilltop in the rolling farmlands, four natural-gas wells sit adjacent boxy machines that separate wastewater and hydrocarbons sucked from the ground over two square miles.
Attached to those boxes are gauges small enough to easily escape notice. But they're of outsize importance: They measure methane — a greenhouse gas over 20 times more potent than carbon dioxide — and other emissions. Controlling methane is key to lowering the climate footprint of the natural-gas industry and its efforts to sell itself as the environmentally friendly fossil fuel.
And so Matt Pitzarella, spokesman for natural-gas producer Range Resources, is eager to point out the emissions gauge, and especially eager to point out its results. "Methane levels — zero percent," he says. "You have no issues, nothing coming out."
But overall industry methane emissions across the complex gas-development chain are hardly zero, either in Pennsylvania or nationwide. Their size, however, is a matter of fierce dispute and ongoing research.
At stake in the debate: natural gas's role as friend or foe in the battle against climate change.
It's an important question at a time when scientists are offering urgent warnings about the need to cut greenhouse-gas emissions worldwide, and it's central to the question of whether using gas to displace carbon-heavy coal is an effective weapon against climate change.
A major report this month from the United Nations' Intergovernmental Panel on Climate Change said displacing coal-fired generation with today's modern gas-fired power-plant technology is helpful in the coming decades as a "bridge" to a decarbonized global power sector — but only if "fugitive emissions associated with extraction and supply are low or mitigated."
Thus far, however, there is no consensus about the size of the natural-gas industry's methane footprint.
A number of recent studies say the Environmental Protection Agency has badly low-balled the amount of methane, the main component of natural gas, escaping from development.
"Based on EPA's estimates, natural gas is a winner when compared to coal or petroleum for electricity generation," said Michael Obeiter, a senior associate with World Resources Institute's climate and energy program. "[But] whether or not EPA's estimates for methane emissions hold up remains to be seen."
Range says it has an aggressive program to stem emissions.
A few feet away from the wells and the separators, tanks that hold condensate or water have equipment on top to collect emissions of gas and send it back into Range's lines to be sold. The wells themselves have emissions sensors too that are monitored remotely and inspected physically.
"There are huge economic drivers to have all these different safeguards in place," Pitzarella said of these and various other controls the company employs on its maze of equipment. For Range and other companies profiting from the Keystone State's fracking boom, trapping gas makes more sense than letting it disappear.
Range, a company at the forefront of Pennsylvania's rise in gas production, says it's also careful to prevent releases from the preproduction "completion" of wells once fracking operations are complete.
But the gas drilling and production side of the industry is just part of the equation.
According to EPA's disputed data, slightly less than a third of methane emissions from natural-gas infrastructure come from production. Other leaks come from the maze of processing, transmission and storage, and distribution equipment — and from the maze of different companies involved in these stages.
There are growing calls for more-stringent regulation of the industry to better clamp down on leaks.
Colorado recently adopted first-in-the-nation policies to directly regulate methane from the oil-and-gas sector, part of rules to address both climate and smog-forming volatile-organic-compound pollution.
"I would take a page from Colorado's book," Katie McGinty, former head of Pennsylvania's Department of Environmental Protection and a current Democratic candidate for governor.
Look for calls to better control methane to get louder.
A study by Purdue and Cornell university researchers released this week found that seven well pads in a Pennsylvania region surveyed were producing emissions that are 100 to 1,000 times EPA estimates.
The paper in the Proceedings of the National Academy of Sciences notes that these high-emitting wells are just a tiny fraction of the total wells in the region, but account for as much as 30 percent of the methane in the area surveyed by plane to detect plumes.
The paper is noteworthy because wells in the drilling phase have not previously been linked to large emissions, the authors note, though the study drew immediate industry pushback.
EPA's latest greenhouse-gas "inventory" shows declining methane emissions from the natural-gas sector, but EPA acknowledges that estimates of methane leaks are evolving and that new data is arriving from industry reporting to the agency, scientific research, and other avenues.
"EPA looks forward to reviewing information and data from these studies as they become available for potential incorporation in the Inventory," the agency said.
This week EPA released a series of white papers on ways to address methane leaks at different stages and pieces of equipment in the development process, such as including compressors and well completions.
EPA says it's committed to working with the industry to cut emissions, and it also isn't ruling out new regulations that would go beyond 2012 rules to cut volatile organic compounds from oil and gas wells, which the agency notes also cuts methane as a "co-benefit."
The Environmental Defense Fund, which studies methane emissions carefully, said the Purdue-Cornell paper — the latest of several reports alleging EPA's various estimates are too low — shows that there's good news and bad news.
"While there are often differences among emissions reported by different studies, with variability observed between individual well sites and specific regions, they all support a pair of conclusions: methane emissions are a problem and there are viable solutions available," EDF Chief Scientist Steven Hamburg said in a blog post Thursday.
According to a widely noted 2012 paper by researchers with EDF and several universities, new natural-gas-fired power plants are a climate winner compared with coal as long as methane leakage from the various phases of gas development can be kept below roughly 3 percent.
EPA's current estimates suggest emissions of roughly half that amount, but as new data pour in, the topic remains unsettled.
But industry officials bristle at the idea that their emissions are a major problem. And for Range Resources, company officials say controlling leaks is already part of their corporate culture without new rules.
Range Resources says its total greenhouse-gas emissions amount to less than a fifth of 1 percent of its annual production. In an interview at the company's Pennsylvania office roughly 15 miles south of Pittsburgh, Dennis Degner says the company has been improving continuously.
"We have an extensive facilities design team here with a lot of chemical-engineering background, mechanical-engineering background, and they just continue to advance, year in and year out, those designs so that we can capture those vapors," said Degner, the company's director of operations for its Southern Marcellus Shale Division.
And to be sure, the gas boom that has transformed the U.S. into the world's largest producer has helped to drive down carbon emissions — in Pennsylvania and nationwide — by shaking up electricity markets.
In Pennsylvania, where carbon emissions have been falling, utility giant PPL draws gas from the Marcellus shale to help power its 3,000 megawatts of gas-fired generation.
And nationwide, power companies have increasingly been ditching coal in favor of gas, which produces about half as much carbon emissions when burned.
It's among the major reasons why, according to EPA data released this week, U.S greenhouse-gas emissions fell 3.4 percent between 2011 and 2012 and are 10 percent below 2005 levels.
Obama administration officials have walked a careful line. They're pro-gas but acknowledge the methane problem, and the White House has made tackling methane a part of its second-term climate agenda.
Still, they stop far short of some environmentalists who say the emissions are bad enough to make the natural-gas boom into a climate villain.
At a recent briefing with reporters, White House science adviser John Holdren said better methane controls would instead "magnify" the climate benefits of gas over coal.