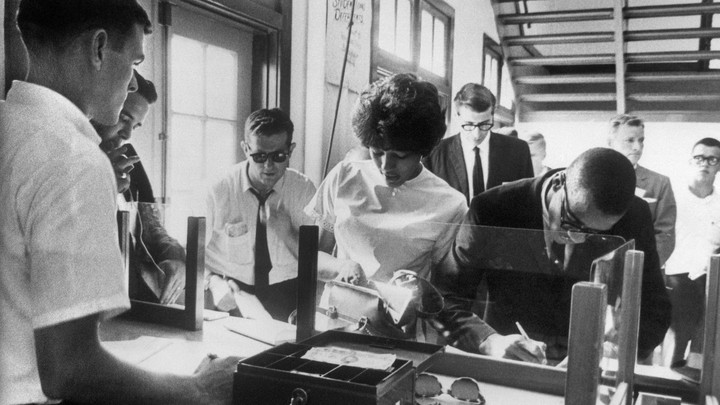 Here's a roundup of the education articles that caught Next America's eye from April 14-21. All address trends that particularly affect minority students.
The Resegregation of Public Schools. Black children across the South now attend majority-black schools at levels not seen in four decades. In Tuscaloosa, Ala., city financial interests, angry voters, and white flight all contributed to the resegregation of Central High School, once one of the South's biggest integration success stories. The school now illustrates how clustering low-income, minority students together can widen achievement gaps. "We wish we could interact with more Caucasian people, 'cause they seem fun," D'Leisha Dent, a current student at Central, told NPR. ProPublica, NPR
Corporal Punishment's Painful Racial Subtext. Corporal punishment is still legal in public schools in 19 states, mostly in the South — and African-American students are more likely to get disciplined with a wooden paddle than white students are. In some communities, the wielders of the paddle are black themselves. Supporters often cite the Bible, and the role physical punishment played in their own upbringing. The Hechinger Report
Is Texas Meeting Its College Goals? In 2000, Texas lawmakers set targets for the number of students pursuing higher education, degrees awarded, the number of nationally recognized programs at public colleges and universities, and the state's share of federal-research funding. Although the state is on track to achieve most of those goals, problems remain. Hispanic enrollment in higher education has lagged, and Texas still faces a gap in the number of students prepared for careers in science, technology, engineering, and math. Houston Chronicle
Where are the Women in Apprenticeship Programs? Women account for less than five percent of participants in apprenticeship programs nationwide, according to the Chronicle of Higher Education. That may be because job-training opportunities are most common in male-dominated trades, like manufacturing and building. As the White House pledges support for apprenticeship programs, community colleges and other organizations are working to recruit more women into them. Chronicle of Higher Education
Michelle Obama Tours Howard University. The first lady toured the historically black college with a group of Chicago public high school students last week, as part of her push to promote higher education. Along for the ride was rapper and television host Bow Wow — formerly Lil' Bow Wow, tween star of the early 2000s. Bow Wow didn't go to college, choosing instead to pursue his career. "No longer is high school the bar," Michelle Obama told the 37 Chicago students. "That is not enough in today's globalizing economy. You have to go to college." Inside Higher Ed
This article is part of our Next America: Higher Education project, which is supported by grants from the Bill & Melinda Gates Foundation and Lumina Foundation.
We want to hear what you think about this article. Submit a letter to the editor or write to letters@theatlantic.com.