Ted Cruz Is Beating Rand Paul in the Tea Party Primary
The two men's presidential hopes rest on appeals to the right-wing grassroots—and those voters seem to prefer Cruz.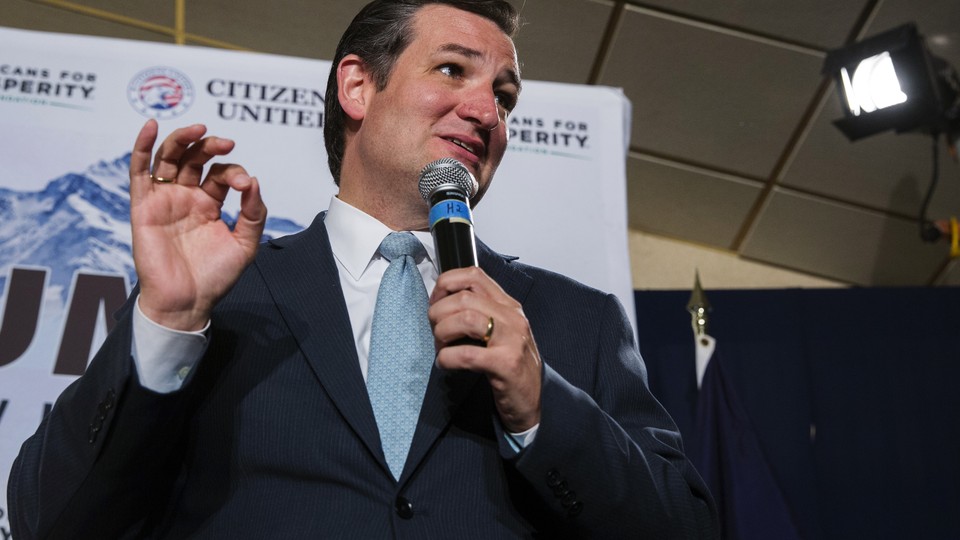 MANCHESTER, N.H.—Rand Paul has been methodically planning his run for president. Now Ted Cruz could come along and spoil the whole thing.
Both senators have a path to the Republican nomination that rests on the support of the Tea Party. And when forced to choose, that segment appears to prefer Cruz, whose speech to an activists' gathering here over the weekend was the more enthusiastically received of the two.
Saturday's Freedom Summit, billed as an early audition for potential 2016 candidates, provided a rare opportunity for right-wing activists to directly compare the Texan and the Kentuckian. The senators spoke practically back to back, and the crowd clearly loved them both. But Cruz's theatrical delivery wowed them more than Paul's comparatively cerebral appeal, and his rhetorical focus on conservative red meat found more favor than Paul's detours into libertarian concerns.
"I like Rand Paul, I agree with a lot of what he says, but as far as charismatic leadership, I've got to go with Ted Cruz," Robin Parkhurst, a state-government worker from Newbury, New Hampshire, said after hearing both men speak at the event. "Ted Cruz has the ability to deliver a message that resonates with people."
Parkhurst was one of several at the summit to echo that sentiment. It was a dramatic demonstration of a dynamic political watchers have speculated about—Cruz's ability to steal Paul's thunder if both seek the 2016 GOP nomination.
And seeking the nomination is something both men seem inclined to pursue. Both headlined weekend events with the New Hampshire Republican Party in addition to appearing at the summit, which was sponsored by Citizens United and Americans for Prosperity. (Yes, the Supreme Court plaintiff that helped deregulate campaign finance and the Koch Brothers' political nonprofit collaborated—a liberal conspiracy theory come to life.) Cruz finished his speech by asking audience members to subscribe to text-message alerts for his "movement," a tech-savvy means of building a list of grassroots supporters.
Paul's father, former Representative Ron Paul, came in second to Mitt Romney in the 2012 New Hampshire primary, and the senator's strategists see New Hampshire as a potential stronghold. With his appeal to civil libertarians and idealistic young activists, he has a built-in base of support that is loyal only to him.
But for Rand Paul to be more than a niche candidate and win the nomination, he must attract support from other, more traditionally Republican segments—starting with the Tea Party, of which he's positioned himself as a leader, authoring a book called The Tea Party Goes to Washington and delivering the Tea Party response to President Obama's State of the Union address in 2013.
But Cruz, who came to the Senate two years after Paul, appears to be muscling him out of first place in Tea Partiers' hearts. Where Paul calls himself a "libertarian Republican," Cruz touts his full-spectrum conservatism on fiscal, social, and foreign policy. Cruz aggressively championed the push to defund Obamacare that helped lead to last fall's government shutdown (Paul also backed it, but tepidly), an act that made him a pariah in Washington but a hero to the grassroots. Paul got lots of attention for staging a 13-hour filibuster on the Obama Administration's use of drones last March; Cruz transparently copied the tactic with an even longer speech on Obamacare in September.
The contrast between those two speeches is instructive. Paul's was on a pet issue dear to libertarians—but one that is divisive within the party and not a top concern for the GOP base. His action actually got results in the form of a letter from the administration. Cruz's speech was pointless—he couldn't delay the Senate vote in question, and the only tangible result was attention for Cruz—and it may not have technically been a real filibuster. But by crusading against Obamacare, he hit the hottest button for conservative activists.
A similar contrast was on display in New Hampshire, where the decidedly Tea Party crowd also gave a warm welcome to right-wing gadfly Donald Trump and talk-radio host Mike Huckabee, both of whom are also flirting with presidential runs. Potential candidates with more establishment appeal, such as former Florida Governor Jeb Bush and New Jersey Governor Chris Christie, were not on the schedule; Trump castigated Bush for his sympathetic view of illegal immigrants, and multiple speakers, including Cruz, bashed the Common Core educational standards, which Bush vocally supports. Scott Brown, the former Massachusetts senator now running in New Hampshire, also declined to appear at the event.
Paul began on a thundering note, invoking Thomas Paine and calling on listeners to "stand like men and women of courage and fight for your freedom." He barely mentioned healthcare reform, focusing instead on his pitch to broaden the appeal of the GOP by changing the way it is perceived.
"If you want to grow the movement, we cannot be the party of fat cats, rich people, and Wall Street," he said. Paul went on to argue against indefinite detention, to mock Justice Department terrorist profiling, and to argue for more lenient sentences for marijuana dealing—nontraditional conservative subjects that seemed to perplex the audience.
Cruz, on the other hand, told the crowd only what he knew it wanted to hear. His speech, unlike Paul's, was infused with personality, beginning with cute stories about his young daughters. Of his defiant five-year-old, Caroline, who likes to play a game she calls "attack the Daddy," he mused that she must be taking her cues from Senate Republican leadership.
Cruz, like Paul, made a populist appeal: "The rich and powerful, those who walk the corridors of power, are getting fat and happy" under the current administration, he said. At one point, someone in the crowd yelled, "Thank you!" And when he finished with a defiant promise to "repeal every single word of Obamacare," the crowd was on its feet.
In interviews with a dozen audience members, I could find only one who preferred Paul to Cruz. Then there was Cynthia Howard, who told me her favorite potential candidate in attendance was neither of those two. "Donald Trump," she said firmly. "He gets to the point. He gets what's wrong with our country." In the Tea Party primary, there's always a threat on your right flank, even if you're Ted Cruz.