States Peering Over the Fence on Fracking Rules
Pennsylvania eyes its neighbors, and vice versa, for guidance.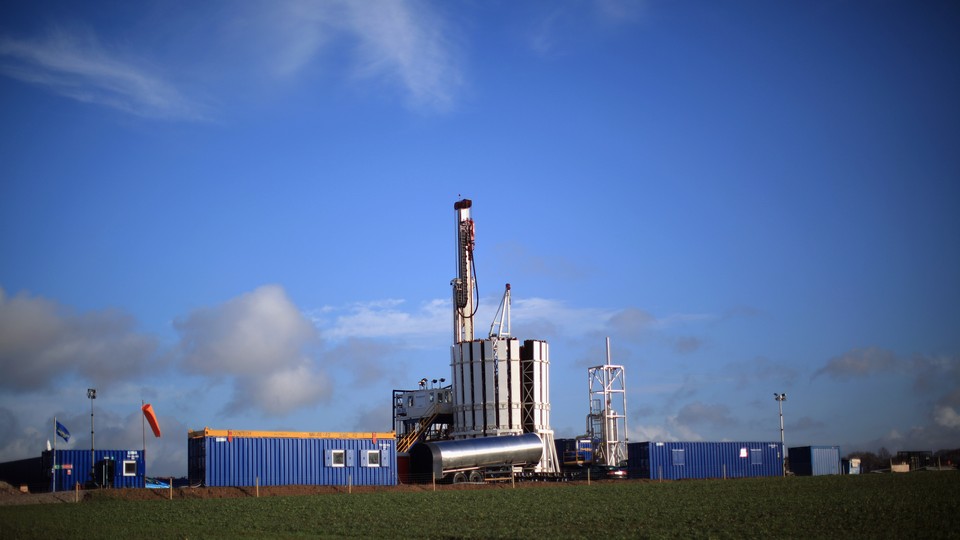 The natural-gas boom that has taken the country by storm has also taken states by surprise.
Government with little experience in the relatively new hydraulic fracturing procedures are scrambling to figure out how to regulate the air and water pollution that comes from fracking. So, like all good neighbors, that's left them peering over the fence to see what policies are coming from other statehouses.
It's even got some pushing for the state governments to work together on regulations, taxes, and development.
"To some degree, states kind of end up competing rather than cooperating," said Sharon Ward, executive director of the Pennsylvania Budget and Policy Center. "We think it really increases the leverage and bargaining power of the governors if they're working together. They can set standards that will bring in adequate revenue and protect the environment."
Ward's group is one of six progressive organizations involved in the Multi-State Shale Research Collaborative, which includes groups in New York, Ohio, Virginia, and West Virginia. Those states share the rich Marcellus and Utica shale resources, although their regulatory approaches are wildly different. Ohio, for example, recently adopted rules to limit emissions from oil and gas wells, ones that neighboring states don't share. Pennsylvania boasts of having no severance tax on drillers, giving it a lower burden than some of its neighbors.
And New York has a temporary hold on fracking entirely until the state completes a study of its health effects.
It's due in part to competition to bring in the most business, but it's also because the federal government doesn't have nationwide rules in place. That's left states to deal with it on their own and to contend with the unique issues each one's resources bring.
The research collaborative for now has been studying issues and case studies across the six states, comparing statewide approaches and exploring how governments could work together. That's becoming increasingly important as more studies are done into the air and water impacts of fracking.
"Our states border each other, our rivers feed each others' reservoirs. We share the shale plays and share a lot else in terms of geology," said Wendy Patton of Policy Matters Ohio, one of the groups in the collaborative. "Our political boundaries don't define where the impacts end."
The differences between them are often most visible when it comes to the way they tax drillers. Pennsylvania, for example, leans on an impact fee, while West Virginia has a 5 percent severance tax online. Ohio has proposed a 2 percent extraction tax on every 1,000 cubic feet of gas.
That's led to a proposal to put those three states under the same tax scheme, with a regional 5 percent severance tax to reduce competition and bring some regulatory certainty. Three of the groups in the research collaborative pitched the idea in a letter to the states' governors last month.
"All the states are having conversations about a severance tax, so it really would make sense to have a common policy across all three states," said Ward, whose group is one of the three involved in the letter.
"The debate ends up being kind of a race to the bottom, where they say if you have a high rate the drillers won't come. So let's just take that argument away and have a common tax rate and structure," she added.
It's unlikely such a proposal would have a realistic political future — states see a lower tax rate as a way to attract drillers and Pennsylvania Gov. Tom Corbett has been hesitant to even consider a severance fee despite appeals for the state to draw more from the gas boom.
But when it comes to the environmental regulations, there is more room for overlap as states look to mitigate the air and water concerns associated with fracking. Regulators say that they'll often look at what their neighbors are doing both for guidance and to make sure it's keeping the state on pace with its peers.
Under Pennsylvania's Executive Order 1996-1, all state agencies must identify "any requirements that would place Pennsylvania at a competitive disadvantage compared to other states." That has particularly informed the state's proposed rule-making on oil and gas wells, a spokesman for the state Department of Environmental Protection said, adding that the primary focus has been on rules in West Virginia and Ohio that cover similar geological and geographic concerns.
"Overall, DEP's regulatory process and the state's oil and gas program regularly interacts with other states for the purpose of ensuring we are forging the best regulations possible," said DEP's Lisa Kasianowitz.
James Martin, chief of the oil and gas office for the West Virginia Department of Environmental Protection, likewise said that he's often in touch with representatives from other states for technical advice on rules.
"You're always in a position to bounce ideas off each other and learn what's going on in other states," Martin said. "The oil- and gas-producing states, we all know each other and see each other at meetings or on conference calls and whatnot."
So, for instance, when Ohio advances air emissions rules on gas drilling, its neighbors are no doubt watching. The state's rules this month made it the third state to go ahead with air rules related to fracking, after Colorado and Wyoming. Matt Watson, who directs state programs on natural gas for the Environmental Defense Fund, said that typically certain gas-rich states will take the lead on rules with others falling in line soon after.
"Pennsylvania tends to be a state that people keep an eye on because their development started earlier and really went gangbusters," Watson said. "They had to play catch-up the first two or three years, but now they tend to have a lot of knowledge. When I look at Pennsylvania and Ohio, there's a lot of eyeballing that goes on back and forth across the Ohio River."
Pennsylvania, he said, was out ahead of some comparable states on issues like wastewater recycling and transportation and well blowouts. The experience necessitated that it become a national leader on the technology and policy for dealing with the issues.
But relative to other states, Pennsylvania has lagged on air rules, though the state's Bureau of Air Quality has been working to tighten its guidance for drillers and has discussed leak detection policies. With Ohio moving ahead, Watson said he'd expect to see Pennsylvania watching the rules play out with a healthy dose of competitive spirit.
"Every state wants to claim that its got the strongest rules or among the strongest in the nation," Watson said. "When you've got Ohio next door and you've got Colorado and Wyoming over there doing something else that you're clearly not doing in Pennsylvania, it's tough to make those claims. That can cause regulators to move."