Senate Invokes Cloture on Unemployment Insurance — Again
House passage still appears unlikely, despite efforts from Senate Republicans.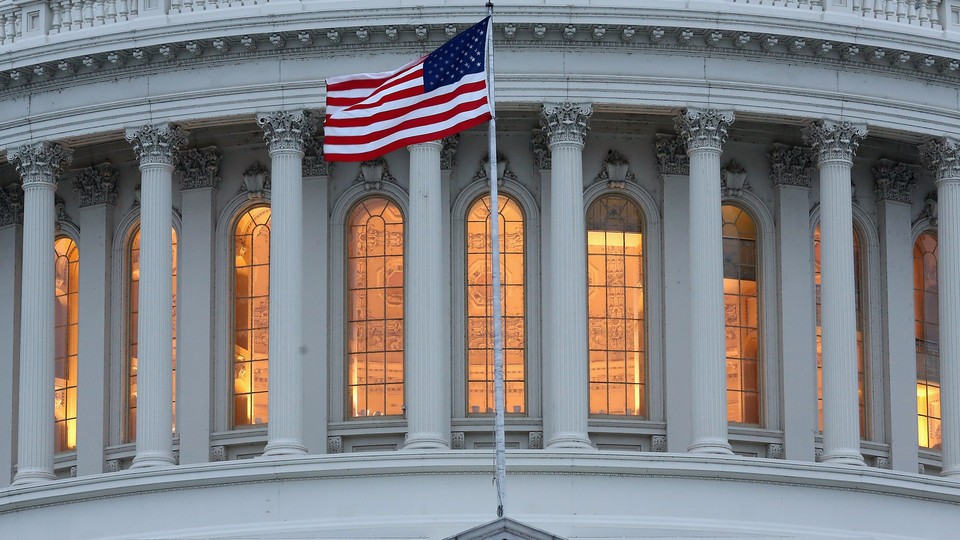 The Senate once again agreed to cloture on a five-month extension of unemployment-insurance benefits Thursday, but this time with even fewer Republican votes than before. Sixty-one senators, including six Republicans, voted for the cloture agreement, compared with last week's vote when 10 Republicans joined the Democratic majority to move the bill along.
Sens. Dan Coats, R-Ind., Bob Corker, R-Tenn., Pat Toomey, R-Pa., and Ron Johnson, R-Wis., voted no on cloture Thursday after voting in favor of cloture last week.
The cloture agreement sets up a vote on final passage for Monday, when Democrats will only need support from 51 of their own members to pass the measure. But the drop in the number of Republicans voting for cloture does not bode well for the bill's future.
Democrats and Republicans alike have suggested that the higher the overall vote total from Senate Republicans, the more likely it is that Speaker John Boehner will take up the extension in the House. Boehner has repeatedly insisted that the Senate unemployment bill does not meet his requirements, including that it must contain a job-creation provision, for House consideration.
Fewer Senate Republicans joined the cloture vote on Thursday in large part because of the way the amendment process was handled by the Democratic majority.
Senate Republicans tried Wednesday and Thursday to attach a number of energy and jobs-related amendments to the unemployment-insurance extension bill that could have met Boehner's threshold, but were shot down by Majority Leader Harry Reid.
The main focus for Senate Republicans was a proposed amendment from Sen. John Thune, R-S.D., which would accomplish a number of long-time GOP goals that have strong opposition in the Democratic majority. The amendment's provisions, a conglomerate of proposals from a variety of Republican senators, read like a conservative Christmas list: They would authorize the Keystone XL pipeline, repeal the Affordable Care Act, block new emissions regulations from the Environmental Protection Agency, include the Skills Act reforms of federal-workforce training programs (which has already passed the House), and prohibit a carbon tax, among other things.
However, as with so many other bills to hit the Senate floor over the past several months, the bill proceeded with only Democratic amendments.
Democrats argue that the bill is a job creator in and of itself, citing a report from the Congressional Budget Office noting that a year-long extension of unemployment insurance would create 200,000 jobs by the end of 2014. The current measure, however, extends benefits for five months only and because the legislation is retroactive, it would expire in May.
Republicans dismiss the CBO estimate, despite their wide use of a separate CBO report to discredit Democratic efforts to raise the minimum wage. CBO estimated earlier this year that a $10.10 minimum wage would cost the country 500,000 jobs by 2016.
"The CBO can only score what's put in front of them. And at a certain point, common sense has to be part of the equation. It is common sense that if you raise the cost of employment, you will get less employment," a House Republican aide said, referring to the Democratic efforts to raise the minimum wage. "It is also common sense that you can't create jobs by giving people money not to work."
Regardless, the unemployment-insurance bill is expected to pass the Senate on Monday. Sen. Dean Heller, R-Nev., who helped to form the final legislation, said Thursday that his colleagues had a number of reasons for voting against cloture and that he is hopeful more will sign on with the bill Monday evening to give it momentum as it heads to the lower chamber. "I think in the final vote, you'll see that vote come back up," he said.
Heller said he has already begun discussing the issue with House Republican leadership. An aide to House Majority Whip Kevin McCarthy confirmed that Heller called to discuss unemployment insurance, but said that the conversation was very general.
Heller said this week that he was focused largely on passing the measure through the Senate, and would begin his conversations with House Republicans in earnest after the bill has cleared the Senate. Asked whether House Republicans had indicated an openness to taking up the bill, Heller responded: "The rhetoric wouldn't say so, you know, today."
But, Heller said, he expects to get a fair hearing. "I anticipate that they'll listen to me," Heller said. "I have a good working relationship with the speaker, a good working relationship with leadership on their side, so I'll have some conversations with them. So I'll find out how eager they are."
Boehner spokesman Michael Steel agreed that Heller, who served in the House for just over four years before being appointed to former Sen. John Ensign's seat, maintains a positive relationship with leadership. "He was a well-liked House Member," Steel said in an email.
Heller plans to speak with Boehner next week about the extension, dismissing the speaker's claims that the Senate legislation is "unworkable." "'Unworkable,' I think is questionable. "¦ I think it's workable. The Labor Secretary says its workable, Nevada says its workable. If some states can do it, then all states can do it. So, anyway that'll be the topic of conversation," Heller said.
Heller also noted that the bill already has the support of his home state's delegation in the House, noting that Nevada has one of the highest unemployment rate's in the country.
He added the Sen. Rob Portman's support could help to bring Boehner on board as well. "I do need to know what motivates him," Heller said of Boehner. "I think with Portman's support on the legislation, [makes me feel] in my opinion that it's good for Ohio. And the speaker being from Ohio, maybe that sends a message."
Sen. Jack Reed, D-R.I., who co-sponsored the Senate bill said he too will urge House Republicans to take up the bill as quickly as possible, noting that with just a five-month extension "there is a very short window" for passage, perhaps as little as a few weeks.
Reed dismissed concerns that the House would need to take nearly as long with the bill as the Senate did (the Senate began work on the legislation in early January). "My recollection of the House [is] they can move very quickly. We are a much more deliberative body. And we demonstrated great deliberateness in this process," Reed joked.