Republicans' Attack on the White House Proves Obama's Point
The administration's transparency means critics can shame them for any gender-related discrepancies in pay. And that's a good thing.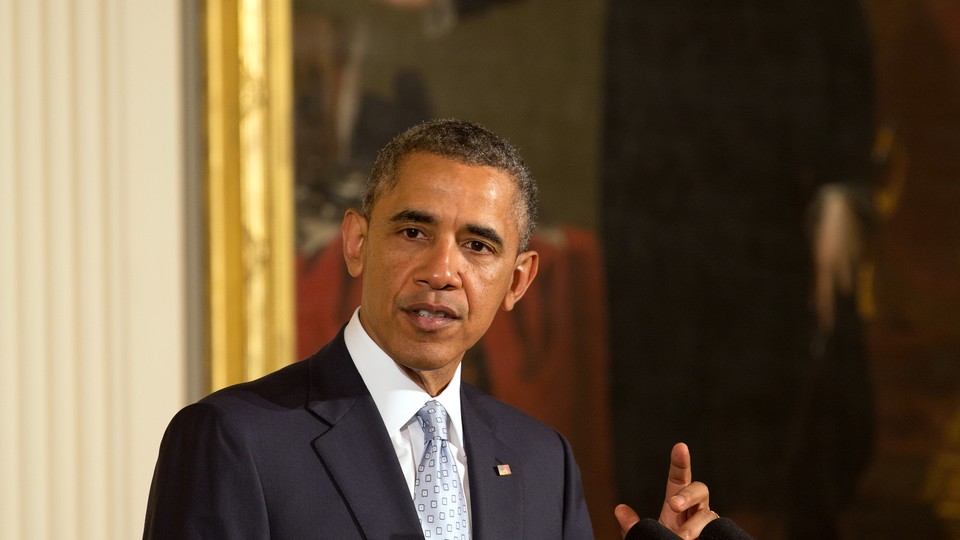 Republicans continued to accuse the Obama administration of hypocrisy on Sunday, with Rep. Marsha Blackburn, R-Tenn., telling Face the Nation that, while Republicans support equal pay in general, the particular legislative efforts pushed by Democrats are "condescending" and ineffectual.
Blackburn, like many of her GOP colleagues, specifically cited the White House's own pay gap as evidence that the administration has no business promoting salary transparency through two new executive orders announced last week. "The White House paying women 88 cents for every dollar that a guy earns in comparable positions?" she said in reference to a recent study by the American Enterprise Institute. "They need to go clean up their own act first."
But the only reason Blackburn can criticize the White House pay gap is because the White House releases its pay information — something Obama wants every company to do. Blackburn's critique actually proves Obama's point: Transparency can help put pressure on institutions to "clean up their act," as Blackburn would say. She's right to criticize the White House, but the ammunition she uses is not available for most employers.
Blackburn's argument also leaves out some important nuances. Contrary to her on-air statement, the pay differential between men and women does not apply to Obama staffers in "comparable positions." She also fails to mention that the White House's record on this front is significantly better than that of congressional Republicans or the previous administration.
Still, pundits have persisted in casting last week's emphasis on the wage gap as a win for the GOP.
Ideas advanced by a handful of Republican senators last week would take an important step toward ending pay discrimination (namely, banning retaliation against any employees who disclose their own salaries). But they don't go as far as the Paycheck Fairness Act, which, among other things, would have directed the Equal Employment Opportunity Commission to collect employers' gender and race wage data. That legislation was unanimously blocked by Senate Republicans last week, the same week the House passed Rep. Paul Ryan's Republican budget, which, as The Washington Post's Dana Milbank reported, would force cuts to investments that disproportionately benefit women.
Other pundits such as The Post's Nia-Malika Henderson accused the White House of "trying to carve out a narrow argument which says more transparency means less discrimination ... even though transparency at the White House still finds a 12 cents pay gap."
The White House's record notwithstanding, the argument is not particularly narrow. A study from the Institute for Women's Policy Research, for instance, finds transparency is among the best ways to prevent pay discrimination. "More transparency almost always helps in fighting sex discrimination and other forms of discrimination because it exposes what the employer is doing," Suzanne Goldberg, director of the Center for Gender and Sexuality Law at Columbia University, told ABC News at the time.
It is also, as MSNBC's Irin Carmon has noted, likely related to the reason the White House pay gap is narrower than the national average.
A narrow argument would be one that dismissed good policy by citing an institution's faulty behavior.
Still, Gary Burtless, an economist at the centrist Brookings Institution, said that even complete salary transparency would be unlikely to solve gender discrepancies in pay. The salaries of congressional staffers are posted online, he noted in a conversation with National Journal, and still significant gender wage gaps persist.
Marianne DelPo Kulow, an associate professor of law at Bentley University whose work on the issue has been published in the Harvard Journal on Legislation, agreed. "The more nuanced conversation is why is there still a gap even in the face of wage transparency and the answer to this is that there are a number of factors contributing to the gap, not just wage secrecy," she wrote in a statement. "To eradicate the gap entirely, one needs a multi-pronged approach."
Advocates of equal pay would say the White House is absolutely not above reproach on this issue, that they need to do better. And if critics, including Blackburn and her colleagues, keep up the pressure by promoting transparency legislation or at least the shaming it enables, they will. More importantly, so will everyone else.
{{ BIZOBJ (video: 4882) }}