Republicans Are Openly Softening Their Tone on Same-Sex Marriage
But they have a tricky line to walk.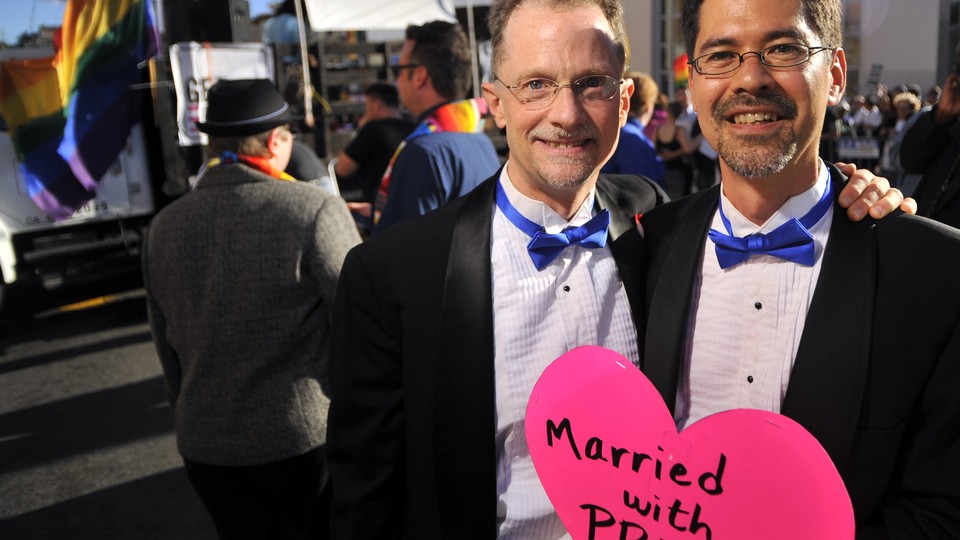 Something strange happened last weekend. At a recent conservative confab that attracted many top Republicans, no one railed against same-sex marriage.
The New Hampshire Freedom Summit — a weekend-long event hosted by the Americans for Prosperity Foundation and Citizens United that attracted more than 700 attendees — featured speeches from people like Mike Huckabee, Newt Gingrich, and Rep. Marsha Blackburn.
At the summit, Republicans spoke about promoting a "culture of life," of erecting border fences and battling Obamacare's contraceptive mandate, but critiques of states' same-sex marriage laws were curiously absent. And when the topic did surface in speeches by people like Sens. Rand Paul and Ted Cruz, they showcased a softer side of their party.
Social conservatives may not have raised the white flag on same-sex marriage yet, but their party's leaders are in search of something of a compromise. During Paul's speech, he insisted on his social conservatism while also leaving the door open for states to pass gay-marriage laws.
From BuzzFeed:
"I'm a social conservative," Paul went on. "I'm a believer in traditional marriage. I believe that, you know, there is something important to life, and it comes from God. But I'm also a believer that a lot of the way our country was founded was upon federalism." He argued states should be allowed to experiment with their own definitions of marriage, and declared, "I think there's an arrogance to having absolute litmus tests."
That states-rights rhetoric permeated the event's speeches. "We have 50 states with different values, with different mores, and we would expect different states to adopt different laws," Cruz told the audience. "I don't think the federal government should be trying to force the states to adopt gay marriage in all 50 states. If the citizens of the state make that decision, they have the constitutional authority to do that."
In February, Cruz and fellow Sen. Mike Lee introduced the State Marriage Defense Act — a bill that would prohibit the federal government from defining marriage at the state level.
Even Rep. Steve King, who is vehemently anti-gay marriage, said "we need to concede" that public opinion on the issue is shifting.
The idea, seemingly, is to shift the argument against gay marriage from an ethical one to a constitutional one. It's a win-win for Republicans caught between their conservative base and the more liberal young voters they are trying to convert. By arguing that states should be allowed to pass whatever laws they see fit, Republicans like Cruz can remain true to a constitutional conservative image without alienating either side too much.
The conservative crowd may have been disappointed by this softened rhetoric. Audience members whooped when Donald Trump promised to build a border fence "like you've never seen," and booed at Jeb Bush's suggestion that illegal immigration is sometimes an "act of love."
In polls, voters have long said that the state of the economy is the most important problem facing the country, far more important than any social issue. A 2012 Pew poll found that just 28 percent of voters thought of gay marriage as a "very important" issue — down from 34 percent in 2004 and lower than any other social issue listed.
Still, gay marriage is an issue that could easily make Republicans seem tone-deaf toward young voters. A whopping majority of 18- to 29-year-olds — 81 percent — believe same-sex marriage should be legal, along with 61 percent of young Republicans.
That juxtaposition of Republican values, young and old, has become a ripe target for parody. Just watch the most recent episode of Saturday Night Live, which opened with a sketch about Republicans appearing at Coachella to woo young voters.
"A lot of you out there are probably in favor of gay marriage, right?" Fake Jeb Bush asked the crowd, to supportive applause.
"We thought so!" Fake Paul Ryan continued. "Well you're in luck, because the new GOP is... not going to talk about it as much."
Correction: A previous version of this article misstated who hosted the Freedom Summit. It was the Americans for Prosperity Foundation, not Americans for Prosperity.