Rand Paul's Compassionate Conservatism
The spirit of Jack Kemp is alive and well in today's GOP.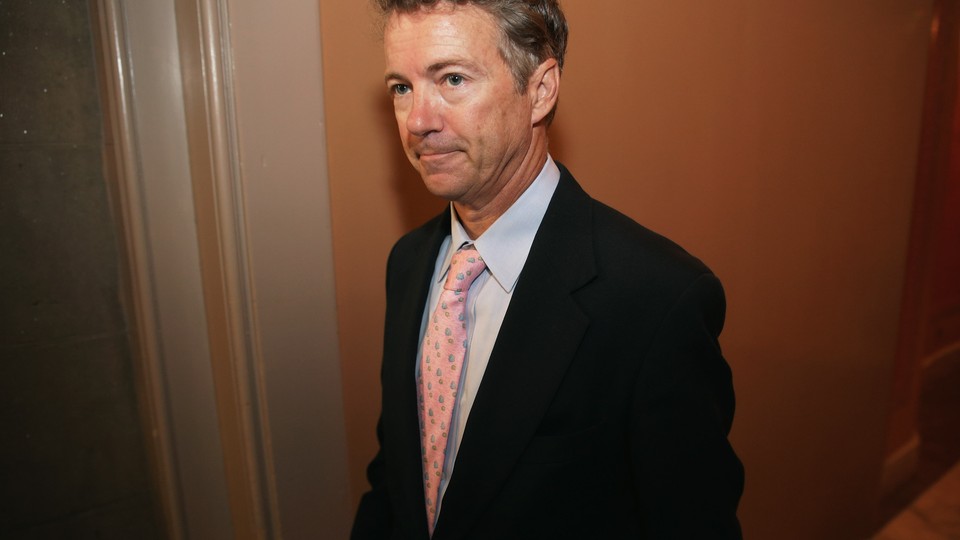 Sen. Rand Paul is taking full advantage of Congress's recess with a tour of speaking engagements in Real America. But more importantly, he used the time away from Washington to cultivate a decidedly different image: not the libertarian spark plug most people think of when they think of Rand Paul, but an old-fashioned, issues-oriented compassionate conservative.
Speaking at Josephinum Academy, a Catholic girls' high school in Chicago, Paul talked to parents and students about public-school alternatives and supported the right for religious schools like Josephinum to receive federal money. School vouchers and charter schools have long been conservatives' workaround to push against the public education system without seeming like they were pricing out low-income students.
He said schools should reward exceptional teachers the same way we reward professional athletes — with salary hikes tied to their performance. "In Washington, no one knows if you're a good teacher or a bad teacher," Paul said. "I'd make teachers like professional athletes. They would get more and more money."
He also worked to make clear that he wants to empower public educators, rather than disenfranchising them. "This isn't ideologues versus the public school teachers' unions," Paul told the assembled students, parents, and teachers. "It's choice versus coercion."
At the event, school-choice advocates emphasized the need to take an "all-of-the-above" approach to education that includes public, private, charter, and online schools. Charter schools are publicly funded but operate independently, and they don't have to meet the same education requirements that traditional public schools do.
Schools like Josephinum are seen as ideal examples for the school-choice movement. Michael Dougherty, Josephinum's president, touted the school's 100 percent college acceptance rate. And its students come from all over the Chicago area. Last year, the Chicago Tribune profiled Jailyn Baker, a Josephinum student whose commute to school every day takes one and a half hours, each way.
Since starting his first term in the Senate, Paul has made a point to travel around the country speaking to urban communities struggling with poverty — not exactly a friendly setting for Republican politicians.
Some have said that promoting school choice and urban revitalization is part of Paul's grand plan to welcome minority voters into the GOP's fold. As Bloomberg notes, Black and Hispanic voters are the fastest-growing segment of the electorate, and as such are a valuable demographic for Republicans to pursue.
Paul has proposed policies that would specifically affect urban, minority communities. Along with charter schools, he's proposed creating "economic freedom zones" — areas within a city where taxes are radically lowered to encourage business growth. Back in December, Paul traveled to Detroit to open Michigan's GOP office there and to promote the idea of "freedom zones" in struggling cities.
Rep. Jack Kemp — the original compassionate conservative — first proposed such zones as a way to lift city dwellers out of poverty. Since then, President Obama has proposed a similar plan, rebranded as Promise Zones. Unfortunately, even Kemp's former economist has said enterprise zones don't work in practice, and other economists have challenged the idea that radically lowering taxes will spur economic activity and help the well-being of residents in that area.
The ghost of Jack Kemp continues to show up at speaking engagements by Republicans like Paul and Rep. Paul Ryan, who worked as a speechwriter for Kemp and has called him his role model.
But there's a reason Kemp is not as well known for his effect on social policies as much as, say, Rep. John Lewis.
A 1993 New York Times Magazine story titled "How Jack Kemp Lost the War on Poverty" chronicled how Kemp and his cohort's compassionate-conservative philosophy only took them so far. When pressed on their social policy agenda, they would stick to their narrow platform — enterprise zones, tax credits, and school vouchers. Sound familiar?