Paul Ryan Outlines GOP Fiscal Dream in New Budget
But the House Budget Committee chairman's plan is more of a political rallying point than a realistic plan.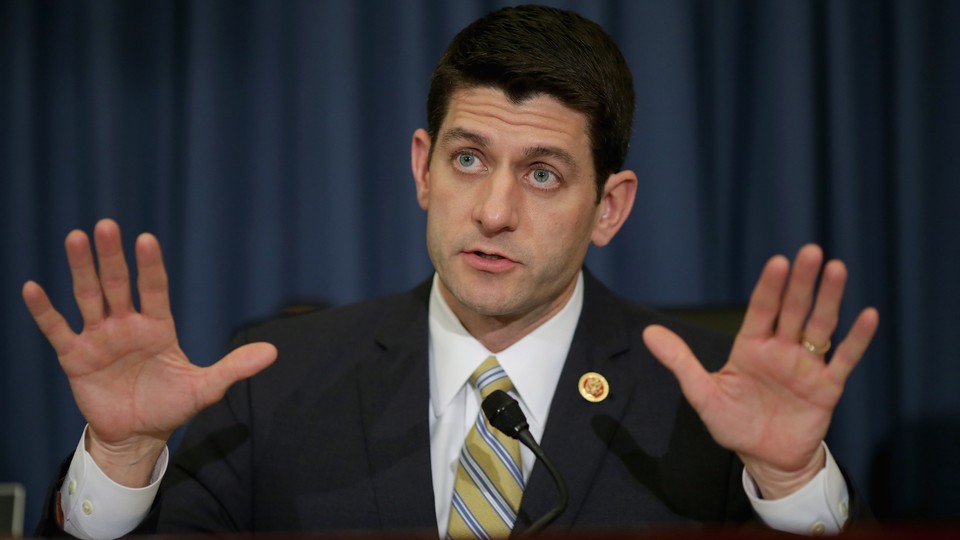 Rep. Paul Ryan released his proposed budget for fiscal 2015 on Tuesday, outlining a conservative fiscal playbook and vision for his party through 2024 that's going exactly nowhere during this Congress — except to the campaign trail.
Carrying a title "The Path to Prosperity," the document asserts it would produce 10-year savings of more than $5 trillion (about $500 billion more than in Ryan's 2014 budget plan) through entitlement reforms and other policy changes, leading to a surplus for the country by 2024 — and would do so despite what continues to be a lackluster economy.
Lawmakers have already agreed to spending levels for the next fiscal year, which begins Oct. 1, making Ryan's budget unnecessary in terms of law. And even some House Republicans have questioned taking up some of the thorny political issues that a detailed budget would address in a midterm-election year. The Senate has chosen not to do one. And as in previous election years, the Ryan budget is likely to be used as a rallying point for the Democratic base in November.
On the other hand, party leaders have decided that such a document can serve as an outline or blueprint for Republicans to distinguish themselves from Democrats on fiscal policy and provide insight into how House Republicans are positioning themselves heading into the midterms.
Democrats are already trying to use the budget for their political gain. Chris Van Hollen, the top Democrat on the House Budget Committee, said that "this reckless Republican budget casts a dark shadow over the American Dream" and is a "declaration of class warfare."
"Students will see deep cuts to education. Seniors on Medicare will immediately pay more for preventive health services, those with high prescription drugs costs will see prices skyrocket, and it will mean the end of the current Medicare guarantee," Van Hollen said in a statement.
In addition, he said the claim that this Republican budget balances in 10 years "is simply a fraud."
"Their budget would not balance without the reforms and savings we made in the Affordable Care Act, which they have voted to repeal or undermine more than 50 times and claim to repeal again in their budget. They cannot have it both ways," said Van Hollen.
Minority Leader Nancy Pelosi cast the budget proposal as one showing the lengths Republicans will go "to protect the special interests at the expense of the public interest."
In its details, the fiscal plan released by Ryan and his Budge Committee Tuesday is in many ways a slight alteration of the Wisconsin Republican's previous proposals. As in previous budgets, Ryan makes significant cuts to entitlement spending, calls for work requirements to be strengthened under welfare, and proposes a block-grant program for the Supplemental Nutrition Assistance Program (also known as food stamps) beginning in 2019.
But Ryan goes a step further in his 2015 budget than he did in the deal he worked out with Sen. Patty Murray, D-Wash., late last year. The 2015 House budget adheres to the caps laid out in the Ryan-Murray agreement, but it also offers topline spending figures for a number of departments and agencies, determinations that are ultimately up to House and Senate Appropriations Committee chairs.
Ryan's recommendations may have come a little late in the game in that regard, however. Given that they've had overall topline figures since December, both Appropriations committees have already begun their work of allocating federal funding for fiscal 2015.
Sen. Murray dismissed Ryan's proposal as based on "failed Tea Party policies," noting that a 2015 budget is unnecessary in light of her deal with Ryan last year. "Since our bipartisan budget deal already set spending levels for fiscal year 2015, I am hopeful that this partisan proposal will be set aside and we can work together once again to create jobs and economic growth built from the middle-out, not the top down," Murray said in a statement.
As under Ryan-Murray, the new House Republican budget provides $1.014 trillion in discretionary spending during the upcoming fiscal year with $521.3 billion allocated for defense and $492.4 billion for nondefense programs.
Sixty-two Republicans voted against those figures back in December, when Ryan-Murray was making its way through the House, as many conservatives wanted deeper cuts. But given the more partisan nature of Ryan's new budget document, even a stronger majority of House Republicans will be needed to pass it, putting the House Budget Committee chairman in a difficult position of trying to appeal to more conservatives while also maintaining centrist support.
As such, Ryan appears to be taking a gamble by offering a deal to fellow conservatives and by making even deeper cuts to discretionary spending than are called for under sequestration beginning in October of next year — all so he can beef up defense spending. The Ryan budget would cut $43 billion from nondefense discretionary spending in fiscal 2016 — the next year in which Congress will have to pass a budget — and put that funding directly into defense. By 2024, the budget cuts $791 billion from nondefense programs and adds another $483 billion to the defense discretionary account.
In 2024, nondefense discretionary spending would hit $467 billion, the lowest it has been since 2005, while discretionary defense spending would be at its highest level since 2010.
"There is no foreseeable 'peace dividend' on our horizon," declares one summary section of the proposed budget.
Those cuts could help to bring more Republicans on board with the proposal, which will be marked up Wednesday. The legislation could see floor action as soon as next week, with the House set to take its two-week Easter break on April 11, just days ahead of the April 15 deadline for budget action.
Included in the plan is another call to realign Medicaid spending so that the federal share is given to states in a block-grant-like program to tailor to their own needs. The annual proposal has been a popular election-year target for Democrats.
And while insisting that its proposed Medicare changes do not constitute "a voucher program," Ryan's budget calls for recipients to choose from a list of coverage options and payments that would "best suit his or her needs," and then payments would be made directly to that plan. Longer term, the budget proposal discusses giving seniors who first become eligible when turning 65 on or after Jan. 1, 2024, a choice of selecting private plans alongside the traditional fee-for-service Medicare program.
In many ways, Ryan's budget is a direct rebuttal of another election-year document, President Obama's 2015 budget, and other administration policies. Notably, it calls for an 8 percent increase in funding for "diplomatic security" over 2013 levels, an implicit reference to the attacks on the U.S. consulate in Benghazi.
Ryan goes on his budget to accuse the Environmental Protection Agency, a major foe of congressional Republicans and a popular election-year strawman, for "abusing the powers granted in current law." The budget would cut $23.5 billion for the Energy Department over the next 10 years and calls on the agency to reduce administrative costs.
In a rare agreement with the Obama administration, however, Ryan proposes to reform the emergency unemployment insurance program by preventing beneficiaries from also drawing Social Security disability benefits. That provision has proven surprisingly bipartisan. It made its way into Obama's budget this year, has been championed by Sen. Rob Portman, R-Ohio, and is included in a larger Republican package to temporarily restore unemployment insurance benefits that is currently making its way through the Senate. Ryan's budget offers no position on the overall program, which expired in December, however.
Ryan, who is hoping to take over the gavel of the powerful Ways and Means Committee when Chairman Dave Camp, R-Mich., retires next year, calls for full-scale tax reform. Although his recommendations are the same as in his last budget — including repealing the alternative minimum tax, reducing the corporate tax rate to 25 percent and consolidating the seven individual income-tax brackets into two — Ryan also spends some time praising Camp's and other Republican's tax reform plans.