One Woman's Quest to Mend a $450 Billion Industry: Family Caregiving
Family caregiver-turned-AARP advocate urges states to plug holes in long-term health care system.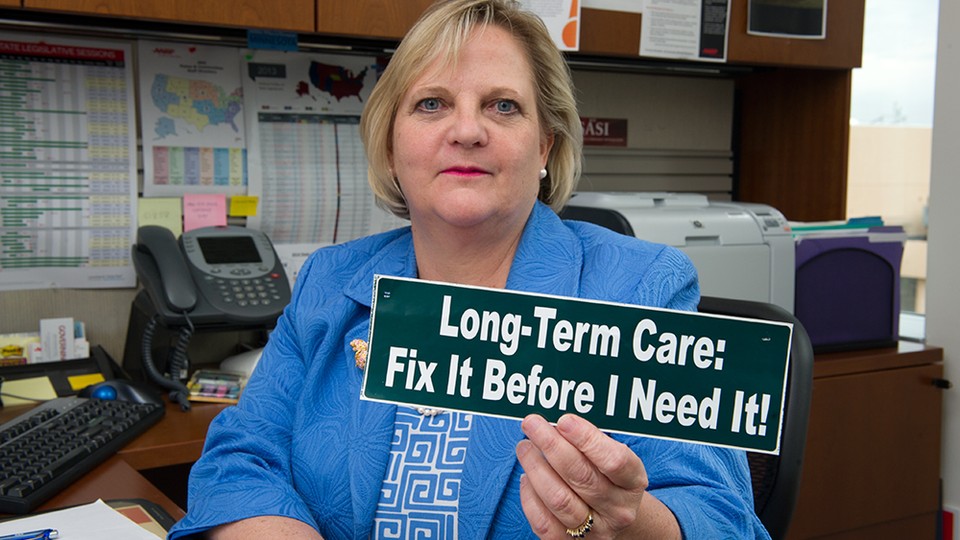 It was an opportunity of a lifetime for Elaine Ryan. The nation's largest senior-citizens lobby needed a vice president for state advocacy in January 2007, and Ryan was scheduled to interview for the position. "AARP," she said, "my dream job." But life got in Ryan's way.
Her 86-year-old mother was diagnosed with a lung tumor and admitted to an intensive-care unit in Lockport, N.Y., near Buffalo. Ryan postponed the interview, flew home from Washington, and watched "Ma" die. For years, Ryan had been her mother's unofficial caregiver — organizing teams of health care professionals via countless telephone calls from Washington and flying to New York every other weekend. After her mother's death, Ryan played a similar role for her ailing father, who passed away 18 months later at 92.
More than anything she'd done in her professional life, this made Ryan an expert on a half-trillion dollar hidden industry: family caregiving. In 2009, according to an AARP study, about 42.1 million Americans provided care for an adult family member at any given point in time, and about 61.1 million provided care at some time during the year. The estimated economic value of their unpaid service was about $450 billion in 2009, up from $375 billion in 2007. As the U.S. population ages, those numbers will balloon, which brings us back to Ryan.
She accepted the AARP job four months after her mother's death and now heads the group's 50-state effort to pass legislation and regulations that help family caregivers fill massive gaps in the U.S. long-term health care system. One study shows that 90 percent of long-term care in the United States is provided by family caregivers.
Working its way through several state capitals is legislation that requires hospitals to identify caregivers and provide them instructions on how to treat their family member at home. Another bill gives nurses more authority to provide care, including writing prescriptions, which saves caregivers and patients time spent on doctor visits. Others would broaden access to respite care, sick leave, and job protection for people forced to take time off to care for a loved one.
More broadly, the AARP campaign may be a model for how the United States mends its 20th-century social safety net. The best patches will be relatively cheap, intensely local, and the result of partnerships between government and nongovernmental entities that identify successful community programs and scale them up.
"It's not about a big government program. It's not a billion-dollar grant," Ryan said. "It's about making the current system make sense. We need a system that follows us through the aging process. Everybody doesn't need everything, but there are simple things for people who want to live their lives."
Things like the mechanical lift that Ryan bought for her father so that he could ease Ma in and out of her bed. Before Ryan discovered there was a better alternative, her father had a grueling routine of assembling and dissembling a makeshift wheelchair ramp with cinder blocks and Sheetrock.
Things like the flexibility to take time off work, which AARP gave Ryan. Other employers are not so open-minded.
Things like a home. After renting a two-story house for 45 years, Ryan's parents realized the stairs were too much. They were urged to move into a nursing home, but instead bought a one-story home for $68,000 near Buffalo and lived there for 10 years before Ma passed away.
"People want to stay in their home as long as possible as they age," Ryan said. "I can see that in dozens of polls I read and commission, but I saw it for myself: My parents were first-time homebuyers in their 80s. There is the inexorable pull of home."
It's a pull that we'll all experience — that is, if we're able to live long enough. Ryan is driven by both the memories of her parents and her hopes for her own future, signposted by a bumper sticker she keeps in her AARP office. It reads, "Long-Term Care: Fix It Before I Need It."