Offspring of Actual Tree From Anne Frank's Hiding Place Will Be Planted at the Capitol
A sapling from the chestnut tree described in Frank's diary is one of 11 in the United States.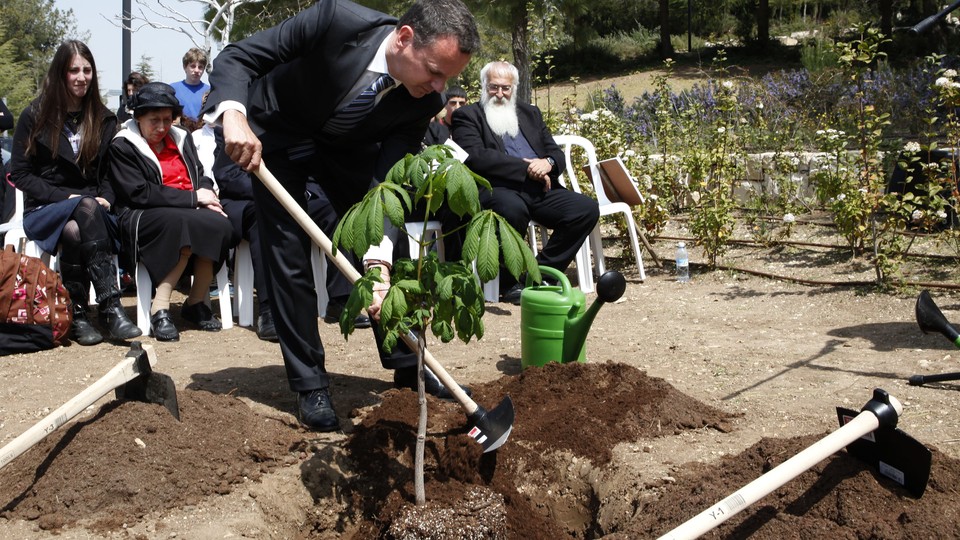 The Capitol will soon be home to the offspring of the very chestnut tree that grew outside of the secret annex where Anne Frank and her family were sheltered during World War II.
Members of Congress will gather at the end of the month to plant the sapling, one of about 100 that were cut from the original tree in Amsterdam when it collapsed during a windstorm in 2010. The saplings have since been sent all over the world, where they are being planted in memory of the Holocaust.
Frank actually wrote about the tree in her diary on three occasions. "The two of us looked out at the blue sky, the bare chestnut tree glistening with dew, the seagulls and other birds glinting with silver as they swooped through the air, and we were so moved and entranced that we couldn't speak," she wrote, of looking out the window with Peter van Pels in February, 1944.
The United States' 11 saplings have been under quarantine since 2010 to ensure that they are healthy enough for planting, while sites all over the country have competed to house the young trees. Five were planted last year at the Children's Museum of Indianapolis, Sonoma State University in California, Southern Cayuga School District in New York, Boston Common, and the Holocaust Memorial Center in Michigan.
This year, the Capitol and the Clinton Presidential Center in Little Rock, Ark., will each receive a tree as well. The remaining four will be planted at the Washington State Holocaust Education Resource Center in Seattle, Little Rock Central High School in Arkansas, the Idaho Human Rights Education Center, and at the 9/11 memorial in New York City in the near future.
"We were really looking for sapling sites that matched our mission," Rebecca Faulkner of the Anne Frank Center USA said Wednesday. "These 11 sites were representative of the entire United States."
The planting ceremony at the West Front Lawn of the Capitol, which is located on the Senate side of the building, is scheduled for April 30. All four members of congressional leadership are slated to attend.