Obamacare Sign-Ups Reach 8 Million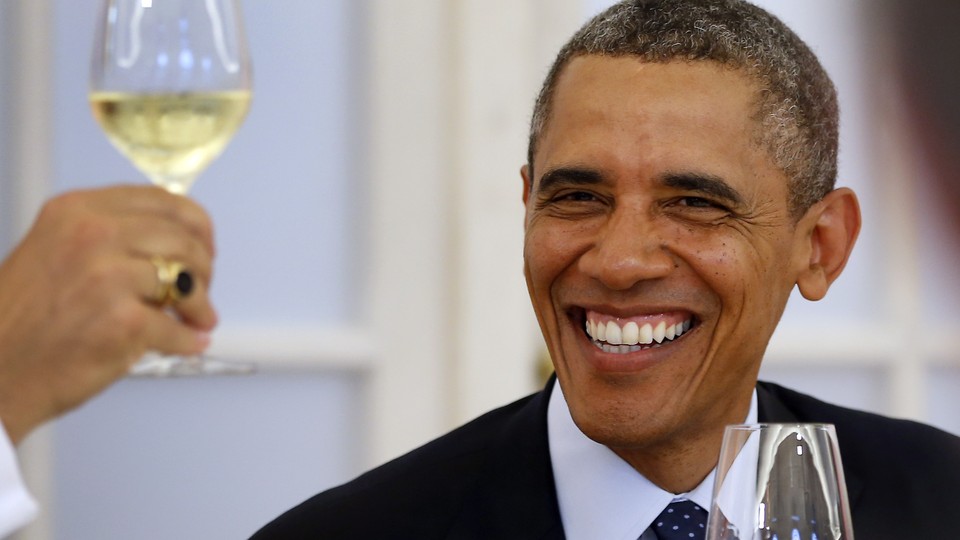 Obamacare sign-ups reached 8 million as the first enrollment window came to a close, President Obama said Thursday.
There are some big unknowns behind that number, but it is nevertheless a hugely positive figure for the White House and Democrats. The March 31 deadline to apply for coverage — and an extension for people who tried to meet the deadline but couldn't get through — propelled an enrollment surge that exceeded just about everyone's expectations.
Some 3.7 million people signed up in March and April alone — more than in the first four months of enrollment combined, and more than double what the Health and Human Services Department had initially anticipated, even though it expected a spike at the end of the open-enrollment window.
The law's exchanges are now on track to meet coverage targets that seemed wildly out of reach during the disastrous HealthCare.gov launch and were still somewhat unrealistic as recently as last month.
Obama took the opportunity to knock Republicans for their unwavering opposition to the law and continued votes to repeal or weaken it.
"They still can't bring themselves to admit that the Affordable Care Act is working," Obama said. "They said nobody would sign up. They were wrong about that. They said it would be unaffordable for the country. They were wrong about that."
The Health and Human Services Department said young adults make up 28 percent of enrollees -- less than the White House had initially hoped for, but roughly in line with the experience in Massachusetts and with at least some insurers' expectations.
The usual caveats apply: We don't know how many of these 8 million people went on to pay their first month's premium, which is the last step to actually getting covered. And we don't know how many were previously uninsured.
Both of those answers are important to getting an accurate picture of enrollment, but neither is likely to reverse the broader success story enrollment has become.
Some insurers have said that, as of February, 15 percent to 20 percent of their Obamacare customers didn't make their first premium payment. If that trend holds across all plans through the end of enrollment, Thursday's 8 million sign-ups would translate into actual enrollment somewhere between 6.4 million and 6.8 million — still more than the Congressional Budget Office anticipated.
CBO still says it expects the exchanges to cover 6 million people this year, after accounting for people who will not complete their enrollment or who will leave the marketplace at some point during the year — for example, because they got a new job that offers health benefits. People can also still come into the exchanges if they lose their jobs or experience other special circumstances.
It's also not clear how many people who signed up through the exchanges were previously uninsured. A recent survey by Rand said as few as one-third of new enrollees were previously uninsured — less than the White House would need to meet CBO's expectations for reducing the number of uninsured Americans.
But exchange coverage isn't the whole picture.
The 8 million total doesn't include people who gained coverage because of Obamacare's Mediciad expansion -- about 3 million so far, according to the Obama administration. Twenty-six states are participating in the Medicaid expansion, and Obama sharply criticized the holdouts during his news conference Thursday, accusing them of acting " for no reason other than political spite."
It also doesn't include people who signed up directly with insurance companies, bypassing the exchanges. Direct enrollment was a popular option in the wake of Obamacare's plan cancellations: People who wouldn't qualify for financial help through the exchanges simply signed up with a new plan directly from their insurer, especially while HealthCare.gov wasn't working.
CBO estimated that about 5 million people have purchased coverage directly from insurers.
Those consumers don't count toward the exchanges' total, but they're part of the same risk pool as people who sign up through the new marketplaces. Insurers don't make a distinction when setting premiums.
A full enrollment report with more-detailed demographic information won't be available until next week.