Obama Handles Russia Like Republicans: Overpromise, Under-Deliver, and Write Off
Democratic ally says of Obama: "He's just not a natural leader."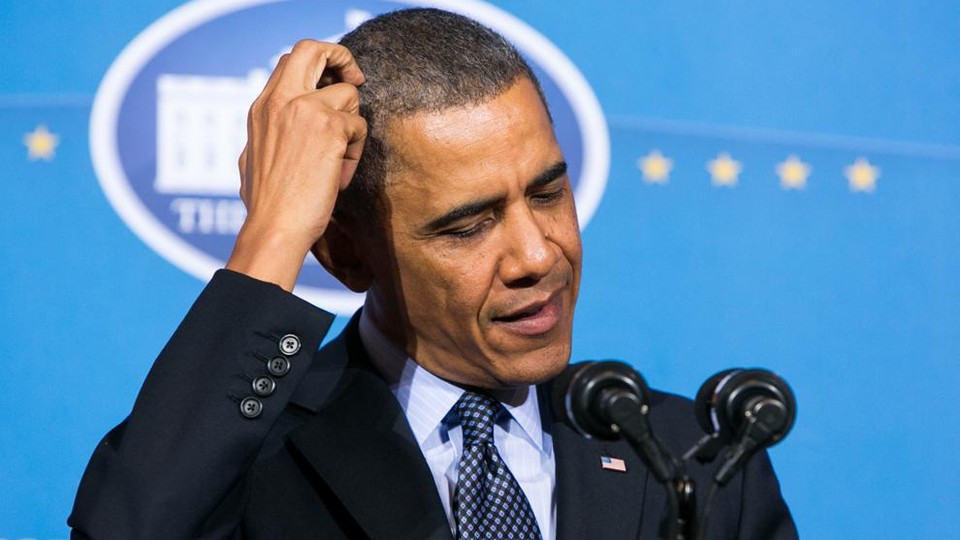 President Obama came to office nursing dreams "of forging a new partnership" with a stubborn rival. When times got tough, he abandoned the relationship and adopted dusty zero-sum gain policies of his predecessors. To allies and rivals alike, he looks naïve, weak, and disconnected.
This is the portrait presented Sunday by Peter Baker in his front-page New York Times story titled, "In Cold War Echo, Obama Strategy Writes Off Putin." What struck me about the piece is the unstated parallel between Obama's handling of Russia and Republicans, and how in both cases the gap between promise and performance illustrates a fundamental failure of leadership.
Baker writes:
WASHINGTON — Even as the crisis in Ukraine continues to defy easy resolution, President Obama and his national security team are looking beyond the immediate conflict to forge a new long-term approach to Russia that applies an updated version of the Cold War strategy of containment.

Just as the United States resolved in the aftermath of World War II to counter the Soviet Union and its global ambitions, Mr. Obama is focused on isolating President Vladimir V. Putin's Russia by cutting off its economic and political ties to the outside world, limiting its expansionist ambitions in its own neighborhood and effectively making it a pariah state.
The policy shift is defensible in light of Putin's dismissal of U.S. overtures on Ukraine and the broader attempt by Obama and former Secretary of State Hillary Clinton to "press the restart button" with Russia. I have been among the critics who have accused Obama of misjudging Putin and raising expectations beyond his capacity to meet them.
Giving context to the Russia shift, Baker writes:
That represents a remarkable turnaround from the start of Mr. Obama's presidency, when he nursed dreams of forging a new partnership with Russia. Now the question is how much of the relationship can be saved. Mr. Obama helped Russia gain admission to the World Trade Organization; now he is working to limit its access to external financial markets.
The turnaround on Russia is no more remarkable than the pivot Obama took after the 2008 election, when he abandoned his post-partisan brand at the first sight of Republican intransigence and forced the Affordable Care Act through Congress without GOP backing. Once poisoned, the well went dry: The candidate who had the "audacity to hope" for a new kind of politics surrendered to the toxic culture he promised to change. Obama wrote off Republicans. He said House Speaker John Boehner can't or won't bargain on the budget, then wrapped the white flag of surrender around the debt, gun control, tax reform, immigration, and other issues. Obama stopped looking for compromises, and then expressed outrage when he couldn't find them.
Baker reports on a debate inside the administration about how to contain Putin:
So far, economic advisers and White House aides urging a measured approach have won out, prevailing upon a cautious president to take one incremental step at a time out of fear of getting too far ahead of skittish Europeans and risking damage to still-fragile economies on both sides of the Atlantic.

The White House has prepared another list of Russian figures and institutions to sanction in the next few days if Moscow does not follow through on an agreement sealed in Geneva on Thursday to defuse the crisis, as Obama aides anticipate. But the president will not extend the punitive measures to whole sectors of the Russian economy, as some administration officials prefer, absent a dramatic escalation.

The more hawkish faction in the State and Defense departments has grown increasingly frustrated, privately worrying that Mr. Obama has come across as weak and unintentionally sent the message that he has written off Crimea after Russia's annexation. They have pressed for faster and more expansive sanctions, only to wait while memos sit in the White House without action. Mr. Obama has not even imposed sanctions on a list of Russian human-rights violators waiting for approval since last winter.
That last paragraph reminds me of Democrats who privately gripe about Obama's lack of engagement with Congress, his unwillingness to build meaningful relationships, his allegiance to polls and focus groups, and his cautious nature that, in their minds, holds him back from greatness. "He can't handle Putin. He can't handle Republicans," said a veteran Democratic consultant and part-time adviser to both of Obama's presidential campaigns. Speaking on condition of anonymity, the Democrat told me, "He just is not a natural leader."
Being a fair-minded reporter, Baker gave space to the White House spin:
The prevailing view in the West Wing, though, is that while Mr. Putin seems for now to be enjoying the glow of success, he will eventually discover how much economic harm he has brought on his country. Mr. Obama's aides noted the fall of the Russian stock market and the ruble, capital flight from the country, and the increasing reluctance of foreign investors to expand dealings in Russia.
The White House makes the same case against Republicans, noting demographic trends that threaten the future of the GOP as a national party. The trouble with this thinking is that being right about the future doesn't assure success in the present. For instance, looking weak while being "right" on foreign policy can actually affect future outcomes.
In politics, being a bit more "right" than the GOP is no badge of honor. Voters want changes, not excuses.
I may be reading too much into it, but Baker's story on the Putin reset raises a series of familiar questions. Did the president promise too much? Deliver too little? Or a bit of both? As much as he might try, history won't completely absolve Obama for the sins of his rivals.