Meet the Man Who Got Congress Its Booze During Prohibition
His story lives on at Washington's only distillery.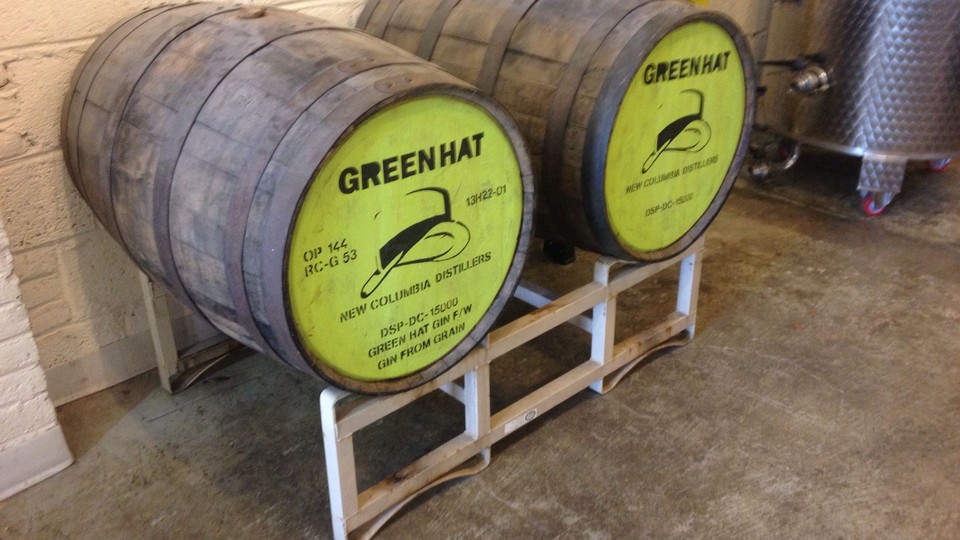 In a yet-to-be-gentrified area of Northeast D.C., a nondescript warehouse was unusually lively last Saturday afternoon. Inside? A spirited bottling party.
The Ivy City warehouse is home to New Columbia Distillers. Started in 2012 by Michael Lowe, New Columbia is unique in that it's the first distillery in Washington since before Prohibition.
But that isn't the company's only link to the country's teetotaling days. New Columbia's signature product, Green Hat Gin, is an homage to Congress's personal bootlegger.
While members of Congress may have championed Prohibition laws on the House floor, many of them happily broke the rules in any of the 3,000 speakeasies scattered throughout downtown Washington. And when members needed to restock their personal hooch supply, they turned to one man: George Cassiday.
During his time as a booze distributor on the Hill, Cassiday estimated that four out of five members of  Congress drank — and many of them availed themselves of Cassiday's services. Congress even gave Cassiday his own storeroom in the basement of the Cannon office building.
Cassiday was eventually arrested twice, both times going into congressional offices with booze in tow. "It was hardly a well-kept secret," said Garrett Peck, the author of Prohibition in Washington, D.C.: How Dry We Weren't. After one of his arrests, a press agent pointed out Cassiday as "the man over there in the green hat," and thus his moniker (and the District's new brand of gin) was christened.
Before the 1930 midterm elections, Cassiday wrote a series of five front-page articles for The Washington Post about his former clientele. Though he didn't name names, he gave plenty of colorful detail. One senator Cassiday supplied would hide his liquor on top of a bookshelf, next to the Congressional Record.
"He never mentioned liquor to me, but occasionally he would say he could use some 'new reading matter,' " Cassiday wrote. "This customer always referred to me as his 'librarian.' "
After Cassiday died in 1967, his wife burned an important piece of D.C. history — Cassiday's ledger book. Today, it may have looked like a who's who in Congress from Prohibition days.
George L. Cassiday (Library of Congress)
As a city, Washington is steeped in more than political history. This is a town that's always prided itself on its alcohol tolerance. Even George Washington oversaw a distillery on his Virginia estate at Mount Vernon.
During Prohibition, D.C.'s close, personal relationship with alcohol didn't end — it was just on the down-low. Peck estimates that from 1920 to 1933, 22,000 gallons of bootlegged liquor flowed into the District every week. More than 3,000 speakeasies opened in Washington, many of them operated out of the second story of row houses or in the backrooms of legitimate businesses.
One Capitol Hill watering hole, Beuchert's Saloon, was a sewing-machine shop up front, and a party in the back. Originally founded in 1880, the bar has now been converted into a modern speakeasy. The renovators didn't know it was a saloon until they discovered a hidden door and a cache of 100-year-old liquor bottles.
You can find other sites of former speakeasies around town — what is now Dirty Martini in Dupont Circle used to be the swanky Mayflower Club, which was raided three times. And Archibald's Gentlemen's Club on K Street was as risque back then as it is today.
Lowe, a retired lawyer, decided to found the distillery in 2010 with his son-in-law, John Uselton. Lowe took a course on the science of distilling at Cornell University, then apprenticed at a distillery in Spokane, Wash., to learn the craft.
When he happened upon a chapter in Peck's book about "The Man in the Green Hat," Lowe had found his mascot. "It was kind of like, this is the perfect Washington story, especially in an era of cynicism about Capitol Hill," Lowe told National Journal.
Before naming the gin after George Cassiday, Lowe decided they should clear it with someone important — Cassiday's son, Fred. He agreed, and when New Columbia finished its first batch of Green Hat Gin in October 2012, Lowe gave the first case to Fred Cassiday, who lives in Fairfax. "Fred was over the moon," Peck said.
So, why gin? Lowe says they wanted to capitalize on a trendy spirit while staying true to its history. "The very choice of gin as our lead spirit was largely influenced by the Prohibition history," Lowe said. "Regular vodka, as a matter of federal law, is supposed to be odorless and tasteless "¦ but gin actually has some character to it."
You can now order a Green Hat cocktail for $11 at any number of the new quasi-speakeasies that populate D.C.
Aside from the legal ramifications, what has changed about Congress's socializing tendencies since Prohibition? Peck says he wished members drank more — or at least hung out recreationally.
"A lot of stuff got done in the backroom over drinks," he said. "People were willing more to work things out together because they were friends, and alcohol helps out with that."