Labor Secretary Says U.S. Needs to Stop 'Getting Our Butts Kicked' by Other Countries in Workforce Investment
Thomas Perez: Skills training is the sleeper issue in America.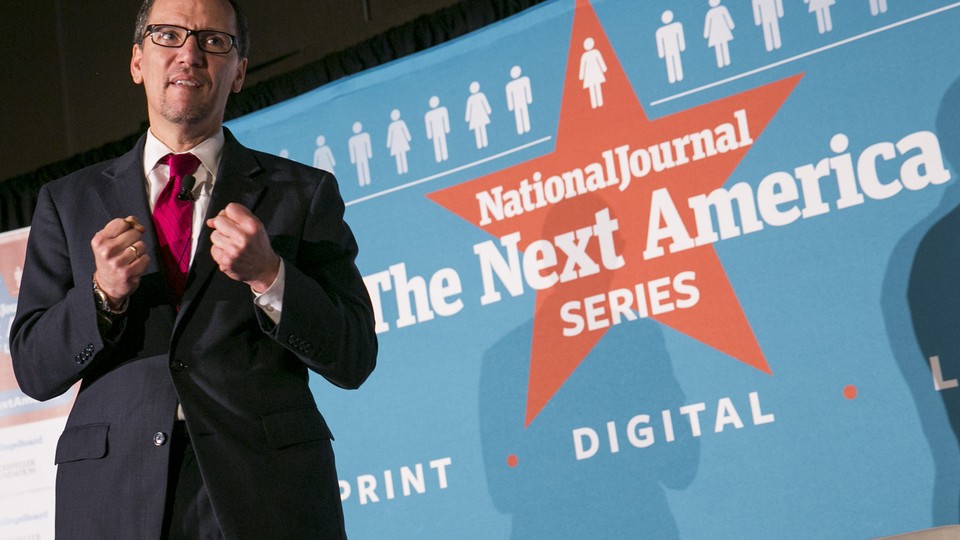 Labor Secretary Thomas Perez offered a blunt assessment of the challenges facing the United States over the coming decades in order for the country to develop the kind of skilled, flexible workforce that can effectively compete in a global economy.
"You compare the public-sector investment in workforce in the U.S. with other countries and once again we kind of get our butts kicked," Perez said Tuesday at a National Journal event underwritten by the Annie E. Casey Foundation, the College Board, and the Rockefeller Foundation. "A key fundamental challenge has been to demonstrate more effectively the return on investment in our workforce system."
The workers who will increasingly provide the key to American competitiveness are not those in whom the country has traditionally invested the most resources. By 2030, all of the net increase in the U.S. workforce is projected to come from nonwhite employees, making it even more critical to provide young minorities with access to programs that will improve their educational attainment and allow them to increase their skill level.
Earlier this week, President Obama announced more than $100 million in federal grants to innovative education programs and partnerships that help students acquire work experience and industry-relevant education and training. Perez noted that he works closely with Education Secretary Arne Duncan and Commerce Secretary Penny Pritzker to make sure that these efforts are not siloed but instead include the involvement of both educators and employers.
"We're really trying to engage with business leaders and educators to figure out what credentials we can develop that are portable and relevant," Perez said. "Skill development is lifelong. And community colleges are the secret sauce of up-skilling."
A College Board/National Journal Next America Poll that was released at the same event found that the vast majority of Americans — 90 percent — who sought more training after high school would do it again, particularly those who attended a four- or two-year college, even if they never obtained a degree. At the same time, the percentage of Americans who believe that young people need a four-year college degree in order to succeed continues to decline, dropping more than 10 percentage points in the past two years.
That's one reason the administration continues to highlight the work of early-college high schools and academies that allow students to obtain a high school diploma, an associate's degree or equivalent credential, and work experience in four years.
Perez said that while specific job-skills solutions can vary by region and industry, there are three consistent characteristics of successful training programs: "They need to include partnerships, they need to be demand-driven, and they need to meet the learner where he or she is."