Kathleen Sebelius to Resign
Obama will nominate Sylvia Mathews Burwell as the next HHS secretary.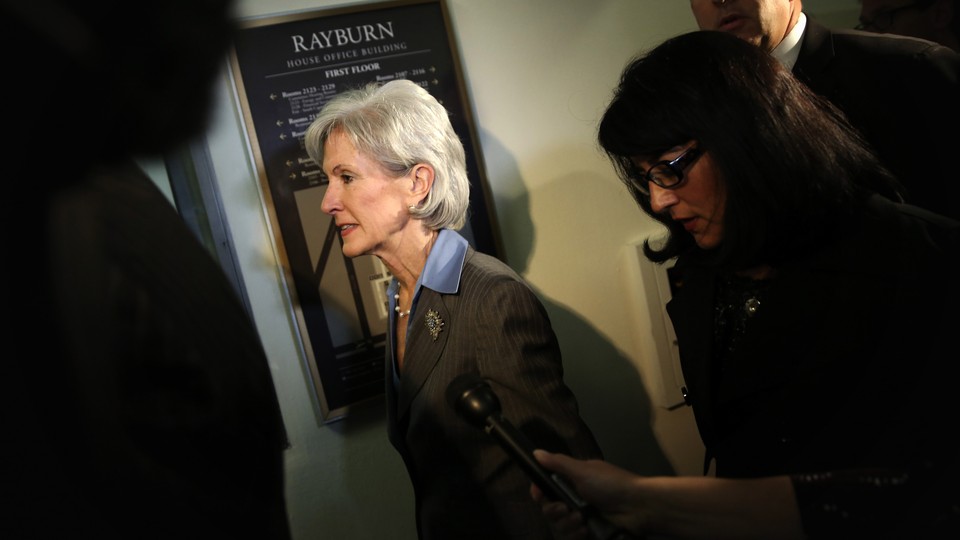 Kathleen Sebelius is resigning as Health and Human Services secretary in the wake of the disastrous HealthCare.gov launch, a senior administration official confirmed Thursday.
President Obama will nominate Sylvia Mathews Burwell, the director of the White House budget office, to lead HHS.
Obama had resisted earlier calls to fire someone over the HealthCare.gov debacle, saying he wanted to avoid even more upheaval as the department scrambled to repair the enrollment website.
But even though Obamacare enrollment has bounced back since the Oct. 1 launch, Obama and congressional Democrats are still feeling the political effects of the botched rollout and the haphazard policy changes the administration has made to compensate for it.
Obama accepted Sebelius's resignation earlier this week, according to The New York Times. The Times said she approached Obama about the decision sometime last month, after the website had stabilized and enrollment had begun to turn a corner. The timing allows the White House to answer calls for accountability over the website's initial failure while trumpeting strong enrollment numbers and giving Democrats a chance to call for changes during Burwell's confirmation hearings.
Still, White House press secretary Jay Carney expressed confidence in Sebelius just last week, and she said in a March 31 interview with The Huffington Post that she would "absolutely" stick around through November, when the next enrollment period begins.
Getting Burwell confirmed as the new HHS secretary will be challenging, but not impossible. Republicans will surely face pressure from conservatives not to help the administration continue to implement the Affordable Care Act. But a recent change to the Senate's rules means that Democrats can approve Burwell with just 51 votes. And she won confirmation to lead the budget office by a 96-0 vote.