Inside Democrats' Plan to Oust Pennsylvania's Governor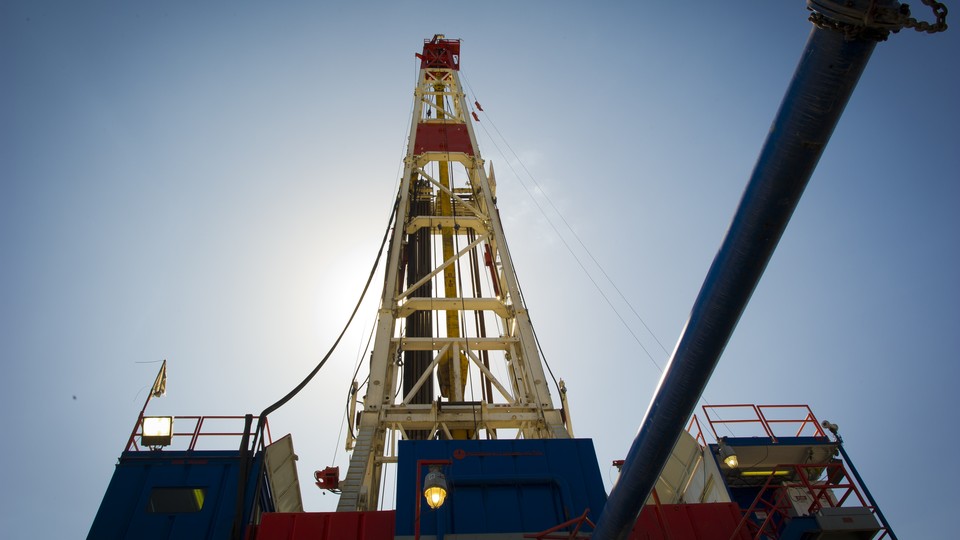 HARRISBURG, Pa. — Tom Corbett is very proud of Pennsylvania's fracking boom, and the Republican governor hopes to ride it to a second term in office.
Democrats have other plans: They think they can use the boom — or rather, Corbett's handling of it — to oust the incumbent.
And therein lies the energy messaging war of this state's hotly contested gubernatorial race. Corbett says he's been a catalyst for jobs and development tied to the state's natural-gas production surge. But Democrats say the governor's cozy relationship with the industry is leaving citizens on the short end of the stick as the state gives up its gas supplies.
To that end, every Democrat in the crowded primary race want energy companies to pay a new tax on their natural-gas production. The proceeds from the proposed "severance" tax on the value of gas produced would help fund education, infrastructure, and other needs.
Many other energy-producing states have such a policy, and Democrats argue that by refusing to push for one in Pennsylvania, the governor is giving energy companies a break at the expense of other critical needs.
The party thinks it's a winning line of attack. "I've seen a lot of internal polling. There's a reason that all the candidates are talking about it," said Dan Fee, a Democratic consultant who is not affiliated with any candidates.
The tax battle is playing a prominent role in the effort to unseat the vulnerable Corbett, who as of February held a 36 percent approval rating and trailed his Democratic rivals in a Quinnipiac University poll.
Whether or not Democrats' energy attacks are successful, the fact they are employing them at all underscores the changes fracking has brought to the state.
Only a decade ago, the notion that natural-gas policy would play a prominent role in a Pennsylvania gubernatorial race would have seemed ludicrous. But as in areas across the country affected by the fracking boom, the spike in energy development has redefined not only the state's economy, but also its politics.
Companies tapping the rich Marcellus shale formation have made this the country's third-largest gas-producing state in 2012, and according to state officials, Pennsylvania vaulted past Louisiana for the No. 2 slot last year. That's up from sixth as recently as 2011 and fourteenth in 2008, the year the Keystone State's fracking-enabled gas boom took off, according to the federal Energy Information Administration.
With all that production, Democrats see an avenue for revenue.
The severance tax came up quickly when three of the four Democratic candidates squared off at a debate at Widener University's law school here in the state capital last Wednesday.
"When I go around the state, this is a really popular issue, and especially if you are going to use [a tax] to fund something like public education," said Tom Wolf, the state's former revenue secretary who is ahead of his primary rivals and Corbett in recent polls.
Wolf has proposed a 5 percent severance tax for drillers, as have his fellow primary candidates Katie McGinty, a former head of the state's Department of Environmental Protection, and five-term Rep. Allyson Schwartz. The candidates say that would be competitive with Marcellus-region neighbor West Virginia. And more broadly, many other oil-and-gas-producing states have severance taxes.
State Treasurer Rob McCord has proposed a 10 percent tax.
All the campaigns say their plan would provide a major boost for state coffers. For instance, Schwartz's campaign, citing figures from the left-leaning Pennsylvania Budget and Policy Center, estimates that her plan would bring in over $600 million in its first year and reach over $2 billion in a decade.
Corbett unabashedly opposes a severance tax. Instead, he argues his policies foster development while bringing in substantial revenue.
He's touting state "impact fees" for each well that drillers pay under a Corbett-backed 2012 state law that overhauled the state's oil and gas rules.
The total fees — which fund infrastructure, environmental, and other state and local programs — are expected to be $225 million this year and totaled another $406 million over the prior two years, according to the Corbett administration.
Sixty percent of the money goes directly back to counties where drilling occurs.
"Governor Corbett has worked to ensure we are safely and responsibly using our natural resources to reduce energy prices for families and small businesses, grow our economy, and create family-sustaining jobs," said Corbett campaign spokesman Billy Pitman.
"Our liberal Democratic opponents have never seen a tax increase they didn't like," he said. The Corbett campaign last year blasted then-front-runner Schwartz when she proposed her severance tax, arguing that it would "tax the industry out of our state."
And the state's powerful natural-gas industry is in Corbett's corner. The Marcellus Shale Coalition, an industry group, said adding new taxes would jeopardize the "shared, broad-based benefits" from the state's gas boom. The group, which represents gas producers like Chesapeake Energy, Range Resources, and Exxon subsidiary XTO Energy.
Even if Democrats are successful in their energy messaging, concentrating solely on fracking would be a fool's errand: Late March polling by the Center for Opinion Research at Franklin & Marshall College shows that just 5 percent of Democratic voters list energy issues as the most important thing facing the state's voters today.
But the same poll suggests the candidates could tap much deeper into the popular interest by connecting the issue to education, as 32 percent of respondents called funding for schools a top priority.
"The Democrats have made a big deal of the severance tax because most of them want to use it for education funding," said G. Terry Madonna, head of Franklin & Marshall's Center for Politics and Public Affairs and director of the polling.
Ultimately, however, a severance tax may be a political battle that never materializes into policy. Even should a Democrat take the state's highest office, Madonna cautions that severance taxes would face an uphill battle in the state's GOP-controlled legislature.
The state's conservative House is unlikely to pass the measure, Madonna said, adding he was doubtful the tax could survive even in the state's more moderate Senate.