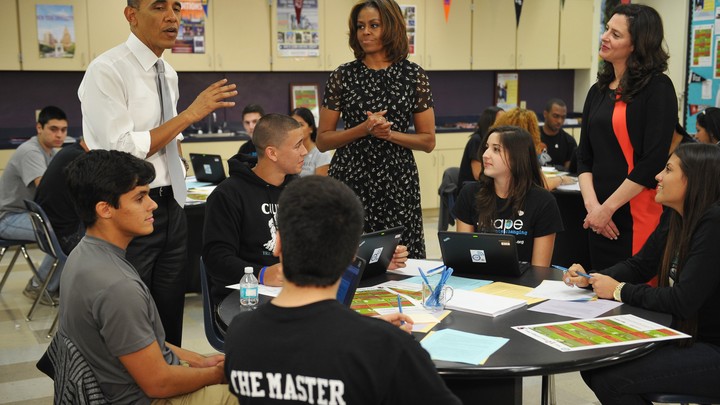 While many people look back on their high school days with fondness, most of us agree that the training we got there could have been better. A healthy majority of Americans think that changes to their high school experience, such as more interaction with guidance counselors and help developing study skills, would have improved their education, according to the latest College Board/National Journal Next America Poll. 
Support was highest for the kinds of changes that would have impacted respondents' post-high-school employment and educational opportunities. Asked about the chance to have more technical and job-skills training, a full 72 percent said that would have made their high school education better. Only 2 percent thought those services would have changed their experience for the worse. 
In the same vein, 63 percent wanted more interaction with guidance counselors "about options available after high school," and 66 percent thought "better instruction to develop study skills" would have improved their high school experience. Young Americans are particularly aware of how important good career and college counseling can be: 75 percent of those between the ages of 18 and 29 reported wanting more interaction with counselors, as did 78 percent of current students. 
The idea of getting more help developing good study habits also attracted strong support, with college graduates and respondents with some college education most willing to say they would have benefited (70 and 69 percent, respectively, compared with 61 percent of those with a high school education or less).
While more opportunities for technical and job-skills training earned the highest backing from respondents — 72 percent overall thought it would have improved their high school education — there were no significant differences in support by party, race, or income. 
There was one high school innovation — extending the school day — that not many Americans could support. Even if you had the time of your life in high school, it appears, that didn't mean you wanted to spend more of your life there. Interestingly, the only exception was among Americans who didn't end up going on to college. While only 18 percent of all respondents thought a longer school day would have been a good idea, 28 percent of blacks with less than a college education and 31 percent of Hispanics with the same said an extended high school day would have made their education better. 
The College Board/National Journal Next America Poll, conducted by Princeton Survey Research Associates International, surveyed 1,271 adults, including oversamples of African-Americans, Hispanics, and Asian-Americans, from March 18-26. The interviews were conducted by landline and cell phone in English and Spanish. The poll has a margin of error of plus or minus 3.9 percentage points for the entire sample, and larger margins for racial subgroups.
This article is part of our Next America: Higher Education project, which is supported by grants from the Bill & Melinda Gates Foundation and Lumina Foundation.
We want to hear what you think about this article. Submit a letter to the editor or write to letters@theatlantic.com.