How the Makers of TurboTax Are Trying to Keep Doing Your Taxes Annoying
The company has long lobbied against a simplified, free tax-filing process that could take as little as 15 minutes.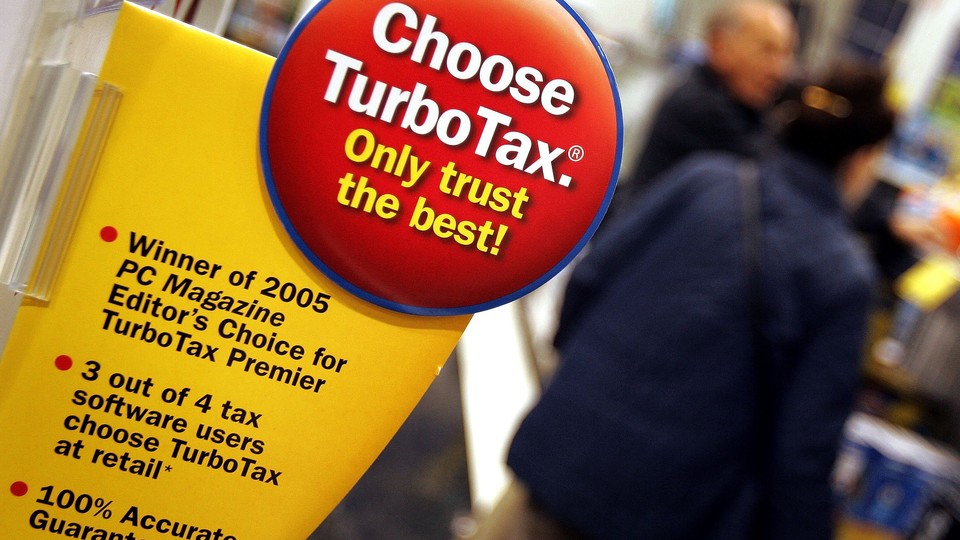 Imagine a world where, instead of having to manually fill out the same boxes on your tax forms every year, the IRS filled out your paperwork for you in advance and told you how much they think you owe, using information the IRS already gets from banks and employers. If you agreed with their estimate, you could just sign the paperwork and return it. If you disagreed with their estimate, you could file your taxes the way you have been doing.
Sounds like a pretty good deal, right?
Not for the makers of TurboTax, the online tax-preparation software that millions of Americans use to file their taxes every year. Intuit, the company that owns TurboTax, has lobbied hard to prevent automatic tax filing from becoming a reality.
On Monday, ProPublica followed up on its report from last year about Intuit's attempts to stymie return-free tax-filing legislation. ProPublica found that, in the past five years, Intuit has spent $11.5 million lobbying against return-free filing at the federal level.
The company has fought return-free filing at the state level as well. Back in 2009, California was working to implement ReadyReturn, a state program that helps low-income taxpayers file their taxes for free. Intuit ferociously lobbied against the program, and donated $1 million to a group fighting the election of state Comptroller John Chiang, who helped put the program in place.
Intuit says the IRS would exploit a return-free filing system to vacuum up as much revenue from taxpayers as possible.
"Return Free minimizes the taxpayers' voice and instead maximizes revenue collection for government," Julie Miller, an Intuit representative, told National Journal. "That kind of anticonsumer policy does not advance taxpayer rights, citizen empowerment, or real simplification of the tax code."
But it isn't just the IRS that has a vested interest in controlling how Americans pay their taxes. More than 24 million people used TurboTax to file their taxes in 2012, and the program accounted for 35 percent of Intuit's $4.2 billion in revenue that year.
As Jordan Weissman at Slate notes, there is a more reasonable argument for not adopting a return-free filing system: The system would be less convenient for Americans with complex taxes, or for small businesses who need to give payroll information to the IRS to help out their employees. But as many as 44 percent of taxpayers would have an easier time filing their taxes, according to the Treasury Department.
Republicans would probably agree with Intuit that the IRS is not the best arbiter of how much money people owe the government. They have little trust for the IRS since the agency was accused of targeting tea-party groups for audits. A system like return-free filing, which hands more power to the IRS, would cause a political ruckus. And as long as filing your taxes remains a frustrating, overly complex process, antitax conservatives like Grover Norquist will continue to have a political punching bag.