How Sriracha Became a Political Prop
It's an immigrant-owned, widely popular product facing regulation from big, small-town government.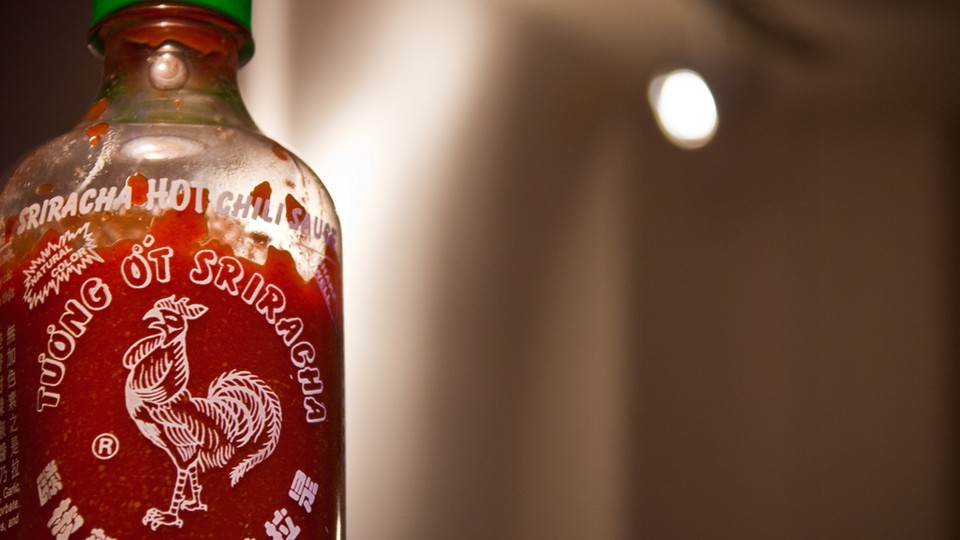 Irwindale, Calif., has had enough of Sriracha. Americans consumers are obsessed with it. And politicians are sensing an opportunity.
Earlier this month, the Irwindale City Council declared Huy Fong Foods, the company that manufactures the garlicky hot sauce, a public nuisance (Clarification: The city tentatively declared the factory a public nuisance in a unanimous decision two weeks ago. It will vote again to finalize the measure in two weeks). As much as living next to a bakery can be wonderful, living next to a hot-sauce factory has proven to be grating. According to the council resolution, neighbors have complained about "nosebleeds, swollen glands, a burning sensation of the throat and eyes, and headaches, among other symptoms."
If the declaration is finalized, Huy Fong has until July 22 to attenuate the odor. If it doesn't, the city can intervene and will bill Huy Fong the costs via a lien on its property. Rather than reengineer production, owner David Tran tells the Los Angeles Times he's thinking of moving the factory.
That news quickly hit the ears of politicians. And it's easy to see why.
For one, Sriracha is an American dream story. David Tran, Huy Fong's founder, is an immigrant. His vision, he told our sister site Quartz, is "to make enough fresh chili sauce so that everyone who wants Huy Fong can have it. Nothing more." He makes some $60 million worth of it every year.
It's also an immensely popular, nearly cult-worshiped brand to be associated with. When the factory temporarily shut down in December 2013 after a court order, Sriracha fans panicked. Homemade Sriracha recipes proliferated. Headlines declared "The Days of a Sriracha Black Market Are Approaching," and offered "How to survive the impending Sriracha shortage" guides.
That, combined with the narrative of the little guy vs. big government, has proven to be pure political catnip, especially for Republicans. According to Reuters, "the company says it has more than two dozen invitations from officials across the country, several in Texas."
That includes one from Rep. Tony Cardenas, D-Calif., who toured the Huy Fong factory in an attempt to persuade the company to relocate to his district in the San Fernando Valley. Another came from Texas state Rep. Jason Villalba, who wrote Tran, "You have worked too hard and have helped too many people to let government bureaucrats shut down your thriving business."
The California GOP has already made Sriracha into a talking point, with the Los Angeles chapter unanimously passing a resolution of solidarity with Huy Fong, and the chapter's chairman telling Fox News that Tran is "basically the story of America."
Here's the text of their resolution:
Be it resolved that the Republican Party of Los Angeles County urges the City Council of Irwindale to take such actions as necessary to keep Huy Fong Foods in Los Angeles County and,

Therefore, be it resolved this 19th Day of April, 2014 that the Republican Party stands with Sriracha and supports Huy Fong Foods as it continues to grow, create jobs, and to bolster the local economy.
The 2013 crisis was averted, but the episode surely only elevated the Sriracha brand in the national consciousness. The investigative news website CalWatchdog.com goes so far as to call the Sriracha story "an election-year gift" for state Republicans looking to appeal to Asian voters. Neel Kashkari, a Republican candidate for governor, has a petition on his website to "tell Sriracha's leaders that we stand with them against big government."
In all, it's a story about the little guy against the big, mean, (local) government. It's also a chance for politicians to align themselves with a popular minority-owned brand. It's also a chance to lure a factory that employs 70 full-time workers into a district. In other words, a talking point with no downside. Well, that is, until those politicians' constituents start complaining about the smell.